I played two fine golf community courses the last two days –- Jack Nicklaus' at Bay Creek in Cape Charles, VA, and the Arnold Palmer layout at Scotch Hall Preserve in Merry Hill, NC. (The Palmer layout is actually credited to Harrison Minchew, one of Palmer's designers).
I will review both golf courses in the coming days but below are two of the more picturesque par 3 holes on each course. At top is Bay Creek #4, a par three that plays west toward an extension of the Chesapeake Bay and into a prevailing wind. The hole is played from two distinctly different angles; three additional tee boxes sit well to the right of the tee box below, giving the wind a more right to left orientation. It is a short hole, playing about 135 yards from the middle tees, but devilish.
The Palmer hole is #17 at Scotch Hall and plays toward the Albemarle Sound. The wind wasn't blowing today but at 180+ yards from the middle tees, the hole was challenging enough.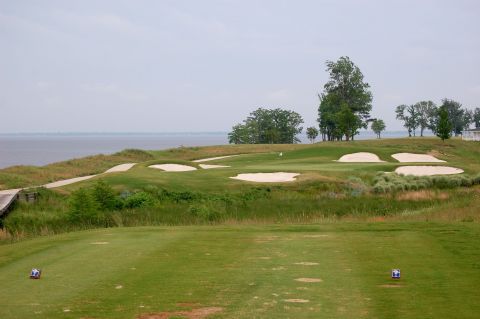 Comment
Be the first to comment