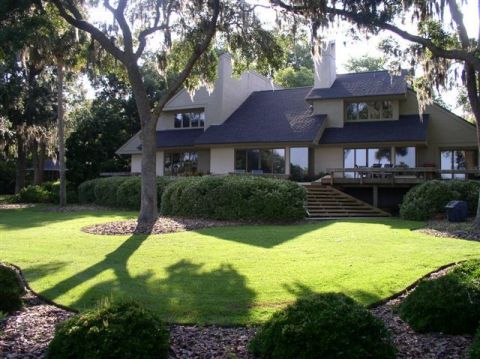 Real estate taxes on million dollar homes in The Landings near Savannah, GA, run about $12,000 a year, one-third of the assessment on similar homes in many northern metro areas.
        For legal reasons too convoluted to get into here, property taxes in the already overburdened state of New Jersey may continue their straight line up, according to an article today in the Wall Street Journal.  A string of state supreme court rulings have resulted in suburban New Jersey taxpayers paying not only for their local schools but also for under-funded urban schools.  Few dispute the urban schools needs for the extra help, but plenty of folks believe that suburbanites are paying an unfair share of the burden.  One West Orange owner of a "four-bedroom home on a small lot" estimates, for example, that his annual property tax of $26,000 will soon increase a couple thousand dollars.
        New Jersey's property tax increases are not unusual among northeastern states as they all scramble to find a way out of their budget crises and to comply with court rulings.  Those baby boomer home owners waiting for the values of their homes to return to pre-2005 levels might do well to compare their tax burden with property tax bills in highly livable areas of the south.  If you can save $10,000 or more a year on taxes by moving, that could be an encouragement to sharpen the listing price on your primary home.
        Based on his tax bill, that West Orange owner's home is valued between $800,000 and $900,000.  Here are some current assessed annual tax rates (and fees) on homes valued in that same range in a few of our favorite golf communities in the southern U.S. (golf course designers indicated)
Asheville, NC (Hendersonville)
Champion Hills (Fazio)
3,800 square feet, 3 BR, 3 1/2 BA, offered at $825,000
Taxes:  $3,210.  Fees:  $2,556.  Total:  $5,766
Charlottesville, VA (Keswick)
Glenmore (LaFoy)
6,057 square feet, 5 BR, 5 BA, offered at $829,000
Taxes:  $5,443.  Fees:  $797
Greenville, SC (Greer)
Thornblade Club neighborhood (Fazio)
6,100 square feet, 5 BR, 4 BA, 2 1/2 BA, offered at $899,000
Taxes: $6,523   Fees:  $560
Skidaway Island, GA (Savannah)
The Landings (Fazio, Palmer, Hills, Byrd)
3,700 square feet, 3 BR, 4 1/2 BA, offered at $825,000
Taxes: $9,600    Fees:  $1,460
Chapel Hill, NC
Governors Club (Nicklaus)
5,749 square feet, 5 BR, 5 1/2 BA, offered at $799,000
Taxes:  $4,862.  Fees:  $1,900
Comment
Be the first to comment