Today, I made a bunch of brief stops at Massachusetts golf courses near the Interstate 91 corridor that bisects the state north to south. None were in golf communities; their only adjacencies were wooded areas. Most of the courses are in the classic New England style, which translates into doglegs, sloping terrain, and some carries over lakes. I did not see a clunker among them. I have lived for 25 years inside 1 ½ hours of Oak Ridge, Hampden, Wyckoff, Veterans Memorial, Hickory Ridge and other excellent courses in the area, and I have never played any of them. I will start rectifying that next year.
The most modern course of the bunch, The Ledges in South Hadley, stood out not only for its more updated design but also for the nearby
You could put together your own golf trail in central Massachusetts and include Oak Ridge, Hampden, Wyckoff, Veterans Memorial, Hickory Ridge and The Ledges golf clubs.
Berkshire Mountains that loomed large not far beyond the edge of the property; and for The Ledges' status as a municipal course. That makes South Hadleyian golfers and others in the area a lucky bunch, as munis tend to offer rates lower than competing courses. Green fees at The Ledges top out at just $45 on the weekends, cart included, and annual family memberships are a reasonable $2,000. Even in a relatively short golf season (late April to late October), a golfer or golfing couple need only play about 45 rounds to go beyond the break-even point. Serious golfers will get that done in two months.
I didn't get to play the course, but I did inspect the green on the finishing hole. The bent grass was perfect and cut to be fast. This time of year, greens superintendents in New England obviously don't worry about heat burning up their greens, so they gladly cut them down for golfers who have been waiting all summer for professional style speeds. The tees and fairways seemed to be in equally good condition.
Howard Maurer designed the course, which opened in 2001. Maurer, like many successful area architects, trained with Geoffrey Cornish. The course plays to 6,500 yards from the tips with a rating of 72.2 and slope of 133. For information and tee times while the season lasts, call 413-532-2307.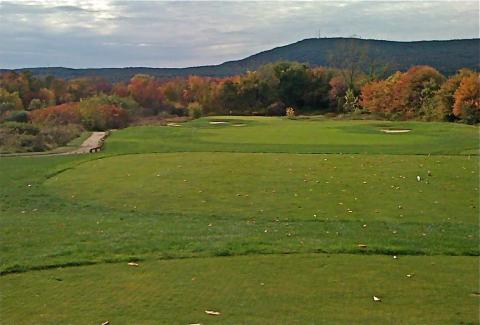 Blazing trees and the Berkshire Mountains form a nice background for the short par 4 16th at The Ledges.
Comment
Be the first to comment