Anyone waiting for history to repeat itself in the housing market -- a recession-created bust followed by a strong boom -- may have a long wait. The nation has never quite seen a housing crisis like the one we are trying to get through now. Foreclosures are savaging the bottom end of the market and leaking into both the middle and top end; one home we know in a terrific and stable golf community in the western North Carolina mountains is offered by a local bank for nearly half its former asking price of $2.2 million. Prices don't seem as if they can go any lower (but course, they can), and combined with still-low interest rates, the table would seem to be set for a nice rebound...if only sellers could find buyers with the security of strong reserves of savings and/or jobs they are certain they will have a couple of months down the road. Good luck.
Within the maelstrom, however, are a few oases where the business of real estate transactions may soon return to something approaching normalcy. Although it may seem self-serving for someone who counts on interest in golf communities, I do think a certain class of "leisure" residential community will do just fine in the next couple of years. These communities have a "sweet spot" of home prices in the mid-six figures, have all their key amenities (golf course, clubhouse) in place, and are located in or near magnet-towns for retirees. They were among the most attractive locations before 2006, and they have remained fairly stable during the housing crisis (although prices have dropped an average 20% or so even in the best communities).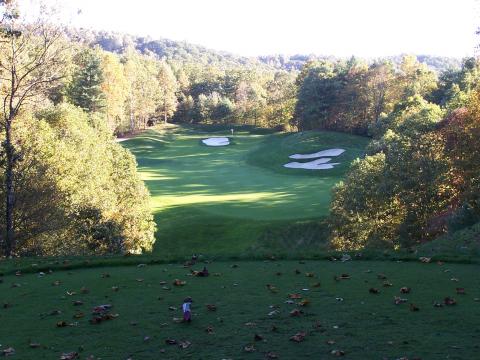 Tom Fazio has a great knack for "burying" cart paths out of view. At Champion Hills in Hendersonville, NC, he pulls the same trick with the surrounding homes, which are tucked away above the course and in the trees.
The assumption here is that many of the leading-edge baby boomers who have deferred their retirement dreams waiting for the prices of their primary homes to return to 2006 levels have lost patience with the waiting. Now that their kids are off to college and their careers are coming to a close, most of these boomers will be downsizing anyway, trading their large, high-value homes in the north for more modestly sized and priced homes in the south. Insurance, tax, utility and general overall homeowner expenses are also likely to decrease when the move. As long as they have enough equity in their homes to help pay for their new homes on the course, look for them to start to head south. That will firm up prices in the best-regarded communities in the best-regarded areas.
This is by no means a complete list, but below are some of the golf communities in the southeastern U.S. that fit the category, that I have visited and can recommend, and that I think will benefit from the "re-migration" south. I have excellent real estate contacts at each of these if you would like more information:

The Landings at Skidaway Island, Savannah, GA

Large community with few thousand residents and six excellent golf courses by Fazio, Hills and Palmer to accommodate them. Sheer size of the place, with all amenities built and prices that did not plummet during crisis, provide stable future. Range of neighborhoods within the gates, some needing TLC (and therefore extreme bargains). Distinguishing features: Downtown Savannah is just 15 minutes from the front gates, and the city is essentially hurricane proof (click here for more on Savannah and hurricanes). Club membership just reduced from $55,000 to $30,000 for all six courses and multiple clubhouses.
Sample of current listing: 3 BR, 3.5 BA, 2,759 square foot California ranch style home in excellent condition. Renovated in the last couple of years. Pool, lots of hardwood floors, large kitchen. Wet bar that serves inside & pool area. Part of patio covered. Listed at $495,000

Champion Hills, Hendersonville, NC

Mature, well managed by residents, Fazio golf course just rated #5 in the golf rich state (Fazio grew up in the area and maintains property at Champion Hills). Some homes at significant elevations with views to match. Town of Hendersonville provides all necessary services, but Asheville is still just half hour away. Distinguishing feature: Residents are savvy business people who have ensured financial reserves to keep the community out of harms way.
Current home for sale: 3 BR, 3 BA, 2,000 square foot cottage on cul-de-sac, 14-years old, wraparound porch, property taxes just $1,868 annually. Listed at $495,000.

Porters Neck, Wilmington, NC

Stable, established community of well-kept homes cosseted among vast array of huge live oaks and surrounding classic Fazio course, renovated to its original layout in recent years. Club is semi-private but feels private. Wilmington a short drive, but daily needs (groceries, doctors, etc.) satisfied a few minutes from front gate. Most real estate sold, built on.
Current home for sale: 3 BR, 3 ½ BA, 3,000 square feet overlooking full stretch of 2nd hole. Master suite downstairs, family room with Brunswick Heritage pool table, club membership ($30,000) negotiable. Listed at $529,900.

Thornblade Club, Greer, SC

Private golf club inside un-gated neighborhood, not planned community. Surrounding homes do not detract from classic nature of early Fazio course, site of final round of annual BMW Charity Pro-AM. (Note: Some BMW of America execs from nearby corporate HQ live in Thornblade, along with pro golfers Jay Haas and Dottie Pepper.) Without cost burden of extra amenities of planned community, home in non-planned community can be better deal. Distinguishing feature: U.S. Open champ Lucas Glover cut his teeth at Thornblade.
Current home for sale: 4 BR, 3 ½ BA, 3,600 square feet. Butler/wet bar with built in china cabinets. Granite counters, gas stove, double wall ovens, recessed lighting and built in desk area in kitchen with master suite on first floor. Listed at $583,650.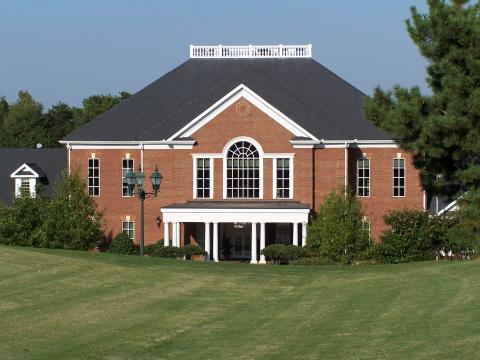 Thornblade's clubhouse is host to pro golfers and members Jay Haas, Lucas Glover and Dottie Pepper and, once a year, to the best players on the Nationwide Tour during the BMW Charity Pro-Am.

Cedar Creek, Aiken, SC

Not the most upscale golf community in charming horse town of Aiken -- Mount Vintage and Woodside more upscale and, of course, more expensive -- but Cedar Creek is stable and popular with brainiest folks in the area (Ph.Ds from Savannah River Project nearby). Creative Arthur Hills layout gets much outside play, but resident-members do not seem to mind the mingling. Course condition issues of a few years ago have been resolved. Believe it or not, there are people who prefer a location neither in mountains nor near beach; Aiken fills the bill for them. Oh, yes, if you can score tickets to the Masters, Cedar Creek is just a half hour from Augusta National.

3 BR, 2 ½ BA, 2,460 square feet, classic brick home on 10th fairway. With homes in $200s to $700s at Cedar Creek, this one is priced in middle of the range at $474,900.

Amelia Island Plantation, Amelia Island, FL

Spend your life on vacation, but that also means sharing some facilities, like the golf courses, with resort guests. But for those who like to be near the beach and near a city -- in this case Jacksonville -- Amelia is well situated. The historic, charming beach town of Fernandina Beach at the north end of the island is a bonus. A well marketed, thriving golf resort may attract some golfers who don't repair their ball marks, but their green fees ensure cash flow is available for course maintenance.

3 BR, 3 BA, 2,788 square feet, 25-year old home on 15th fairway of the Pete Dye Oak Marsh course (temporarily closed for renovations) and with views of lagoon from deck along back of home. Master suite has private balcony, guest bedroom has private deck and bathroom. Listed at $450,000.


Comment
Be the first to comment