The Senior British Open is being played this weekend at the famed Sunningdale near London. It is one of the best golf courses in the world, or at least in my world of golf. I am stunned that leader Fred Funk is at 11 under par after two rounds. The course seemed a lot tougher than that when I played it last summer, but the greens the pros are playing are softer than they were a year ago and the wind is not blowing. Still, the scraggly deep bunkers that protect the greens and some landing areas in fairways should be enough to keep the seniors from killing the course. Funk must be in the zone.
The only parkland courses in my personal portfolio that I would rank ahead of the Sunningdale Old Course, which I played last year, are Pine Valley and Augusta National. Golf Digest ranks Sunningdale's Old Course at #10 of all courses outside the U.S. "Understatement fits Sunningdale like a brand new pair of golf shoes," Golfweek magazine wrote in its preview of the Senior British Open.
In racking up his 65 today, Funk said, "It wasn't like I walked off thinking I shot this great round." The former University of Maryland golf coach completed today's round by dumping a 174-yard approach shot to the finishing hole into the cup for an eagle two.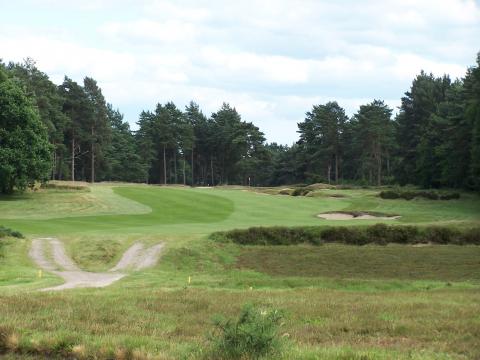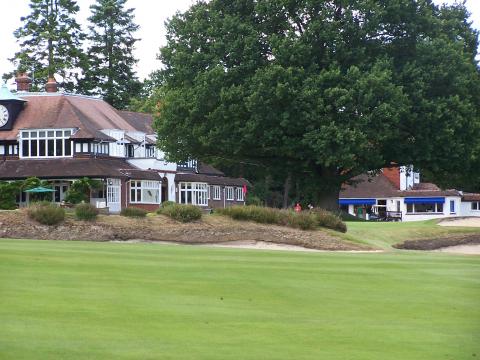 Top, the 14th hole at Sunningdale is the only par 5 on the back 9, and a short one at that at just 503 yards. At bottom, the approach to the 18th hole, where Fred Funk made eagle today in the Senior British Open.
Comment
Be the first to comment