Golfweek magazine has released it annual ranking of the top publicly accessible courses in the U.S., and the choices could entice a private club member to go public. I have played a fair number of the courses on the list, many of which are withing golf communities.
Nutmeg State gems
In my home state of Connecticut, Wintonbury Hills in Bloomfield and Oxford Greens in Oxford rank #2 and #3 in the state, behind the Lake of Isles North Course at the Foxwoods Casino. I love Wintonbury Hills especially for its provenance -- designed by Pete Dye for $1 as a gift to the town and one of its residents and Golfweek writer, Bradley Klein -- and its proximity to our home, just 20 minutes. The course is mild Dye, except
Dye designed Wintonbury Hills for just $1.
when the greens firm up, which is most of the playing season. No homes surround Wintonbury, but Oxford Greens is plunked down amidst some unimaginatively designed age-restricted housing, and its severely sloped fairways can put your ball into someone's backyard. I have not played the public Lake of Isles course but I did play its interesting, well-conditioned and private sister course whose finishing hole includes a view of the massive casino hotel in the distance.
It has been many years since I played Delaware's Baywood Greens as I made my way to Lewes Ferry to Cape May, NJ, a relaxing way to break up a long trip from south to north. If you catch the ferry right, you can save time and stress by avoiding the Interstate 95 parking lot around Washington and Baltimore. I recall Baywood Greens' sleek layout and magnificent floral arrangements on many of its holes, including a par five that required three shots onto peninsulas, including one of the greens. Baywood is #5 of 5 on the Delaware list.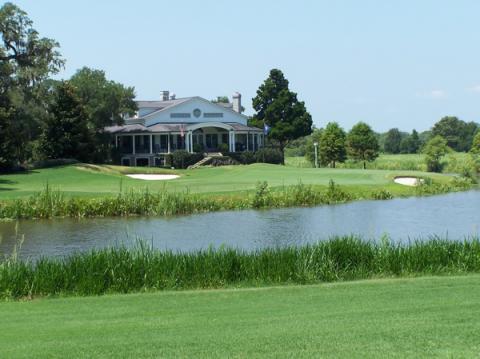 The approach to the 18th at the increasingly popular Caledonia in Pawleys Island, SC, could ruin an otherwise pleasurable round on a beautiful course. Diners who gather on the veranda to watch you putt don't help much either.
Arnie turns impressions around
I was pleased to see the Golf Club of North Hampton in Fernandina Beach, FL, near Jacksonville, just creep onto Florida's list of 25 at #24. That is quite a feat in such a golf rich state, and well deserved in my estimation. North Hampton made me recalibrate my opinion of Arnold Palmer designs, which previously I had found pretentious and generally without subtlety. But North Hampton was a fine links-like course that, despite the amount of homes surrounding it, provided pleasant views of sculpted fairway and greenside bunkers and large and contoured greens. Bravo, Arnie. Not surprisingly, TPC Sawgrass tops the Florida list. The Ocean Course at Ginn Hammock Beach weighs in at #7; despite his financial and public relations problems, few would Bobby Ginn for the quality of the golf courses he has completed.
Like a spotlight in the pines
Golf raters love the design team of (Bill) Coore & (Ben) Crenshaw, as do golfers themselves, and their Cuscowilla Golf Club, the #1 ranked course in Georgia, is one of the best courses I have played in the last decade. The flat layout is a paragon of simplicity and challenge rolled into one (the eye catching red bunkers, a mix of sand and good 'ol Georgia clay, aren't too shabby either). Located in a corner of the many-fingered Lake Oconee in the northeastern part of the state, Cuscowilla stands up to many local rivals, including three layouts at Reynolds Plantation (#,3, 5 & 8) and the Harbor Club in nearby Greensboro. About an hour south, the two-year old Longshadow Golf Club(#6 of 10) was initially named Madison Lakes for the surrounding residential community. The course has moved up the popularity scale in a few short years and deserved a more distinctive name. My son Tim and I played the front nine there before its official opening, courtesy of designer Mike Young, and it was clear, even before things were finished, that Longshadow had great bones.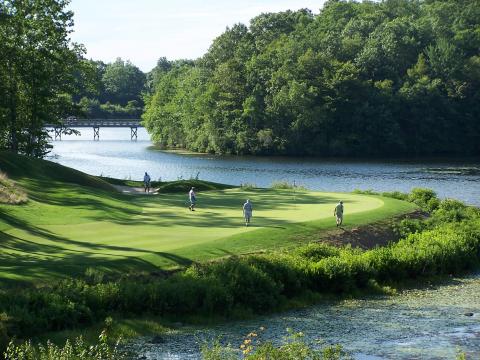 The Foxwoods Casino in Connecticut built two courses called Lake of Isles. The private one (pictured) features an interesting and challenging layout; the public one has an equal reputation.
Few golf courses are as much fun to play as The Ranch in Southwick, MA, just over the Connecticut state line. The club's name is a bit of a misnomer, the expectation being of a flat landscape; yet the layout at The Ranch rises gently over the first nine and reaches a lusty altitude on the 16th tee, where drives can easily roll down the mountain nearly 400 yards on the 618-yard par 5. The Ranch is rated #7 in Massachusetts.
Smokin' Tobacco Road
The courses in and around Pinehurst dominate the top 10 list in North Carolina, but Mike Strantz's wild and wacky Tobacco Road, about 45 minutes down the road, hangs in at #5, just behind the new Leopard's Chase, part of the Ocean Ridge Plantation community on the northern outskirts of the Myrtle Beach area. Tobacco Road is one of those courses that you should play once in your life, and I guarantee that someday, on another golf course or at a cocktail party, you will meet someone who also has played it, and you will have lots to talk about the rest of the night.
I have played all but two of Golfweek's top 10 courses in South Carolina, and they seem well chosen. I have no argument with Pete Dye's dunes
Although Caledonia is the most expensive daily-fee course in the Myrtle Beach area, few complain.
infested Ocean Course at Kiawah Island as #1, or Harbour Town on Hilton Head as the runner up. It has been years since I played them, but blind shots over dunes at the Ocean Course and more than just a lighthouse at Harbour Town rank high on my personal golf experiences. Caledonia Golf & Fish Club in Pawleys Island may be the hottest golf course east of Bandon Dunes, commanding $200 green fees in the peak seasons (fall and spring) in a competitive golf market place, but Caledonia is perpetually in such impeccable condition and so beautifully landscaped that few grouse about the expense, lack of a practice range and par 3 9th hole that seems something of an afterthought. True Blue Golf Club, Caledonia's sister course just across the street, holds down the #7 position and just 15 minutes away, the sporty Fazio-designed TPC of Myrtle Beach, racks up the #8 spot. All are part of the recent manufactured marketing association called the Waccamaw Golf Trail.
Pete Dye's Kingsmill Resort River Course holds down the #9 spot for Virginia. Kingsmill, in the golf rich and historic area of Williamsburg, is the epitome of a golf community for those who prefer to be on a lifetime vacation. The Tom Clark/Curtis Strange-designed Woods Course is almost as popular with Kingsmill guests as is the River Course; no residences pollute the vistas along the Woods layout. A third course, by Arnold Palmer, features large greens but lags the others in popularity. Perhaps the most unusual course at Kingsmill is Bray Links, a nine-hole short course along the river that commands the best views of all.
Comment
Be the first to comment