A roundup of news from golf communities and courses
Members sell their club. In a move that could signal a trend, members of The Reserve at Litchfield Beach (SC) have voted overwhelmingly to sell their private club to John McConnell, a former software company executive who is gobbling up financially strapped, high-quality golf clubs. Assuming the deal goes through on May 31, as the parties expect, McConnell will close the course for three months and replace the bentgrass greens with a more resilient Bermuda that can withstand the high temperatures of coastal South Carolina summers.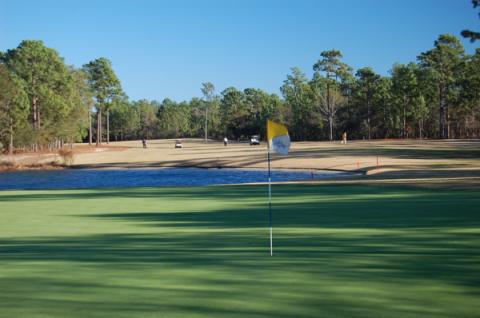 The new owner of the private Reserve at Litchfield Beach will close the course next week and replant all the bentgrass greens with a hardier Bermuda.

The Reserve, whose course was designed by Greg Norman and opened in 1998, is one of just a half dozen strictly private clubs along the 90-mile stretch of Myrtle Beach's Grand Strand, and one of three in the Pawleys Island area (the others are Tom Fazio designed Wachesaw Plantation and Pete Dye's DeBordieu Plantation). The Reserve is a non-equity club whose initiation fee has held steady at around $30,000. In the last half dozen years, McConnell has added to his portfolio such clubs as The Cardinal in Greensboro, NC; Treyburn in Durham; and Old North State Club at Uwharrie Point. The Reserve marks McConnell's first club in a coastal area. The highlight of membership in a McConnell golf club is the access to play at any of the other clubs. I spoke with a Reserve member who indicated more than 90% of his fellow members voted for the sale. The agreement includes a guarantee that the course remains private for at least 10 years.

*

Ginn sued again, its marketing agency too. Another month, another lawsuit against Bobby Ginn and his real estate empire, this time by a class action group of homeowners. But this latest suit, filed Friday in Florida, is more sweeping and includes as defendants Ginn's financial partner, Lubert-Adler; Fifth Third Bank, Wachovia Bank and Sun Trust Mortgage; and ESI Living, which allegedly orchestrated much of Ginn's marketing strategy. The suit charges the defendants with conspiracy to commit fraud throughout the entire sales and marketing process, and with kickbacks and other activities of collusion at 13 Ginn-developed properties (the only property not on the list is Rivertowne which Ginn purchased after development of the Mt. Pleasant, SC, community was well along). For the long list of charges, check out the web site of Toby Tobin (GoToby.com), a Florida real estate agent who has followed the Ginn saga closely for the last two years.
ESI Living's inclusion in the lawsuit is interesting. ESI specializes in promoting high-end properties, and its roster of clients reads like a who's who of top southeastern golf communities, including these I have personally visited (and can recommend): Champion Hills, The Cliffs, Haig Point, Mountain Air, Taberna, Connestee Falls, St. James Plantation, Governor's Club, Ford's Colony and Albemarle Plantation. A year ago, The Cliffs reportedly signed a marketing agreement with ESI after terminating its association with IMI, a Greenville, SC, based marketing group, although IMI is still promoting its relationship with The Cliffs at the IMI web site (odd that the copyright date on the web site is 2006 and its most recent press releases are circa 2008). It will be interesting to see how this latest imbroglio could affect the ESI/Cliffs arrangement.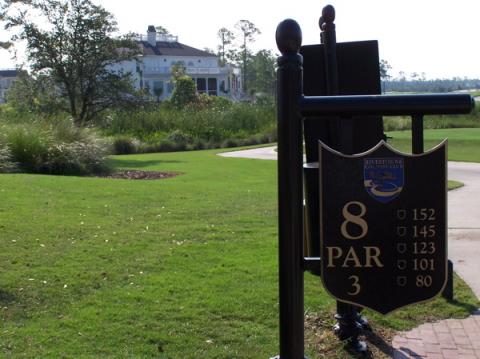 Rivertowne in Mt. Pleasant, SC, was one of the few Ginn properties not mentioned in a class action suit against the developer.
*

Discount real estate, discount golf.
The Gulf States of Alabama, Mississippi and Louisiana are underappreciated as vacation and retirement home destinations. The gulf coast's reputation as a destination for golfers suffered after Katrina, but Mobile, Biloxi and New Orleans offer an outstanding array of clubs and some of the best values in real estate anywhere.
To make gulf golf even more appealing, the PGA's Gulf States Section is offering a Golf Pass program with impressive discounts on dozens of golf courses throughout the three states. The program, which includes a free pass to the Zurich Classic in New Orleans and Viking Classic in Annandale, MS, covers such well-regarded tracks as TPC of Louisiana (Pete Dye course and home of the Zurich Classic), Dancing Rabbit Golf Club near Philadelphia, MS, and Pelican Point beside the Mississippi River near Baton Rouge. A 3,350 square foot 5 BR, 4 BA home overlooking one of the two golf courses at Pelican Point is listed for $459,900. Other homes in the community begin in the low $200s. Cost of the annual Golf Pass is $49.
Comment
Be the first to comment