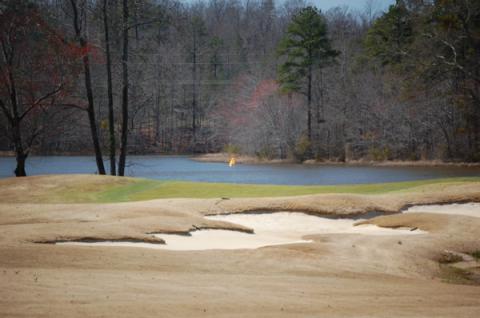 The Robert Trent Jones Trail in Alabama fared quite well in Zagat's 2009 guide to America's Top Golf Courses, including the Grand National course in Auburn, which was rated at a strong 26 of 30.

Spring is the season for golf course rankings. Golf Digest published its list a few weeks ago and Zagat's sent me its latest annual "Ultimate Golfer's Guide" the other day; Zagat asks me, as it does hundreds of others, to contribute my thoughts about some of the public courses I have played the previous year, in exchange for which they send me a free copy.
Golf Digest includes both private and public courses in its rankings, but of course the pampered private ones
Golf Digest and Zagat's agree that Pebble Beach is the best public course in the land.
dominate, with Augusta National, Pine Valley and Shinnecock Hills topping the list. (I was fortunate to play them some years ago, and my order is Pine Valley, then Augusta and Shinnecock; breaking 90 felt like a much greater achievement at Pine Valley than at Augusta. As for Shinnecock, the wind was blowing when I played, making it a relentlessly tough slog.)
Zagat
lists only publicly accessible courses, although it does mention the best private courses in the back of the book.
One other key difference between the listings: As mentioned,
Zagat
's includes the opinions of the average Joe to build its rankings.
Golf Digest
uses "raters," low-handicap players who are well connected enough to be invited to play at some of the nation's finest layouts. The average Joes, actually, do quite well in terms of their judgments when you compare the two lists. For example, the top public venue on
Golf Digest
's list is almost a cliché, Pebble Beach, at #6 overall. Pacific Dunes follows at #14, the only other course in the top 20. Whistling Straits weighs in at #22 and The Ocean Course at Kiawah Island #25.
Zagat
's guide differs only slightly, with its contributors agreeing that Pebble Beach is the best public course in the land, but putting Bethpage Black, site of this year's U.S. Open, at #2, and Pebble Beach's companion course Spyglass Hill at #3. The next three slots in
Zagat
's, in order, are held down by Whistling Straits, Pacific Dunes and The Ocean Course. Bethpage Black ranks #29 on the
Golf Digest
list. Rounding out the top 10 on
Zagat
's is Bandon Dunes (#7), Pinehurst #2 (#8), Kapalua Plantation (#9), and The Stadium Course at TPC Sawgrass (#10).
In its index,
Zagat
's includes a wide range of categories, such as those that will appeal to the budget conscious, those with the best clubhouses, the best 19th holes and the courses that are the most environmentally
Ocean Ridge Plantation, north of Myrtle Beach, contributes two top courses to Zagat's list of the best.
conscious. Missing are those courses that are part of residential communities. The guide lists plenty of courses from which they could choose, among them a nice sampling in the southeast. For example, Ocean Ridge Plantation, just north of the Myrtle Beach area in North Carolina, contributes two courses at the top of the overall list -- Leopard's Chase (with a rating of 28 out of 30) and Tiger's Eye (27). Pinehurst #2 hauls down the near perfect rating of 29 (a few of the other Pinehurst courses are highly rated as well). In Georgia, the Great Waters and Oconee Courses at Reynolds Plantation, and The Club at Cuscowilla, across the lake, were anointed with ratings of 27. Among the highly rated community courses in Florida, two Ginn Resort layouts are rated at 27; Ginn, as you have read in this space, unfortunately has run into some financial difficulties.
Note: Golf Digest publishes its rankings online at golfdigest.com/rankings. Zagat's rankings are not available without paying a fee, but if you want me to look up your favorite course, send me a note and I will be happy to.
Comment
Be the first to comment