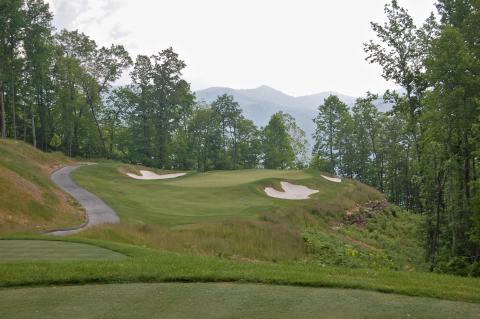 Bear Lake Reserve's nine holes by Nicklaus Design covers the community's mountaintop, with home sites set well back.

Before my first trip to Paris many years ago, a friend told me, "There is only one problem with Paris. Too many Frenchmen." It didn't ruin the experience for me; Paris remains among my favorite international cities.
But to borrow a page from my friend's line, the only problem with planned-community golf courses is too many darn houses. Put another way, I have not yet met the golfer who prefers lining up shots toward a gable on the
A string of oceanfront condos doesn't excite the golfing senses the way an ocean without them does.
second floor of a condo or at one of the three chimneys on a McMansion at greenside. It is much less disquieting to aim toward a notch in the distant mountains or at a spreading Japanese maple tree behind a green. To bring it down to a concrete example, literally, the 18th at Wild Dunes in South Carolina, with ocean left and condos along the right, doesn't quite excite the senses the way the 18th at the Ocean Course at Kiawah Island does, with a natural corridor of ocean on the right and natural links-like terrain down the left.
I have played community courses where it was hard to keep an occasional shot from bouncing off a roof, and others where it was hard to spot a roof. At Castle Bay, a Scottish links style course north of Wilmington, NC, that was designed by its developer, the memory of a surprisingly entertaining round was pretty much neutralized by a string of homes packed against each other along the 18th hole. That is not the kind of last (or lasting) image any golfer wants from a round. At my own vacation home course at Pawleys Plantation, a couple of years ago the developer built a string of condos not more than 30 yards from the edge of the 15th fairway. Because the hole is a dogleg left, the aiming line from the tee is at the second-floor bedroom deck in Unit #1 down the right side. Slightly pushed shots wind up out of bounds right or, potentially, into the screen fronting one of the condos' porches. Jack Nicklaus certainly did not have that in mind when he designed the otherwise splendid course in the late 1980s.
More often than not, though, the name designers (and developers) get it right, justifying their six- and seven-figure fees. Tom Fazio is among the best,
Tom Fazio and Pete Dye are among the best designers at balancing golfers' and developers' needs.
cleverly balancing the needs of the golfer for unimpeded vistas and the developer for the extra revenue generated by golf course lots. At Champion Hills in Hendersonville, NC, for example, Fazio gouged the fairways into the hills, creating a routing well below most of the community's amply sized homes. Views from the homes down to the course are impressive, and yet a golfer focused primarily on his shots won't notice most of the homes.
Cuscowilla, the Coore/Crenshaw course in rural Georgia that shows up perennially on best residential golf course lists, also does an excellent job of keeping its houses at a few hundred yards distance (one of the reasons it rates so highly). Other, more recently developed mountain communities seem to be increasingly sensitive to the yin and yang of homes and course layouts. Balsam Mountain Preserve (Palmer) and Bright's Creek (Fazio), for example, two North Carolina communities I visited a couple of months ago, have set their home sites up and away from their golf courses. Ditto Bear Lake Reserve, whose nine-hole Nicklaus Design course occupies top of the mountain status in the Tuckasegee, NC, community, its few adjacent home sites tucked behind trees and well away from the field of play.
Pete Dye also seems particularly adept at separating fairways from hulking mansions. At his Oconee Course at Ford Plantation, south of Savannah,
You can smell and hear the ocean from DeBordieu's Dye course, but you never see it.
GA, ponds and lakes form a natural barrier between a richly designed layout and the community's $1 million+ homes. At his older DeBordieu course, in Georgetown, SC, Dye faced a different challenge. Years before Dye's commission to build the course, the owners of DeBordieu sold off all the prime lots along the beach, leaving the architect with a relatively flat piece of land, a few lakes and a bit of marsh land with which to work. You can smell the ocean from the golf course and if the wind is blowing right, you can hear it as well, but you never see it. One is left to wonder if the timing had been different, would Dye's masterpiece Ocean Course have emerged just south of Myrtle Beach, rather than on Kiawah Island. Nevertheless, Dye, who knows how to push earth around to create earthbound moonscapes, did a nice job of bobbing and weaving his layout around ponds and marsh, confining the encroaching homes to adjacent to the tee boxes rather than along aiming lines.
Generally speaking, golf communities with the most expensive properties and golf fees, like the Carolinas' Cliffs Communities, put a safe distance between fairways and homes. If you are going to pay $150,000 for initiation fees, more than $600 a month in club dues, and upwards of $1 million for a home site, you should expect the views from the course to be as luscious as the views from your home.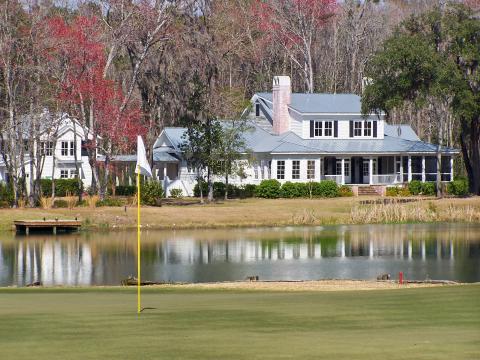 At Ford Plantation, Pete Dye and the developers used natural elements, like ponds, to separate homes from the course.
Comment
Be the first to comment