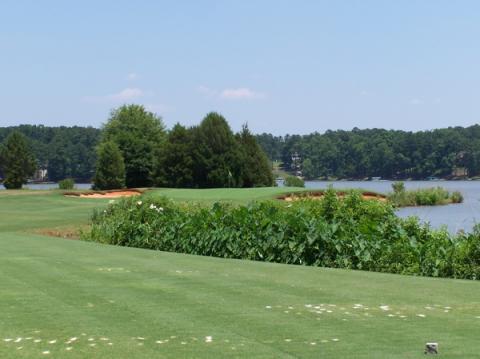 The Coore/Crenshaw layout at Cuscowilla in Eatonton, GA, is consistently ranked in the top 3 of Golfweek's "Best Residential Courses" list.

By Christmas time, we golfers north of the Mason-Dixon Line will be about two months past prime golf season and starting to shiver at the prospect of another three or four months of no golf. We can ease our pain by going online and checking out some of the vacation bargains southern golf resorts and hotels offer between Christmas and New Year's. Some golf communities actually offer even bigger bargains, as long as you will sit still for a couple of hours of a real estate tour. The so-called "discovery packages" are good ways to learn about a community first hand and to check out their golf courses up close.
I have personally visited the following communities and can recommend them as worthy of consideration. I would be happy to put you in touch with a representative of any of these communities to arrange your discovery package.

Albemarle Plantation, Hertford, NC.

The Plantation's package might be the best bargain in America, just $79 per couple for two nights in the community's Marina Villas. One round of golf for two on the Dan Maples designed Sound Golf Links and breakfast each morning is included. The only requirement is that you meet with a real estate agent and take a tour of the Plantation. Full use of pool, fitness facility and tennis courts are also included.

River Landing, Wallace, NC.

Located just off I-40 between Wilmington and Raleigh, River Landing is easy to reach by car but still out in the country. The community includes 36 holes of Clyde Johnston designed golf. A round of golf for two is included in the two-night stay (Friday to Sunday or Tuesday to Thursday), along with golf lessons and a tour of the community. Cost is $139.

St. James Plantation, Southport, NC

St. James offers as much golf as any community between Wilmington and Myrtle Beach, 81 holes of golf in all, although the Plantation Preview Package will make you choose your one round of golf from among three of the courses. The price is $199 per couple and includes two nights in an on-site condo and access to the private beach club (a few miles away), tennis and all amenities. Of course, you are required to take the customary real estate tour.

Cuscowilla Golf Club, Eatonton, GA

Cuscowilla, a golf resort and residential community on the shores of Lake Oconee, does not offer a discovery package per se, but its winter golf package for two amounts to essentially that (without the mandatory real estate tour). The $245 per night package (plus tax) includes golf for two on the terrific Coore/Crenshaw course and lodging in one of the community's Lodge Villa Suites. Cuscowilla is just about an hour from Atlanta International Airport.

Woodside Plantation, Aiken, SC

Woodside provides lodging at a choice of area inns, with prices running between $145 and $189 for a two-night stay in the town of Aiken. That's a good thing because Aiken is a charming town. Included is a round of golf for two on Woodside's Nicklaus Design course, dinner for two in the clubhouse and a $50 pro shop credit. The required real estate tour takes about two hours.

Osprey Cove, St. Marys, GA

Local boy Mark McCumber designed the course and your "stay and play" package includes a room overlooking his 18th hole, as well as a round of golf for two, access to the pool, hot tub and fitness center. The $99 per night package also provides access to dining and shopping in the pro shop. Guests have the option of foregoing golf and instead taking a boat excursion to Cumberland Island where the wild horses roam. Just leave a little time for the real estate tour.

Cooper's Point, Shellman Bluff, GA

You will have to pay for your golf, but when I played a few years ago, it was something like $40. The discovery package does include a night's stay in either a luxury hotel in Savannah or a bed and breakfast inn in nearby Darien, as well as dinner for two at one of the local seafood restaurants (Shellman Bluff is a tiny fishing port and nearby Brunswick is the unofficial shrimp capital of the east coast). Total cost is $199 for 1 night and $299 for 2 nights, real estate tour (of course) included.

The Landings, Skidaway Island, GA

At $325 for two nights and $450 for three nights, the discovery package at The Landings near Savannah is a little more expensive than the others, but with six golf courses on site and unlimited access to everything, including dining in the four clubhouses, the value is there. One of your fellow readers purchased a home in the Landings and could not be happier, and I was impressed with the help he and his wife received from an on-site agent. If you would like to talk with that agent or an agent at any of these communities, please let me know and I will make it happen.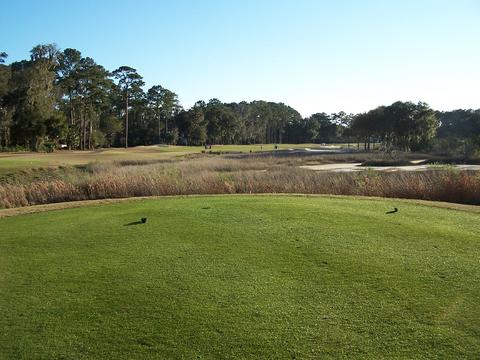 The Arthur Hills designed Palmetto golf course at The Landings is one of six immaculately groomed courses in the 4,500 acre community near Savannah.
Comment
Be the first to comment