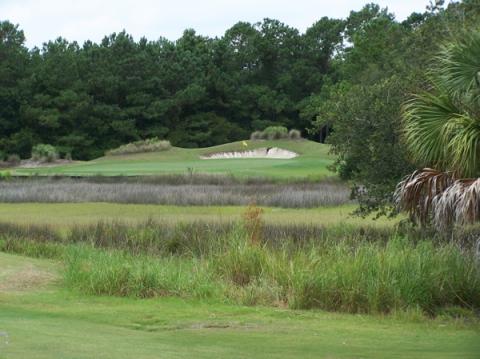 Rees Jones' Charleston National is one of the best looking courses in the Charleston, SC, area. The surrounding community offers plenty of choices of homes.
The primarily Republican residents along the Atlantic coast may be feeling a little blue after Tuesday's election, but they can assuage their disappointment on one of the many excellent golf courses at their disposal.
John McCain carried substantially more counties than Barrack Obama did up and down the coast from Virginia to Florida. For example, Perquimans County, North Carolina, home to Albemarle Plantation, a nice if somewhat remote golf community an hour south of Norfolk, VA, went 57% for McCain. An hour down the coast, in the up and coming New Bern, voters in Craven County gave Senator McCain the same 57% nod. The community called Taberna, home to many retired military personnel, is located just outside of New Bern, a town on many lists of "best places" to live. The Taberna golf course was well groomed and underrated when I played it a few years ago.
Further down the coast in Wilmington's New Hanover County, McCain inched out a 50% to 49% victory, essentially a dead heat. Wilmington's Porters Neck, with a classic design by Tom Fazio, and Landfall, with 27 holes by Nicklaus and Dye, offer a contrast of community designs and price points (and judging by the local voting, diverse political points of view). The most reasonably priced community in the area, Castle Bay, features a golf course designed by its developer who studied Scottish links and crafted a layout that is a joy to play (if you ignore the ubiquitous high-tension wires that thread through the course). Prices for the tidy homes adjacent to the course start below $300,000.
Golf's supermarket, Myrtle Beach, comprises both Horry and Georgetown counties, which went for McCain, 62% and 52% respectively. Out of the more than 100 courses on the Grand Strand, a relatively few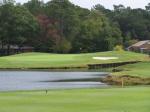 are private, community-oriented clubs, among them Grande Dunes (Nick Price), The Reserve at Litchfield Plantation (Greg Norman), Wachesaw Plantation (Tom Fazio) and DeBordieu Colony (Pete Dye). The private Surf Club, a former public fee course located north of Myrtle Beach, is a reasonable alternative to private community clubs, as is the vaunted Dunes Club, which permits limited play for those staying in some of the area's hotels. The remaining semi-private and public clubs offer a wide range of playing options; with a $39 annual Myrtle Beach Golf Pass, local residents receive discounts up to 60% off green fees for themselves and friends, even at the most popular course in the area, Caledonia Golf and Fish Club.
An hour down the coast in Charleston County, all but a relatively few votes have been counted, and Obama holds a commanding 54% to 45% lead. High-roller golfers will know the area as home to the famed Ocean Course (Dye) at Kiawah Island, as well as the private and highly regarded Cassique Golf Club (Tom Watson). But Kiawah and its neighboring barrier island, Seabrook, offer other splendid semi-private club and golf resort options. For less pricey options, Mt. Pleasant, just north of one of America's classiest cities, Charleston, offers both daily fee courses and one private club, Snee Farm, a classic George Cobb layout that is in way better condition than the club's dated and dismal clubhouse. My favorite daily fee course in town was Rees Jones' Charleston National, which threads its way through the marsh. My day of golf there a year ago was marred only by incomprehensibly indifferent service.
Just a sliver of Bryan County, Georgia separates two Democratic counties, Chatham (Savannah) to the north and Liberty County to the south. Bryan is home to the wonderful and expensive Ford Plantation and its Pete Dye golf course, one of the best I have played. Bryan County went strongly for McCain, with 71% of the vote, although Ford Plantation, with homes beginning in seven figures, is closer to Chatham County than it is to the heart of Bryan County.
The six counties extending south from Liberty County along the coast -- three in Georgia and three in Florida -- all went for McCain. These comprise the many excellent golf communities near St. Simons Island, Sea Island, St. Marys, Amelia Island and the Jacksonville area.
McIntosh County, Georgia, which went 53% for McCain, is home to one of the most interesting golf communities of my travels, Cooper's Point at Shellman Bluff. A good eight miles from I-95, the community is remote but close to a sleepy little fishing village where you can still haggle with a ship's captain over the price for part of the day's catch. The daily fee golf course is surprisingly challenging, lightly trafficked and priced to delight the most conservative spender in Congress.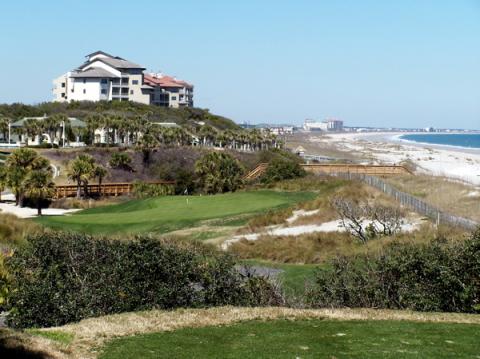 Amelia Island's Ocean Links is open to resort guests and residents who populate the adjoining single family homes, villas and condos. The par 3 6th hole is shown.
Comment
Be the first to comment