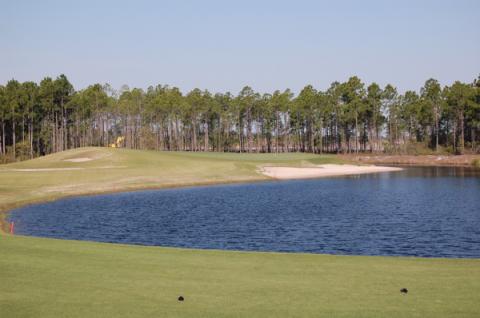 Prices on some homes inside St. James Plantation have been cut as much as $350,000, says a local realtor. Some current homes for sale include full golf membership in the price.

The message is the same from my real estate contacts throughout the southern U.S.: Home prices are dropping at double-digit percentages. This is a fairly new phenomenon for the vacation home and retirement
Homes selling for around $600,000 feature one more bedroom and bath than they did just a couple of years ago.
home markets in the region; for most of the prior decade, they had benefited happily as the target for disposable income coming out of Atlanta, Charlotte and the other thriving metropolises of the New South, as well as from baby boomers staking their claims to retirement homes. But traffic has now slowed down to a trickle, and sellers -- individuals and developers -- are feeling the pinch. With the current national financial crisis and no clear consensus yet on how to address the root cause housing market, some additional price deterioration in the south could continue for at least the next year.
"I have seen houses drop more than $350K, and lots in some areas are down by a third," wrote Jerry Jones, an agent serving Brunswick County in coastal North Carolina. In past years, homes selling for as much as $2 million or more seemed immune from any discounts, let alone such big ones, but now agents are seeing those kinds of reductions on homes listed for barely more than $1 million.
This is not just anecdotal evidence. The respected Case-Shiller home price index shows homes in the nation's major markets have dropped 18% from their top levels in early 2006. The typically more conservative National Association of Realtors numbers are 12% off peak.
As an exercise, I conducted a scan of homes in some of the finest communities in the southern U.S., places I have visited over the last three years. I set a price of $599,000 which, a few years ago, would have landed a modest three bedroom, two or 2 ½ bath home. My observation now is that, for the same price, you can add a bedroom or two and a bath, plus other options tough to find at that price point a couple of years ago.
All the following are listed at $599,000, except as indicated. Note that if you are interested in any of these properties or communities, please
let me know
and I will be happy to put you in touch with a qualified realtor:
Champion Hills
, Hendersonville, NC. 3 BR, 3 BA, 2,384 square feet on 1 acre in wooded setting. Open floor plan, fireplace, 2 BRs on main level, Master on top floor. Golf course is outstanding Tom Fazio design.
Pawleys Plantation
, Pawleys Island, SC. 4 BR, 3 BA, square footage/acreage not listed. Brick home on Jack Nicklaus golf course; great room with fireplace; heart pine floors; MBR suite opens onto patio.
Woodside Plantation
, Aiken, SC. 4 BR, 3 ½ BA, 4,200 square feet on ½ acre. Two-story French Country style stucco home in community with three courses (Nicklaus Design, Rees Jones, Bob Cupp). Hardwood floors, cast stone fireplace, 5 cedar closets, two offices.
Governors Club
, Chapel Hill, NC. 4 BR, 3 ½ BA, 3,492 square feet on 1/3 acre. Seven year old French Provincial cedar and stone home in Chapel Hill's most upscale golf community, with 27 holes of Nicklaus golf. Fireplace and MBR downstairs.
Governors Land
, Williamsburg, VA. 4 BR, 2 ½ BA, 2,960 square feet on 4/10 acre lot. Ten-year-old brick Federal style home with unfinished room on 2nd floor (with roughed-in bath). Nice Tom Fazio designed course.
Porters Neck
, Wilmington, NC. 4 BR, 4 ½ BA, 3,995 square feet on 6/10 acre. Brick home with glass walled room and deck that overlooks 11th hole on classic Tom Fazio course. MBR downstairs, 3 BRs upstairs, boat ramp, price reduced $150,000 (trade and/or owner financing available).

St. James Plantation
, Southport, NC. ($579,500) 4 BR, 2 ½ BA, 3,350 square feet on 2/3 acre. Eleven-year-old builder's home has view over pond to 15th hole on Founders Course. Price includes premier golf membership, a $28,000 value. Five golf courses in all.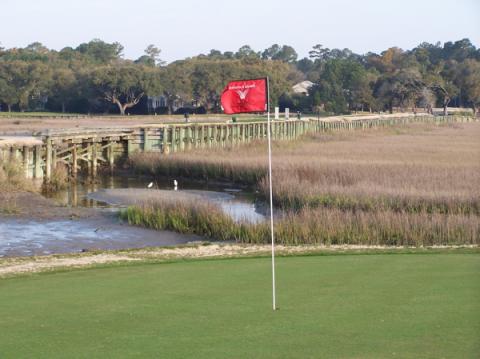 The short but windblown 13th at Jack Nicklaus' Pawleys Plantation Golf Club features one of the smallest island greens anywhere in the southeastern U.S. The community also features a mix of single family homes, condos and golf villas.