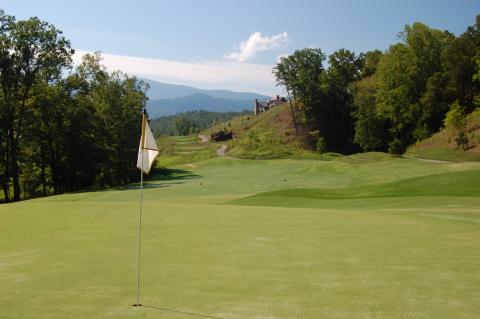 The two-year old Bright's Creek Golf Club in Mill Spring, NC, a Tom Fazio course, cracked the top 100 list at Golfweek. Photos by L. Gavrich
Golf course designer Tom Fazio is finicky about what assignments he takes on. If he doesn't like the canvas, he won't paint the picture. During a trip through the western North Carolina mountains recently, I learned Fazio had turned down a commission on a brilliant piece of property at Balsam Mountain Preserve, near Waynesville. Arnold Palmer took up the challenge and the result is a beautiful layout with some occasionally odd holes.
I have never encountered a hole I would call "odd" on a Fazio designed course, and I have played nearly 300 holes on his courses. Although it is fairly easy to identify certain Fazio elements on all his courses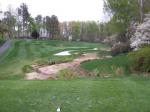 (banked fairways, buried cart paths, elaborate fairway bunkers), a few holes stand out. The best example for me is #17 at The Cliffs at Keowee Vineyard, a 260 yard downhill par 3 with water on the right, a bunker wedged between the lake and the green, and ample bailout to the left. The go for broke shot to the green, over water and bunker, gives the effect of a dogleg right, something you don't see every day on a par 3. It is a beautiful hole, as well as a brutally challenging one, for a few years the toughest hole on the Nationwide Tour when the course hosted preliminary rounds of the local BMW Pro-Am.
For the visual appeal of his courses and their not-too-hot, not-too-cold but just right playability factor, Fazio is the darling of many high-end golf community developers. On Golfweek magazine's 2009 list of "Top 100 Residential Golf Courses," Fazio leads every other designer with 19 courses, followed closely by Jack Nicklaus with 18, including the cleverly named Concession Golf Club in Florida where he shares credit with Tony Jacklin, to whom he conceded a famous Ryder Cup tying putt a few decades ago.
Fazio and Nicklaus also command the first four spots on the list, with Fazio's 1988 design at Wade Hampton in Cashiers, NC, holding down its perennial top spot, and Nicklaus' Castle Pines (Colorado, 1981) and Mayacama (California, 1988) in second and third position. San Antonio's Briggs Ranch, designed by Fazio in 2001, is at #4, followed in fifth place by Cuscowilla, a favorite of mine in rural Georgia that was designed by Bill Coore and Ben Crenshaw 10 years ago and has vied with Wade Hampton for the top spot in the last few years.
No other designers crack the double-digit mark on the list, although Tom Weiskopf has his name on 10 courses, four in partnership with Jay Moorish and all but one (in Michigan) in the southwest region of the country. By my count, Pete Dye has five on the list, and Arnold Palmer, Rees Jones and Greg Norman four each.
A handful of courses are new to Golfweek's list, including Mill Spring, SC's Bright's Creek (#38) and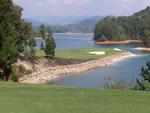 Madison, GA's Long Shadow (#74). I played Bright's Creek, another fine Fazio layout, a few weeks ago and reviewed it here. I played Long Shadow a few years ago before it opened, invited to do so by designer Mike Young, one of the most accomplished architects you have never heard of (he has designed 40 courses around the world). Long Shadow's layout was wide open, for the most part, with Scottish links touches around the yawning fairway bunkers. When the wind blows, I would imagine it is a bear (apologies to Nicklaus).
Golfweek has also published its list of 100 top resort courses for 2009, with the usual suspects in the top five positions (ranked in order from #1): Pacific Dunes, Pebble Beach, Whistling Straits, Pinehurst No. 2, and Bandon Dunes. Many of the resorts are in the middle of golf communities where residents coexist with vacationers.
Oddly, Golfweek's web site only displays the 2007 and 2006 top 100 lists, but the full 2009 lists for residential communities and resorts are in today's weekend edition of the Wall Street Journal. I cannot find any link to the Golfweek list at the Journal's web site. If you have any questions about a particular community or course, residential or resort, send me a note and I will check on it for you.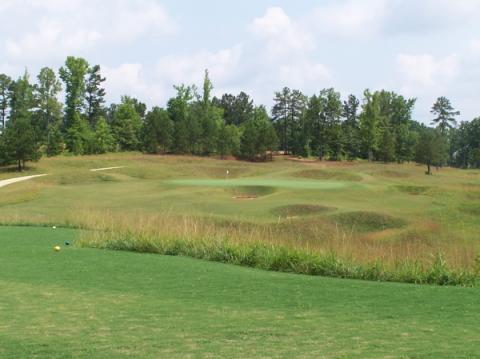 Designer Mike Young adds a number of Scottish elements to his rural Georgia course, Long Shadow, near the charming town of Madison.
Comment
Be the first to comment