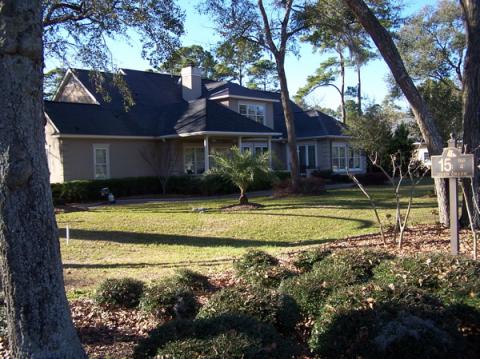 In a market in which some developers are going under, it is best to buy in an established community with a stable history. The Landings at Skidaway Island, near Savannah, is one of many southern communities that fit that description. The 20-year old, 4,500-acre property features six excellent golf courses.

Despite all evidence to the contrary about the U.S. housing market, this headline in the Hartford Courant's business section greeted me this morning: "Housing: A Ray Of Light Shines In."
The housing market is not a religion; a little faith does not go a long way. Indeed, it can send people down the wrong investment path if they believe everything the preachers of optimism dole out. Someday, the market will indeed turn around, but IF is never the point in timing any market; it is all about WHEN. And there is a word for those who think they can time any market precisely (insert your own synonym for "loser" here).
Yesterday, the U.S. Commerce Department reported sales of new single-family homes dropped 6/10 of a percent in June, "less than half the decline
The experts were surprised at the latest new home sales figures, extending their streak of ignorance.
that had been expected..." by industry observers. I understand that journalists have to listen to "industry observers"; except for the few major papers that can afford an on-staff real estate reporter, the rest are left to repeat whatever the experts say. But that doesn't mean the rest of us have to believe any of it if all logic is to the contrary. The "experts" have not exactly nailed the housing trends over the last few years; the fact that they were off by half in predicting new homes sales just sheds additional light on their irrational exuberance (read ignorance).
The new home sales report follows Thursday's report on existing home sales, which dropped 2.6 percent in June. Foreclosures continue to glut the market and have the banks so fearful about lending money that only the well-to-do need apply. Of course, the core business of banks is to make loans, so when they decide to purposely slow down their own revenue generation, that puts an entire category of buyers on the sidelines.
But therein lies the opportunity. Cash is king in a market where there are plenty of sellers. My real estate contacts in the southern U.S. report scores
One of my real estate contacts was able to negotiate a savings of $100,000 for a client.
of great listings at impressive prices (and that includes not just private sellers, but developers of communities with a nice array of amenities, including golf courses). One real estate contact told me this week she was able to negotiate a $100,000 savings for her customer on a $900,000 property. Proportionate deals are available across the range of real estate options.
Anyone with cash - in the bank or available in their primary home - has the leverage to work out such a good price on their next home that they can be liberal about cutting the price on their primary home. You lose a little on one end, but you make it on the other. When opportunity knocks, don't knock the opportunity.
As for worrying about the appreciation on your next home, you can cover yourself by buying into a stable, established community in the southern U.S. that is already a magnet for baby boomers. Their younger counterparts, part of a group of 76 million, will be joining them in the coming years. Eventually, markets recover. The experts cannot be wrong forever.


Comment
Be the first to comment