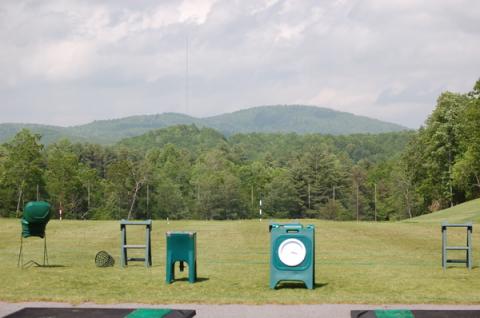 The best view of the mountains at Connestee Falls is on the practice range.

I just finished a three-day visit to communities in the western Carolinas area, with rounds of golf at Cherokee Valley (Travelers Rest, SC) and Connestee Falls (just south of Brevard, NC), as well as a tour of the brand new, nine-hole layout at Bear Lake Reserve near Sylva, NC.
I'll have full reviews of the communites and their golf courses in the coming days, but I will offer one quick observation here. Mountain communities with golf courses sometimes do a lousy job - or no job, really -- of using mountain vistas as backdrops to their golf courses. But for an occasional peek at a peak, I played 36 holes in the mountains and saw no mountains. At the P. B. Dye-designed Cherokee Valley, for example, the mountains are at your back for the few holes where you can see them at all. Only on the 6th, a brawny, downhill par three of 200 yards, do you have that classic high-altitude moment where your ball floats in the air off the tee against a mountain backdrop.
At Connestee Falls, the best views are from the practice range and the unique deck in front of the pro shop. The deck, which doubles as a cart return after your round and the place to stop after nine for a drink or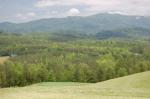 bathroom break, looks to the practice green below and toward the Smoky Mountains in the distance. You drive up a concrete ramp to the deck on the third level of the clubhouse; from there the views are spectacular, but they are the only ones of the day, unless you use the club's practice range, which looks straight out to dramatic peaks in the distance. The assumption, of course, is that those views will carry over to the course. Forget it.
There are no such height restrictions at Bear Lake Reserve, a four-year old sprawling community that arcs around and above a sylvan lake near Sylva, NC. Centex, the original developers of Bear Lake (they sold to Terremesa Development recently), engaged Nicklaus Design to plan out a nine-hole, par 29 routing. The architects insisted that if they were going to sign up to design a short layout, it would have to be on a piece of land of their choosing. Centex gave way, and Nicklaus chose the highest spot on the property, carving out what could very well turn out to be the most dramatic, and toughest, stretch of holes in the mountains. At 3,800 feet, there is no problem at all with distant mountain views from Bear Lake Reserve's course, which opens for play July 1.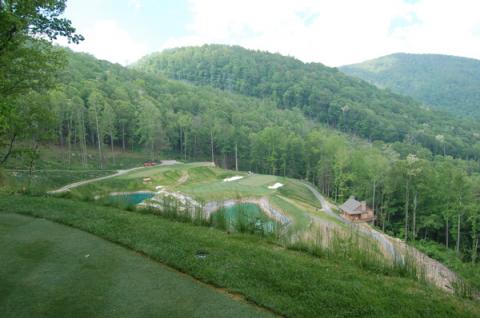 The 8th hole at Bear Lake Reserve's soon-to-open nine hole layout maximizes the mountains as backdrop. The rest of the course has similar views and some challenging holes.
Comment
Be the first to comment