*cost of living adjustment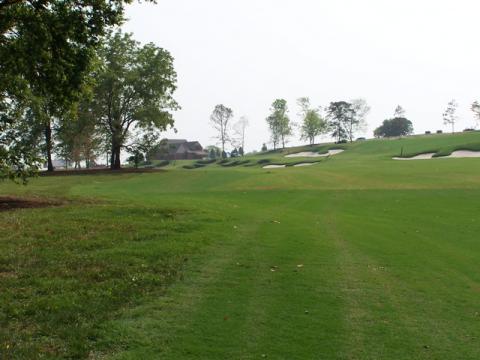 Most everyone moving from the north to Knoxville, TN, will see their cost of living drop dramatically. Homes at Tennessee National, about 20 minutes outside the city, are at the high end in the area but nothing like high end homes in the New York City area.
I carry on in this space a lot about the widening spread between home prices in northern metro areas and those in many southern areas. You know the line of reasoning: If your home in Syosset is losing, say, 4% of its market value every year and that place you've been eyeing in Asheville is appreciating about 8% a year, then if the trend continues over the next few years, you lose big.
But there is another equally compelling financial reason to consider taking what the market offers for your
Cost of living in Greenwich, CT, is 284 percentage points above the national average; Knoxville is 20 points below.
primary house and head south - cost of living differences. Information from the statistics happy web site BestPlaces.net provides dramatic testimony to how much can be saved by moving.
BestPlaces folds costs for housing, food, transportation, utilities and healthcare into its calculation of overall cost of living, and pegs its national average at 100 for comparison's sake. Although differences in housing are profound north to south, the other factors weigh heavily in the differences. For example, the overall cost of living in Boston is pegged at 128, or 28% above the national average. Knoxville, TN, is a mere 80 on the cost of living scale; and, as we might expect, housing in Boston is substantially higher, at 48% above national average, whereas Knoxville is 56% below. But a scan of all the other categories shows Boston above the national average across the board and Knoxville below it across every single category. For example, the spread between healthcare costs in the two metro areas is 41 percentage points (Boston = 130, Knoxville = 89).
The
BestPlaces
data, which is compiled from a number of official sources, isn't always up to date, but it is a helpful way to personalize the data to individual situations. For example, a couple expecting to use the healthcare system more than others can assess the comparative costs, which can vary significantly even inside one particular state. In St. Augustine, FL, for example, health care costs are just below national average at 97%, but Ft. Lauderdale checks in at 117%. Twenty percentage points may not seem like a big deal, all other things being equal, but if you are going to be a big user of health facilities, it adds up.
Low cost of living areas that stick out from a sample list include Augusta, GA (78%), Savannah (89), Panama City, FL (86), Charlotte, NC (91), Greenville, SC (81), Biloxi/Gulfport, MS (85) and Aiken, SC (90).
If you want to noodle around with the numbers, visit
BestPlaces.net.
If you want information on any golf communities in the areas of your interest, let me know and I will be happy to help.
One final note: If you live in Greenwich, CT, please call me. Your overall cost of living is a whopping 284 points above the national average. I think we can do better than that.
Comment
Be the first to comment