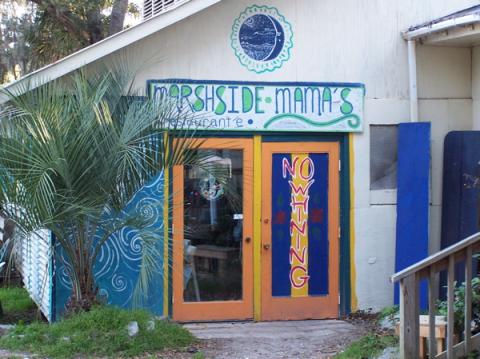 After a pleasantly exhausting day of golf on Daufuskie Island, kick back at one of the few restaurants outside the communities. Marshside Mamas seafood, music and funky atmosphere is legendary on the island.

On this St. Valentine's Day, I've combed my memories and files for a few ideas on how to spend a romantic day at some of the south's best golfing communities:

Osprey Cove, St. Mary's, GA

Play a morning round at the challenging Mark McCumber course. Then take the five-minute drive into the charming seaside town of St. Mary's and catch the boat to Cumberland Island, a 20-minute ride. Wander the paths and beaches of Cumberland, keeping an eye out for the wild horses that populate the island (the only human residents are the guests at the famous Greyfield Inn, where John Kennedy Jr. was married). On the return to St. Mary's, dine at the tiny Sterling's Cafe, on the site of an old dry goods store, where owner and cookbook author Marianne Thomas pampers her guests without robbing their wallets.

Cliffs at Glassy, Landrum, SC

Roll out of bed to play the high and mighty Tom Jackson layout, with scintillating views in all directions. Drive to the very top of the community and its chapel, where you can fall to your knees and thank the Lord you found each other. Out back of the chapel is a bench with the most commanding view of mountains and valley that you are likely to see. On Valentine's Day, the two of you will feel on top of the world.

Mountain Air, Burnsville, NC

Most people own a second home here, and some fly their own planes and land on the strip that bisects the Scott Pool golf course on the very top of the 4,500-foot high mountain. If you are among the lucky few, park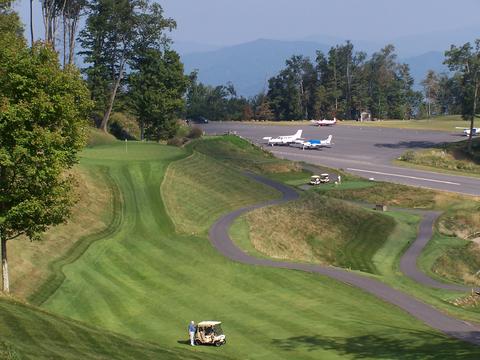 the plane, then play the course with your heads literally in the clouds. Have a casual lunch overlooking the runway, cheering your fellow pilots as they land, and then make your reservation for dinner in the expansive log cabin clubhouse. The clubhouse is closed for the winter season, but you are a 10-minute drive down the mountain and more than a half hour into Asheville. You are such special members that Mountain Air's general manager is happy to call in the chef and get the huge stone fireplace going. After a bottle of wine and a rich dinner, you can stoke your own embers back at your house on the mountain.

Debordieu Colony, Georgetown, SC

If the weather is nice, roll out of bed with thermos in hand and walk the community's two-mile beach, searching for whatever the ocean has given back during the night. Then play the typically wind blown but atypically designed Pete Dye course. Few railroad ties in evidence, just a surprisingly straightforward layout that doesn't quite reach the ocean, which you can hear and smell but not see. Return to the beach to work out the kinks before dining on quail and grits at The Rice Paddy, a renowned in-town restaurant in a former bank. Order a bottle of wine stored in the bank vault. Drive carefully and watch out for marsh deer on the five-mile ride back home.

Ford Plantation, Richmond Hill, GA

Awake and, over coffee, thank each other that life has been good enough that you can afford to live in a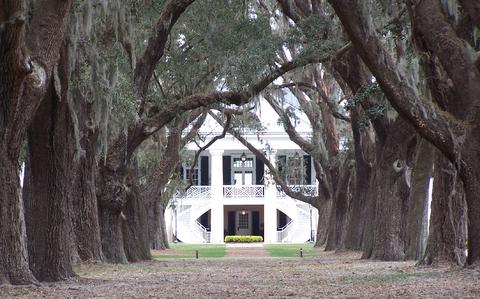 community of mostly six figure homes and majestic live oaks. Then play an uncharacteristic but terrific Pete Dye course along the banks of the Ogeechee River. Beg the management of the Plantation to let you spend the night in either Clara (Mrs. Henry) Ford's former bedroom or the old man's room. Don't waste too much time looking for the secret passageway Henry allegedly used to make his way to a love nest 100 yards across the lawn (his, ahem, "laboratory" he called it). Dinner is in the stately Main House, down a flight of stairs from the Fords' bedrooms.

The Landings at Skidaway Island, GA

Share a cart with your loved one for two rounds on any of the six excellent courses. My recommendation is to play the Arthur Hills Palmetto course in the morning; it is the most challenging of the group and by a designer who doesn't get enough credit for his fine work. After lunch in one of the community's multiple clubhouses, head for Tom Fazio's playful Deer Creek for a relaxing afternoon round. Get a two-hour nap in before driving the 15 minutes into Savannah for dinner at your choice of restaurants, as long as it isn't Lady & Sons, Paula Dean's tourist trap testament to cholesterol. Hire a carriage for a ride through some of the city's more than 20 squares, spending midnight in the "garden of good and evil."

Haig Point, Daufuskie Island, SC

No man is an island, nor is a woman, but an island like Daufuskie can insinuate itself into your soul. Reached only by ferry, the island's marsh, ocean, live oaks and general atmosphere give cabin fever a good name. If you are feeling perky, go the full 27 holes at the recently refurbished Rees Jones layout, with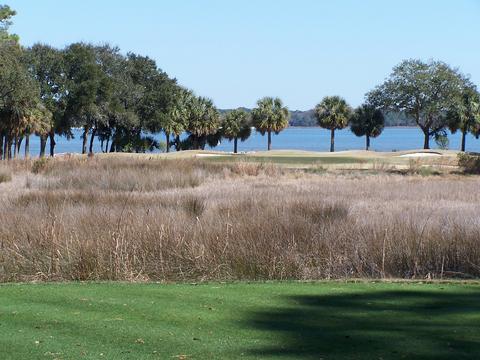 dramatic views of the marsh and Hilton Head Island beyond. After golf, take your personal golf cart - they typically come with the purchase of a home -- to the Daufuskie Island Resort just five minutes away. Try for a seat at the windows overlooking the ocean in the resort's stately dining room. If you haven't had your fill of golf, time your afternoon round at Nicklaus' Melrose course, a fine early example of his work, so that you are coming down the oceanfront 18th at sunset. Alternately, get a his-and-her massage at the resort's renowned Breathe Spa. If you haven't collapsed with exhaustion by dinnertime, head for the funky Marshside Mama's, one of only a few eateries on the island.

Governor's Club, Chapel Hill, NC

If you just want to indulge yourself without wandering off the reservation, there is no better community to do it. Sleep in, then play 27 holes of challenging Jack Nicklaus Signature golf, with a leisurely stop for lunch after 18, and most of your day is spoken for. You could drive 15 minutes into town for a meal at one of a handful of excellent restaurants in the college town, but you could hardly do better than the expertly prepared food in the club's modern and sleek clubhouse. Of course, if one of you has scored two tickets to the University of North Carolina basketball game, then start your engines and grab a hot dog before tipoff.

Pawleys Plantation, Pawleys Island, or The Reserve at Litchfield Beach, SC

After breakfast at the popular Eggs Up Grill in Litchfield, play your round at either the dramatic Nicklaus Signature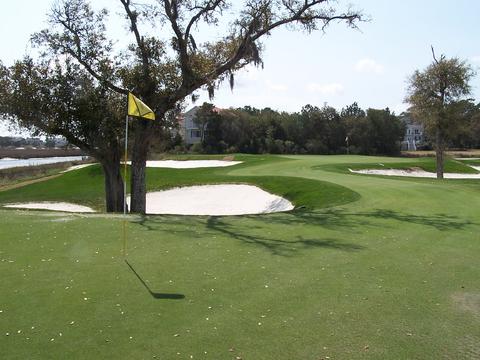 course at Pawleys, with a back nine that slinks along the dramatic marsh and features the connected 13th and 16th greens (pictured); or Greg Norman's less dramatic but finer conditioned layout for the Reserve. No matter which, finish your round in time to take lunch at the Caledonia Golf and Fish Club, for the endless views across the marsh, the efficient if bustling service, and the wide range of menu choices (the fried stuff is sinfully good). Take your after-lunch drink out on the rocking-chair-lined veranda that almost literally hangs over the putting surface of the 18th, and join others in cheering or, in jest, jeering those who three putt the enormous green. Bring a camera if you decide to play the course; the azaleas should just be starting to pop. For dinner, choose any of the eponymous and excellent restaurants in Pawleys Island - Frank's, Austin's, or Louis'.

Amelia Island Resort, Amelia Island, FL

Amelia is all for one, or better all in one, with four golf courses, a long clean beach and all the amenities a topflight resort has to offer. We have friends who have spent every Thanksgiving here for over a decade. For your morning round of golf, choose Long Point, a splendid Tom Fazio layout, the best of the four courses on the property. Take your lunch at the beach club that overlooks the Atlantic, and go for a bracing late afternoon swim (okay, okay, very bracing in February). Or if you are up for another round of golf, opt for the Pete Dye/Bobby Weed Ocean Links course, with a few back nine holes along the Atlantic. Conspire to cook a luscious dinner at home, with extra bottle of wine optional. Or if you are too worn out to cook, take a short drive to Fernandina Beach, an historic ocean town, and choose among its few but choice seafood restaurants.

Bald Head Island, NC

Your fearless editor was fearful for his life when he became hopelessly lost in a golf cart on this fair-sized island one cold November night two years ago. With few streetlights and fewer residents in the cold months, Bald Head can be a lonely place or a romantic one, depending on your point of view. If you are of the latter persuasion, go for a ride in your super charged golf cart and get lost like I did. You'll be clinging to each other for hours. Alternately, take the 25-minute ferry ride to the charming city of Southport for a candlelight dinner. Make sure to buy a bottle of champagne for the ride back, glasses optional. As for the golf, the nice George Cobb layout offers many shot-making opportunities but too few views of the water. If you are lucky to have a western view from your home, point your chair in that direction and enjoy one of the finest sunsets your correspondent has ever seen. Then curl up by the fireplace to end the day.

River Place, Austin, Tex

The Tom Kite course was so difficult when first built in 1982 that the owners had it rebuilt two years later. Designed originally as a walking course only for the most physically fit, today hardly anyone plays without a cart. The course has its ups and downs in more ways than one, but the roller coaster fairways and cart paths will provide you and your sweetie with a few thrill rides. Forgo dinner at the weirdly designed clubhouse (nice views of the Texas Hill Country, though) and choose among any number of barbecue palaces within a few miles drive. Use your hands to recreate the primitively sexy eating scene from the movie Tom Jones.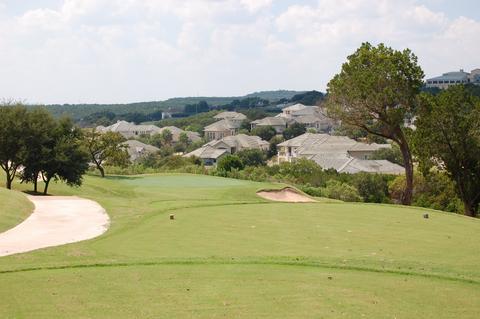 The views of the Texas Hill Country from River Place Golf Club are romance for the eyes.
Comment
Be the first to comment