I am off to Alabama in early March to check out some of the communities that are sprouting up along the famed Robert Trent Jones Golf Trail. Alabama doesn't register on most northerners' radar as a place to retire to a golf community, but that may very well change soon. Prices are quite reasonable, cheap really compared with many similar homes and properties in other southeastern states. And the golf, though not private, is as impressive as most private courses that charge initiation fees of $50,000 and up.
After a stop at Callaway Gardens in Pine Mountain, GA, to watch my son play in a collegiate golf tournament,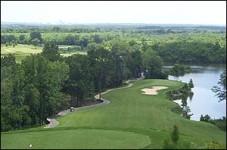 I'll head for the Opelika/Auburn area and the Grand National Course, located at about the mid-point on the 360 mile trail, which runs from Huntsville in the north to Mobile on the Gulf Coast. A new community, National Village, is in the early stages of development adjacent to Grand National and its 54 holes of golf. Then I will move on to Birmingham to inspect (code word for "play") the Oxmoor Valley course before ending my Alabama visit at Silver Lakes, near Anniston.
Since I have a few weeks before the trip, I would be grateful to anyone who has played the Jones Trail for input and advice, as well as any requests for things I should look for. Use the comments area below to share your ideas with everyone, or the contact button at the top of the page to send me a note. As thanks for your contribution, I will send you a copy of the latest issue of our HomeOnTheCourse newsletter.
Photo is from web site http://www.rtj-golftrail.com.
Comment
Be the first to comment