Note: GolfCommunityReviews has no marketing arrangements with any golf course communities or clubs. We report what strikes our fancy and what we think will be of interest to our readers.

Incentives laden: The incentives keep piling up for those lucky enough to have the ability to purchase a second or retirement home in the current dismal market. Sea Trail, a sprawling Sunset Beach, NC, golfing community about 25 miles from Myrtle Beach, SC, is trying hard to move their Eastwood Bluff town homes, which debuted early last summer. The developer is offering free membership in the 2,000 acre community's three golf courses by Rees Jones, Dan Maples and Willard Byrd, a $15,000 value; no dues for membership in the first year after purchase, a $5,400 value; and $10,000 toward the cost of the town home. The 2,300 square foot and greater units each feature a private elevator and garage; views of fairways, pools, ponds and lakes are still available, and you can walk or ride a bike to the beach. According to one of Sea Trail's sales representatives, the community has plans for a total of 22 buildings, with four units in each, to complete Eastwood Bluff. To date, two buildings are up with just three of the eight units sold. One additional incentive: Current units are available starting at $595,600, but later units will be pegged at over $800,000. Of course, if the market continues its slovenly ways, the next incentive may be lower prices...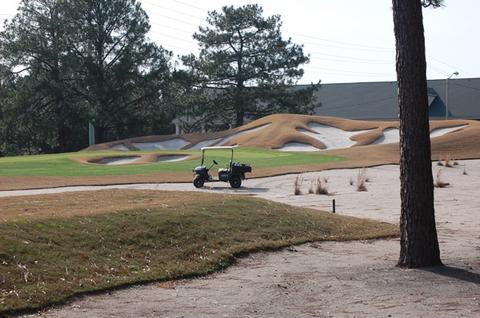 The Founders Club (above) trucked in a lot of sand and moved a lot of earth to transform the old Sea Gull Golf Club into a high-end daily fee club in the Low Country of South Carolina. The shot is from the waste bunker to the right of the 9th fairway.
Laying waste bunkers: The latest Travel & Leisure Golf magazine may have missed the mark with its rankings of the top 100 golf communities in the U.S. (see yesterday's article below), but its "New Course Review" section is always a fun read. The magazine includes the upcoming Founders Club, due to open in Pawleys Island next month, as one new layout to note. It claims the layout, totally redesigned by Thomas Walker, was "inspired by Pine Valley," which is something of a stretch based on my own walk around parts of the course two weeks ago. That said, a lot of sand has been dumped beside the fairways, and the former Sea Gull Golf Club layout has way more waste areas than it ever had. I am looking forward to playing Founders in March and will report here on whether it offers a Pine Valley like challenge...

Lucky 13: LINKS magazine, one of our favorites especially for its lush photographs and go-anywhere-to-get-them attitude, is sponsoring a contest that provides an opportunity to design the 13th hole on a new layout by Arthur Hills, one of the design business's most underrated architects. The prize for the best design will be two visits to the Westhaven Golf Club in Franklin, TN, during construction and for the course opening. And, of course, a kind of poor man's golfing immortality...
True, but still false advertising: You would think that with the signing of Gary Player and Tiger Woods to design The Cliffs Communities' seventh and eight courses in the Carolina mountains, and Jack Nicklaus and Tom Fazio designs already in the fold, no further hyperbole would be needed about the benefits of Cliffs membership. But The Cliffs continues to quote Resort Living magazine, which is published by the Cliffs' own marketing agency, that the Cliffs offers "one of the most comprehensive and impressive club memberships in the world." That certainly is true, but the false advertising is unnecessary and unbecoming.


Comment
Be the first to comment