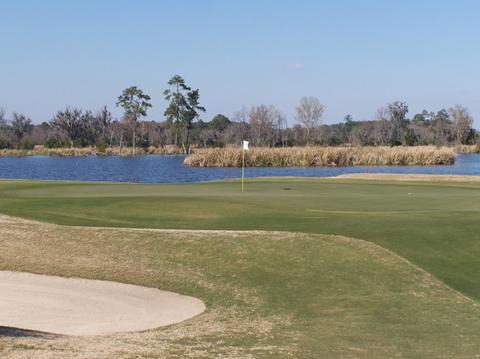 The Ford Plantation, whose Pete Dye course is one of his most restrained and best designs, made the Travel & Leisure Golf magazine's list of top 100 golf communities in the U.S.

Travel & Leisure Golf magazine is out with its annual ranking of the "Top 100 Golf Communities" in America (January/February 2008 issue). Aside from some surprises near the top, the list is noteworthy for playing fast and loose with the definition of "private golf club." "Limited public access to the course," write the editors, "is allowed but may detract from a community's ranking."
Kiawah Island, for example, is listed at #5, but most of the island's courses are accessible to those staying in one of the townhouses or at the hotel on property. I'm not sure I'd consider my course "private" if, every day, dozens of interlopers are out there hacking up divots and leaving ball marks on the greens. Frankly, you don't even need to be a guest of the resort to gain access to the courses; if you want to play Kiawah's famed Ocean Course, for example, all you need to invest is $400 for green fees and an
Kiawah is an hour and a half drive to and from Charleston over a Flintstone era two-lane road.
hour and a half drive to and from Charleston over a Flintstone era two-lane road. No mention of Kiawah's relative remoteness is made.
The magazine rates Sea Island, GA, even more remote than Kiawah, as the top community in the nation. It is indeed a beautiful place of great history, personality and well regarded golf, but it is an almost two-hour drive from the Savannah and Jacksonville airports, neither of which leads the nation in non-stop flights from elsewhere. Of course, if you can afford a multi-million-dollar second home in one of the island's nine neighborhoods, chances are you will be flying by private jet to McKinnon Airport on nearby St. Simons Island. Most of the Sea Island courses are also accessible to resort guests, so you have to wonder how much that really "detract[s] from a community's ranking" in
T&L
.
T&L gives short shrift to the perennial top two communities in
GolfWeek
's own annual rankings - Wade Hampton in Cashier's, NC, and Cuscowilla in Eatonton, GA. Wade Hampton, which certainly meets the
T&L
spec of exclusivity, weighs in at #18; the magazine notes that the accompanying Tom Fazio layout celebrated its 20th year in 2007. Cuscowilla, because its terrific Coore/Crenshaw course is fully accessible to the public, is not listed at all.
But a couple of courses we are familiar with do not stand up to the magazine's "limited public access" only disclaimer. The Pinehills in Plymouth, MA, for example, is on the list, but you can book tee times online or with a phone call at either its Rees Jones or Nicklaus Design course.
A "Jack Nicklaus" design and a "Nicklaus Design" are distinctly different."
(Note:
T&L
, which should know the distinction, lists it as a "Jack Nicklaus" course rather than Nicklaus Design; the two products are distinctly different even though Jack's surname is on both.)
A few of my personal favorites are on the state-by-state list, including the Ford Plantation in Richmond, GA (sleek Pete Dye course), The Reserve at Lake Keowee in South Carolina (Jack Nicklaus Signature), and Bald Head Island (George Cobb links-style course) off the North Carolina coast. But Bald Head is no different than Cuscowilla; anyone is welcome to play the course (the club's web site calls it "limited public play" but call ahead and you won't have a problem). You just need to drag your clubs onto the ferry in Southport for the 25-minute trip to the island, well worth it in the estimation of this correspondent (although pure island living is not for everyone). Also, if Bald Head makes the list, where is Haig Point, home to a very private Rees Jones 27 hole course in a lush and historic setting on Daufuskie Island in Scouth Carolina? The community is far more amenable than Bald Head, which is overrun with beach goers in the summer and, frankly, desolate in the winter.
Overall, the T&L golf community list is a jumble. The magazine considers "location" as one of its criteria but seems more concerned with "natural setting" than "proximity to cultural activities." Sea Island's "cultural activities" are notoriously slim, unless you want to take Gullah language courses. And the inclusion of clearly distinctly public golf courses on the list sabotages T&L's attempts to position itself as The Robb Report of golf course communities and makes the ranking less than pristine. Let's hope for better definitions and better research next year. Until then, we still prefer the less stuffy and more clearly detailed rankings in GolfWeek.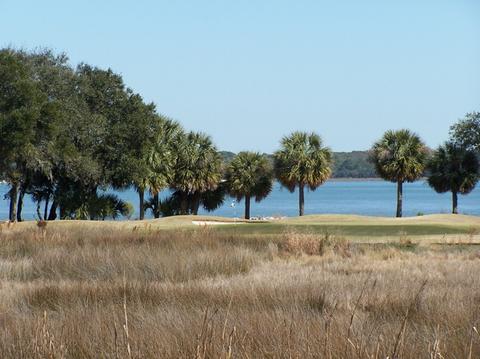 Members at Haig Point on Daufuskie Island in South Carolina should protest being left off the T&L rankings. Their community and 27 hole Rees Jones course, recently refurbished by the designer himself, more closely fits the criteria of the rankings than does Bald Head Island, which made the list.
Comment
Be the first to comment