My subject today is coffee, or more specifically how coffee has taught me a lesson about expectations and the proverbial "sure thing." Stick around for the end and I will come round to the subject of buying real estate.
I bought shares of Starbucks a year ago after committing to Wall Street guru Peter Lynch's proven advice that you should "buy what you know." This has worked for me with shares of companies that make other products I own, such as Apple Computer, whose stock I sold at a tidy profit (but way too soon). It is also why I would never own any airline stock, except perhaps for Southwest, whose service is at least tolerable.
No emotions (or addictions) tugged at me to make the Starbucks stock purchase; although I love coffee and drink up to four cups each day, I can take or leave the chain's scorched beans approach. But their stores are too convenient to ignore and their attraction for others is undeniable; every shop I have wandered into over the last five years has been crowded, and most of those in the long queues walk away with high-priced lattes and frappuccinos that may be bad from a nutrition standpoint but good for Starbucks' return on investment (i.e. drinks that cost a few pennies, absent the barista's labor, bring in more than $4 per). The lines in Starbucks are long throughout the day, not just in the mornings, when they are very long. Tables are always filled with an eclectic mix of people, from high school students to retirees. Starbucks is the ultimate social networking site, with obvious appeal across the generations.
I consider coffee recession proof as well. Even as people struggle to make their mortgage payments, they can convince themselves all is well by standing in line with corporate executives and ordering a latte. Many
During a recession, people will buy the most expensive socks...to make themselves feel better.
years ago when I worked for the J.C. Penney Company, I was taught a valuable lesson by one of the chain's buyers, who stocked stores with high-end socks during economic downturns. "During a recession," he told me, "people will buy the most expensive socks they can because the most expensive socks don't cost all that much, and it makes them feel as if times are not that bad for them."
Starbucks' global expansion plans seem to make a lot of sense too. All those Chinese emerging into quasi-capitalism will want to experience the trappings of capitalist success, and fancy coffee drinks are certainly a cheap, if not healthy, way to do that. In the 1980s, when Japanese cars and other manufacturing companies were beating the pants off American manufacturers and Japanese investors were buying Pebble Beach, Rockefeller Center and other coveted U.S. assets, two Otis Elevator Company executives in Tokyo for business meetings stood outside the then-largest McDonald's hamburger restaurant in the world. They watched in amazement as streams of Japanese came and went through the restaurant's doors. "That's how we'll get them," one exec said to the other, "through the food." I don't know if exporting caffeine to China is part of a grand American business strategy to give the Chinese the jitters, but Starbucks' expansion there does seem to make good business sense.
With all these things going for Starbucks, why is its stock one of the more prominent dogs of the market? The only reason I can conjure is that its strength is its weakness - that is, in trying to be all things to all people, it is turning off those on the margins, those who could join Starbucks nation if only they didn't have to wait so long. In offering customized versions of all its drinks, such as a skim milk decaf caramel macchiato with a triple shot of espresso and no whip, Starbucks overwhelms its employees and slows down the process of serving its
How many people are interested in horses, nature walks, boating
and
golf?
customers, turning away all but the most addicted. I've turned and walked out of Starbucks a number of times because I didn't have the patience to wait in line and didn't need a cup of coffee that badly. The innocently wise Yogi Berra's observation about his favorite restaurant could be a prediction for Starbucks: "No one goes there anymore. It's too crowded."
Which brings me the long way round to the subject of planned communities. I've visited a number of popular ones whose range of amenities seemed both breathtaking and unsustainable. How many people do you know are interested in horses, nature walks, boating
and
golf? Who has the time for all those activities anyway, even in retirement? And what happens when the developer turns over the community eventually to the homeowner's association, and the residents have to pick up the costs to maintain the horse barn, the 40-Nautilus-machine fitness center, the spa and the golf course?
Some tough decisions will need to be made by residents, pitting those who want the equivalent of a plain cup of coffee (i.e. a good golf course and little else) against all those who like it fancy. Consider that before you buy into an amenity-loaded community, or into Starbucks' stock.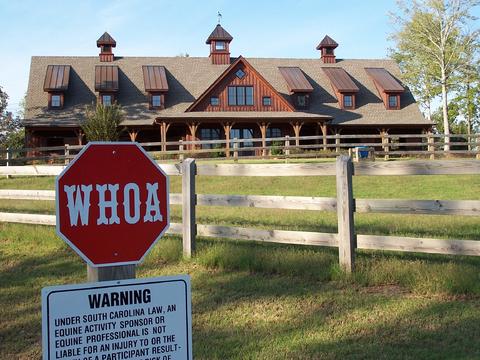 The Cliffs is one of many communities that load up with amenities, like a full-blown equestrian center, to attract high-end buyers.