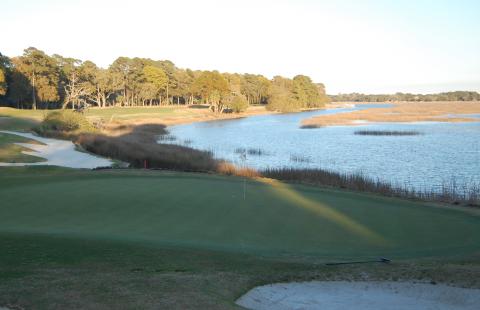 Playing a relaxed extra three holes, your editor registered his only birdie of the day, at the 18th on Tom Fazio's Cotton Dike course at Dataw. Maybe that's the secret -- forget about the scorecard.
I don't spend a lot of time on the practice range before I start a round of golf. It is just too frustrating to take nice relaxed swings on the range, hit balls stiff to the flags and pound drives that are long and true, only to then go out on the course and mash it up. There is really not difference in the way I play whether I practice immediately before a round or not. Today, at the wonderful Dataw Island Golf Club's Morgan River course, designed by Arthur Hills, I hit balls on the range and then played 18 mediocre holes. Then my host and Dataw resident, Dick Nawalsky, suggested we play the three finishing holes on Tom Fazio's Cotton Dike course.
Feeling relaxed if a little tired after the first 18, I played my best golf on the
I'm a golfer; I'll try anything to improve.
meaningless -- from the standpoint of scoring -- three extra holes. I struck the ball better, putted better, and birdied my only hole of the day, the tricky and dangerous par 5 18th, with a pitching wedge to one foot. Nothing was at stake, and for once I swung as if I actually believed I had enough club in my hands.
So tomorrow, when I investigate the community of Berkeley Hall near Hilton Head Island and play the golf course there, I am going to see if I can induce a a trance and try to convince myself that I am playing a practice round, not a scoring round. Hey, I'm a golfer; I'll try anything.
Dataw was excellent, and I will offer some notes and additional photos here about Arthur Hills course and the community in a few days.