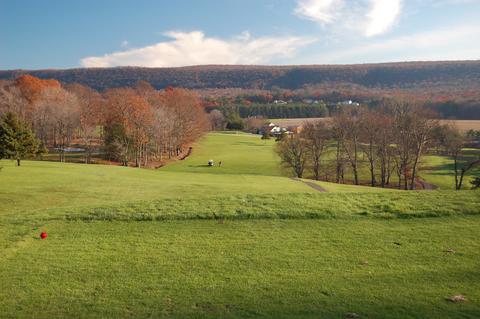 Most of Geoffrey Cornish's designs are in the northeast, and he is particularly adept at making his layouts harmonious with the surrounding mountains. This shot is from the 12th tee at Sugarloaf.

Because daily fee golf courses face survival challenges no matter where they are located, it amazes me that some people build courses far from population centers. How some survive over decades is anyone's guess, but survive they do.
Sugarloaf Golf Club is a few minutes from Interstates 80 and 81 but 30 miles from the closest urban area, Wilkes-Barre, Pennsylvania. It is very much out in the country, and you wonder how a course, even one rated a four-star "Place to Play" by Golf Digest, can survive at $25 a clip, what we paid after 12 noon on Sunday. (Regular green fees aren't much more.) Looking back 40 years, to when the club was founded, the logic behind building a course like Sugarloaf then is hard to comprehend. Was it the power of the King, Arnold Palmer, who made golf the popular sport it is? Was it the confidence that if you built it, people would come from the interstates?
After a most pleasant 18 holes at Sugarloaf on Sunday, I'm hoping that whatever has kept it going for 40 years keeps it going at least another 40. The course provided a wonderful respite from a nine-hour drive from Connecticut to Virginia.
The long par 3 15th I wrote about yesterday that is the course's toughest hole was one of a few pleasant surprises on the Geoffrey Cornish layout. The hole's PGA Tour length, a robust 266 from the back tees and 220 for us "normal" players, wasn't quite the longest par 3 I have played, but it certainly was the longest with an all-carry shot from the tee (see yesterday's article).
The 15th's degree of difficulty was out of proportion with the rest of the course which, despite many blind tee shots played without benefit of a yardage book or GPS system, was a good half dozen strokes easier than our home course of Hop Meadow CC in Simsbury, CT, also a Cornish design. Fairways were quite generous and the tiny course layout on the back of the scorecard provided more than enough guidance. Even when we over-compensated for a dogleg or just plain missed our aiming lines, the resulting lies in the rough were not at all punishing.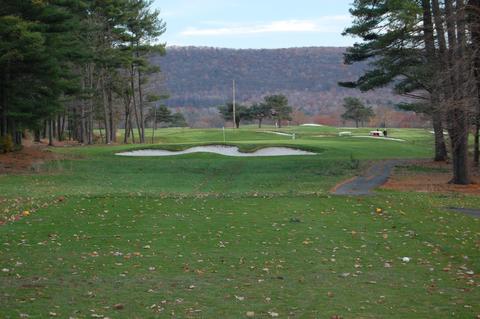 The Cornish greens at Sugarloaf are less geometric in their shapes than others of his courses we have played, and certainly different than the more circular putting surfaces at Hop Meadow. Some greens were downright amoeba-like, and four of them were shaped like Mickey Mouse's head. Pins were stuck in a few of the Mickster's ears, at back left or right. Perhaps to save wear and tear on the main parts of the green as the course prepares to close for the season, most pin positions were less than 12 feet from back and front edges.
The course was in very nice condition for a cool day in late November in northeastern Pennsylvania. The greens were in good enough shape and just fast enough to produce some sharp breaks on putts to front pin positions. The surfaces had been aerated a couple of weeks earlier and, although bumpy, were of medium speed and rolled pretty true. (My son Tim, who believes the gods are out to get him when he is presented with aerated greens, one-putted the first five holes, three of them for birdie, none of them gimmees). I didn't hit a putt I thought was bumped offline until the 15th, when I was too lazy to remove a forest-full of oak leaves from my line on a 40-foot putt. We did not roll the ball over once in the fairways, and although lies in the rough sat down a couple of inches, shots came out clean. The course was a little wet and divots resembled beaver pelts on a few shots. Most greens held medium to short iron shots well, although those greens at the highest elevations seemed to have a thin layer of frost beneath the surface.
The layout was a little tricky for us first-timers; we saw very few of our drives land, but the blind shots were only slightly so, no huge hills to negotiate. It was fairly easy to pick the top of a tree along the fairway as a directional guide, and we lost only one ball all day between the two of us. (I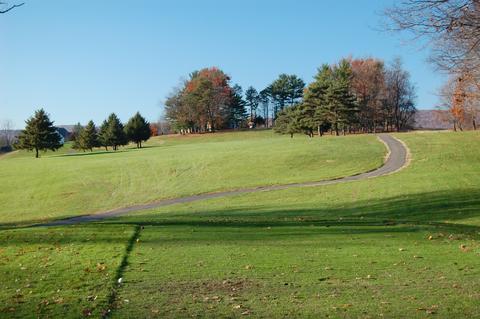 suspect that one might have been hiding under leaves.) Although I played from the blue tees at 6,300 yards, the course seemed to play a little shorter. The 15th aside, I thought the most difficult hole was the rather short par 4 11th that played about 375 yards from my tees. After a straight drive with a fairway metal, the approach shot is straight uphill to a smallish green; you can only see the top of the flagstick from below. I pushed my drive right and was dead behind the trees and bunker that guarded the right side of the hill.
Sugarloaf's owners, Wayne and Judy Knelly, are eager to please. We arrived just after noon and were greeted warmly on a cool day; temperatures did not get past 50 F during our round, but with abundant sunshine and only a mild breeze at most, a light sweater was enough. The aforementioned green fees of $25, cart included, also warmed my heart. And although the dated clubhouse is a building that time forgot, we were there to play golf not chat with the locker room attendant (there was none, and the locker room did not seem a healthy place to spend any time in). But, heck, the hot dogs at the snack bar were good, and the young lady in the pro shop gave us a large bag of cheddar and jalapeno potato chips for free. "We are trying to get rid of them before we close for the year," she said. Later, Wayne wished us a safe journey as we were departing.
Those kinds of personal touches count for a lot, and Sugarloaf's attitude, as well as its playable and scenic course, most probably has contributed to its longevity. We'll be back.
Sugarloaf Golf Club, Golf Course Road, Sugarloaf, PA. Tel: 888-342-5784. Web site: www.sugarloafgolfclub.com. Designer: Geoffrey Cornish. Par 72. Blue tees: 6,981, rating 72.2, slope 126. White tees: 69.5, 120. Red tees: 5,670, 71.2,121. Closes in December, reopens around April 1.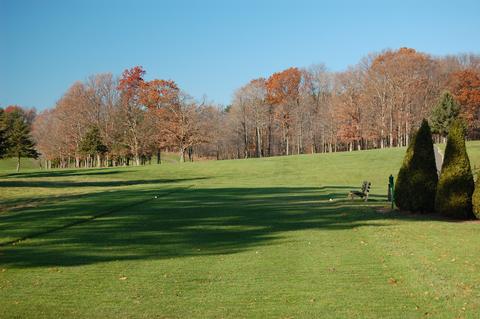 Although most tee shots are "blind" at Sugarloaf, trees and the slope of the fairways provide good directional signals, as at the 10th hole.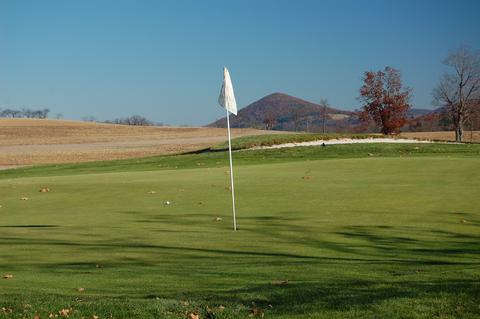 The town of Sugarloaf and the golf course get their names from a local mountain that bears a strong resemblance to the more famous Sugarloaf in Rio de Janiero, Brazil. Looks more like Mt. Fuji to me.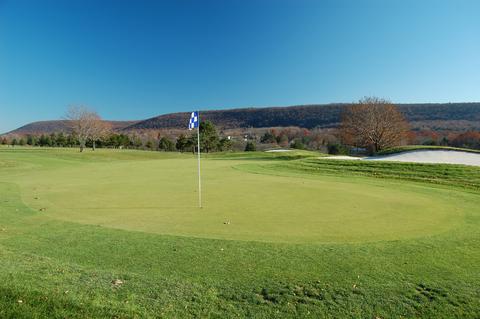 Cornish designed some kidney shaped greens that resemble Mickey Mouse's head.