There is no better time to play golf in New England than the six weeks from mid-September to the end of October (assuming no early winter which, in New England, you can never assume). The nights are cool and give golf course superintendents the confidence to cut greens a little closer than in the heat of the summer. The leaves on the indigenous hardwood trees turn into a kaleidoscope of colors, providing backdrops that make watching a well struck ball in flight more rewarding than usual. I can't explain it, but as temperatures drop into the 50s and 60s, perfect for those of us who cannot tolerate the heat of summer as much as we once did, the golf courses in New England become less crowded; I've played two rounds on typically crowded municipal courses recently in well under four hours after starting in mid-morning.
Needless to say, I am trying to play as much golf in these six weeks as possible, and as many different courses as I can. The last three I have played were two outstanding municipal layouts in Connecticut, and one very private club in between. The first muni is my favorite course in the state, Keney Park, about which I have written in this space a few times. Keney Park, which first opened in 1929 with a nine-hole layout by Devereaux Emmet, is home to some of the most iconic features of classic golf architecture, including rectangular church pew bunkers and a Biarritz green (a gully runs through it). It begins with a very short but tricky par 4 and ends with a par 3 on which you cannot see the pin. In between is a course that demands attention given some of the largest and most demanding greens in public golf.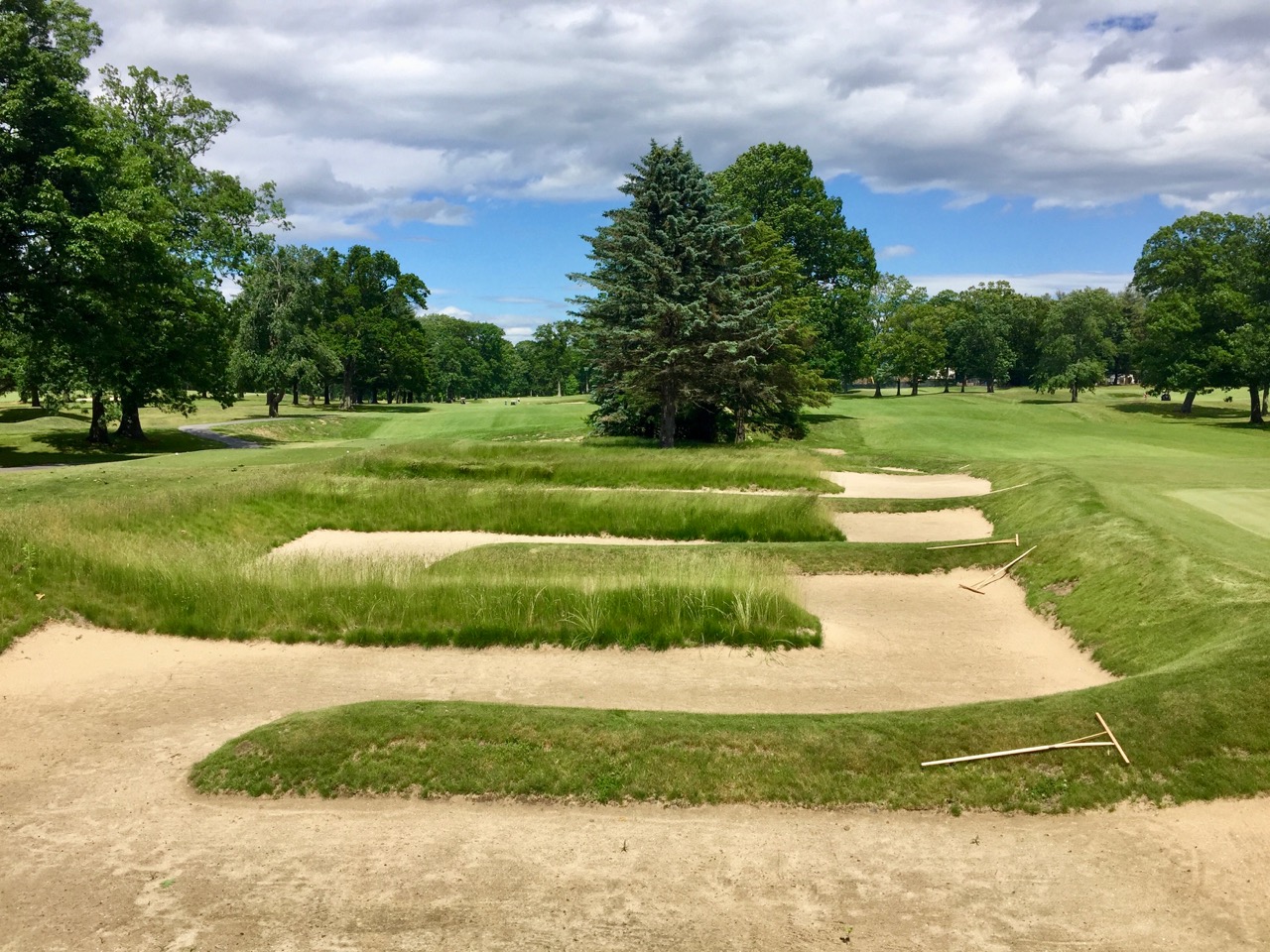 Keney Park's "church pew" bunkers are all connected, and not exactly a religious experience if you land in them.
Last Monday, courtesy of the Junior & Senior Golfing Society of Connecticut, I was invited to play at Bulls Bridge in the mountains of northwest Connecticut, a 15-year-old course about which not much is written because of its private status and out of the way location. It is a stunning and challenging Tom Fazio design, loaded with mountain vistas and, as you might expect, significant changes in elevation. I can't remember the last time I played a golf course with so many false fronts. The greens were still showing signs of aeration that affected a few putts; I hope the Society returns in the next couple of years for another go at Bulls Bridge, because smooth greens will only add to a terrific golfing experience.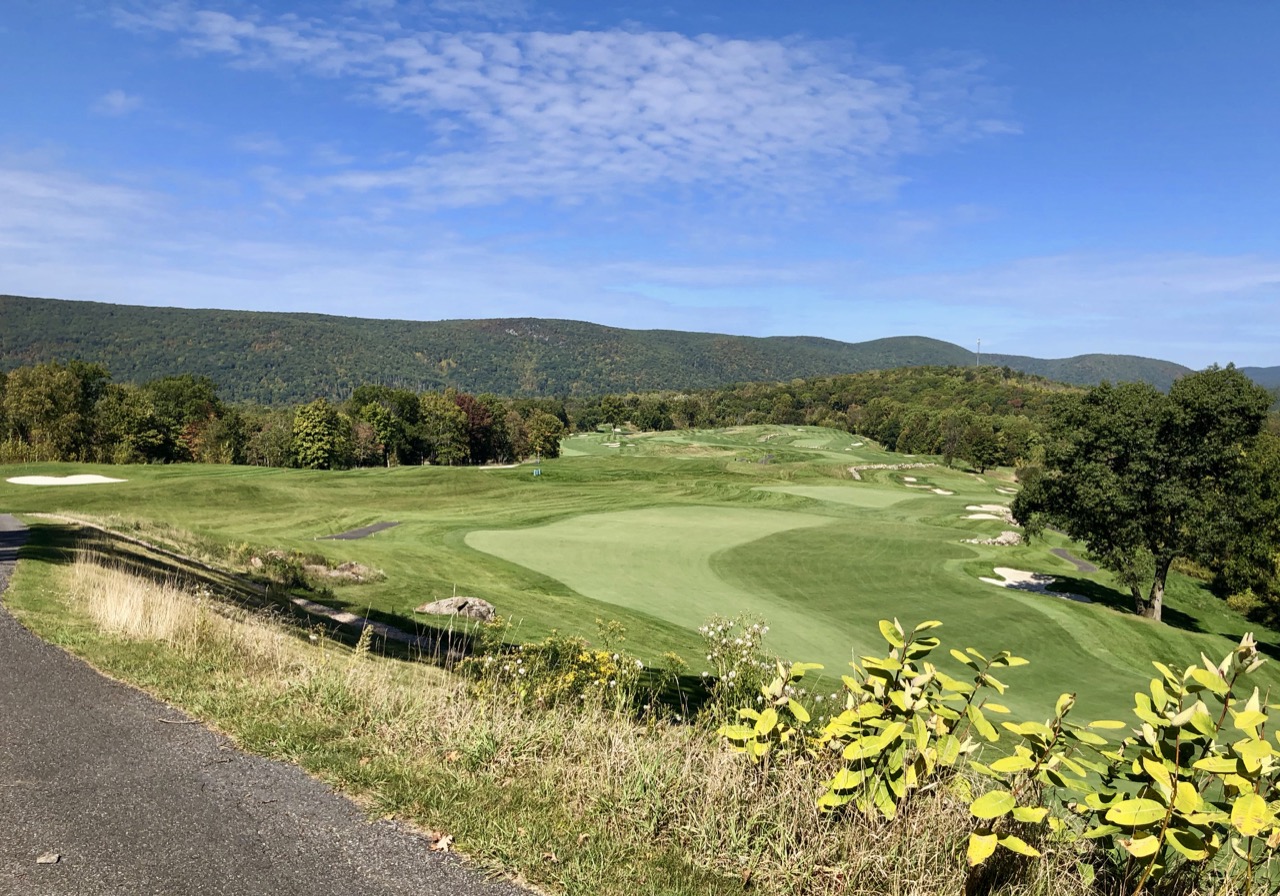 You are introduced to the many elevated tee boxes at Bulls Bridge on hole #1, a par 5 dogleg right.
I wrapped up my trilogy of golf at Wintonbury Hills in Bloomfield, a town-run golf course that Pete Dye designed for the princely sum of $1. Wintonbury is not a typical Dye course in that fairway moguls and pot bunkers are kept to a minimum, and there isn't a railroad tie in sight. But it certainly is no pushover as some holes play dramatically uphill and fairways tilt all the way to the greens on the par 5s, making long hitters think twice about the fate of their long second shots to severely sloped surrounds beside the greens (with significant trouble below). My 70-something playing companion and I were matched up with a 40-year old with a single-digit handicap who had driven an hour to play at Wintonbury; that should tell you something about the quality of the golf course and its challenge.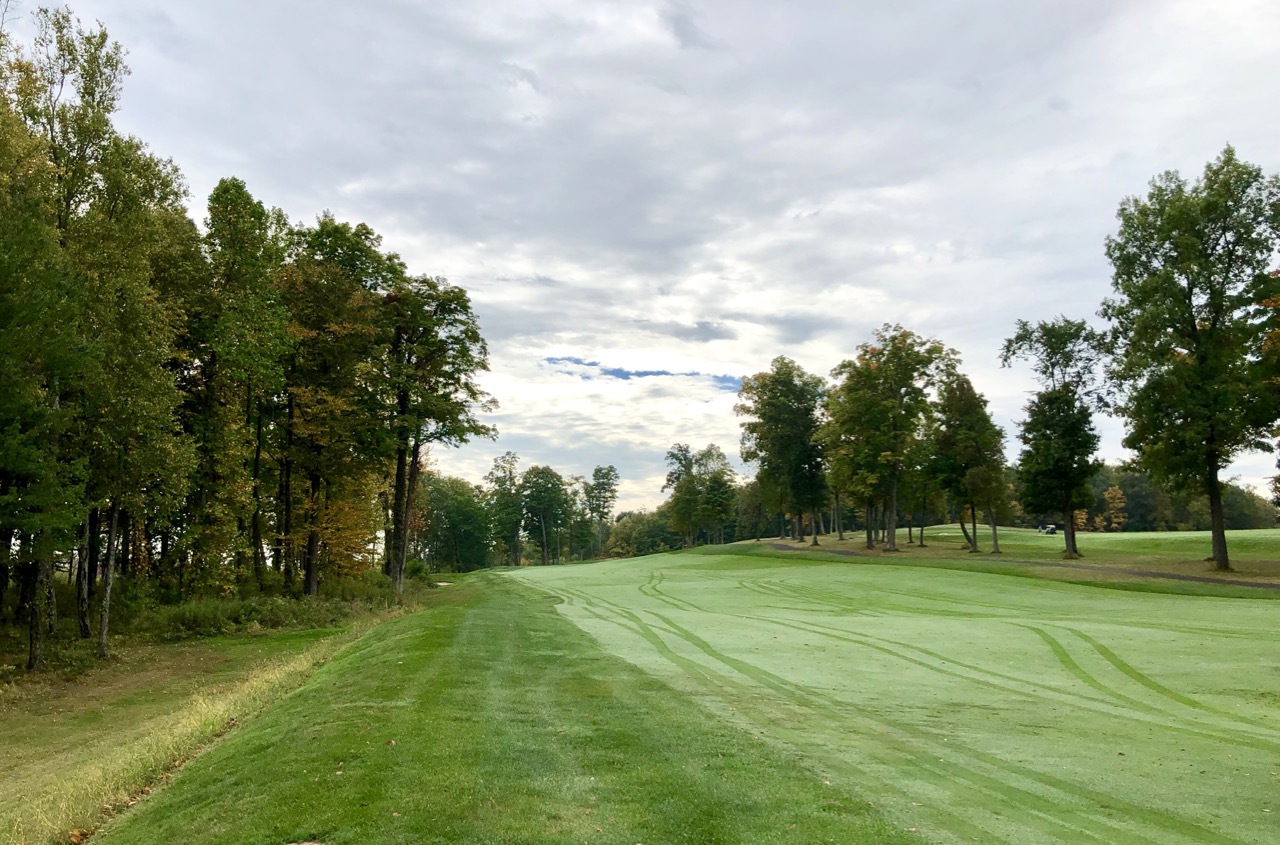 Big hitters may try to reach par 5s at Wintonbury Hills in two shots, but their second had better be aimed high right as everything bounces hard left on the 500 yard hole.
The only negative aspect of golf in New England this time of the year is that we know it will all come to an end in a matter of weeks, when we will put away the sticks until late March or early April. When play recommences, the fairways will be muddy in spots and turf will be thin. Summer arrives pretty quickly in southern New England, and those who don't live in here might be surprised at how hot it can get by late June and right through to September.
But then autumn arrives, and golf in Connecticut becomes as good as it gets.