Yesterday, I played the private Rockrimmon Country Club course that straddles the border between Connecticut and New York. I don't know any member there, nor did I talk my way onto the course by promising to publish a review of the Robert Trent Jones layout. (It would have been a strongly positive review.) I played the course with my fellow members of the Junior & Senior Golfing Society of Connecticut, whose members represent many of the more than 75 private clubs in the state.
Over the course of the summer, the Society's members are invited to play five private golf courses, each round typically preceded by lunch and followed by a dinner at which awards are presented for the best gross and net scores of the day. Yesterday was the one round of the year in which you play your own ball; in the other competitions, you are paired with either your cart mate or your foursome to compete against the rest of the field.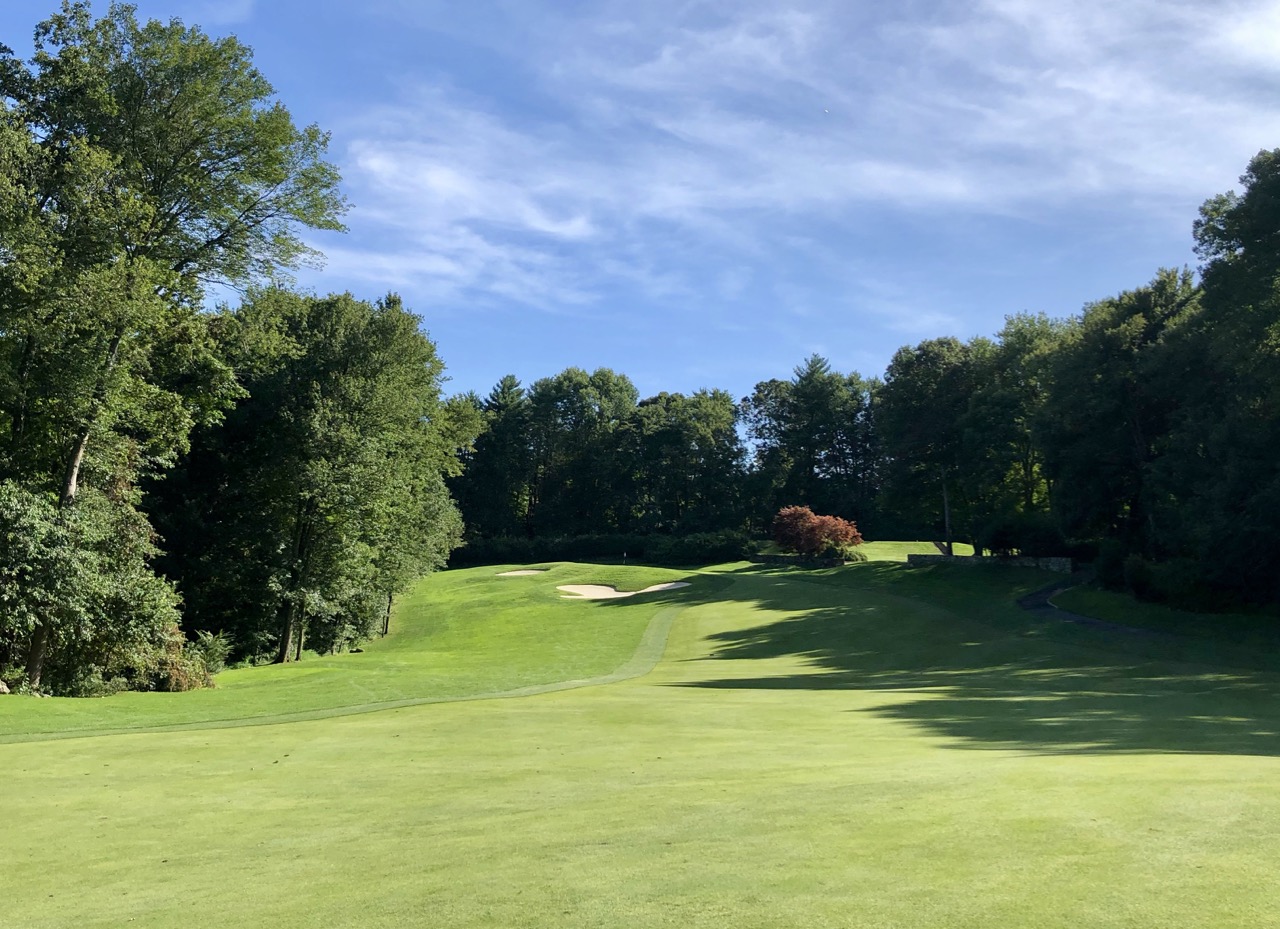 Most of Rockrimmon's holes are tree-lined and the turf was in fantastic condition. Robert Trent Jones designed the course with his characteristic bunkering and elevation changes.
Rockrimmon was in almost perfect condition, the smooth greens receptive to well struck shots, a rarity in Connecticut during this fairly dry summer. Playing the course was a privilege and well worth the $230 each member paid (lunch and dinner, one drink and the chance at raffle prizes included). If you are a Connecticut private club member, you are eligible to join the Society; indeed, it is eager for new members.
Other states offer similar opportunities for regular amateur golfers to play some of each state's finer courses. Golf rating panels are one entry point. I know, for example, that both Carolinas have panels that welcome new members if they play enough of each state's courses to make meaningful contributions to the annual rankings. Do a Google search using the terms "[Name of state] golf rating panel" to see if your state maintains such a group.
One other way to gain access to the private courses in your area is to donate money to a charity hosting a fund-raising golf event. Many charities, in order to make their events appealing enough to attract $300 or more per donor, will host their events at a high-profile private course. In Connecticut, for example, the Village for Families & Children, a social welfare agency where I have been a board member for more than 12 years, held this year's outing at TPC River Highlands, site of the annual Traveler's Championship on the PGA Tour. In previous years, the annual event, which benefits the organization's fatherhood program, was held at the Willie Park Jr designed Shuttle Meadow.
One other note about these fund-raising events: Many of them use silent auctions as a tool to raise additional funds, and some donors contribute rounds for foursomes at private golf courses. Some years ago, I was able to successfully bid for a round for four at the terrific Yale Golf Club in New Haven, CT. I recall that the price was less than $100 per player, certainly a bargain to play a high-quality golf course I might not otherwise play.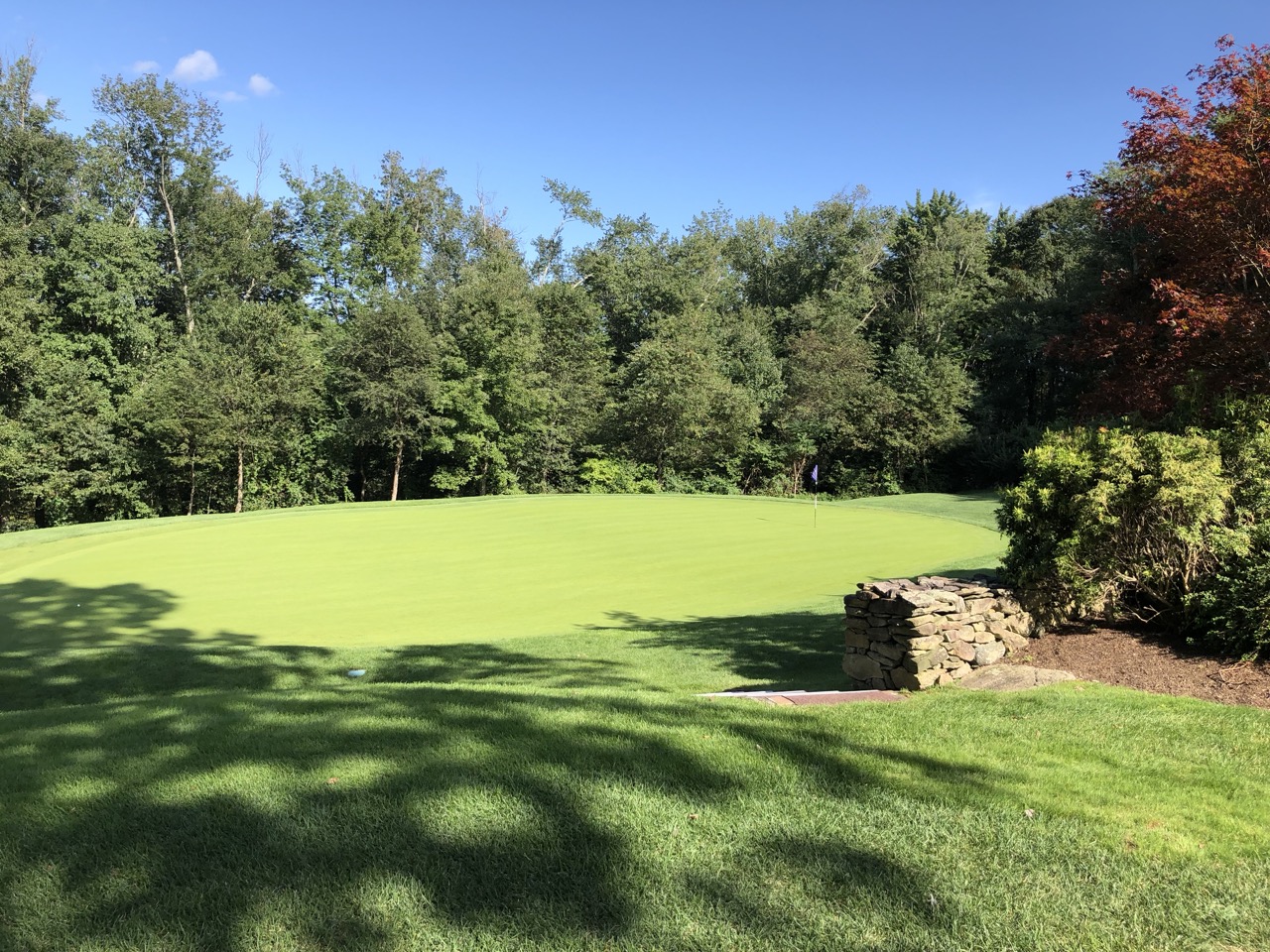 The quirkiest hole at the classic Rockrimmon was a short par 4 with a hard left turn in the fairway about 210 yards from the tee box. It forced a fairway wood first shot, leaving a long (175+ yard) approach shot to a severely elevated and well bunkered green. To mitigate the difficulty of the approach shot, the green was the largest on the course. I was happy to two-putt from 70 feet.