Lists of Top Places to Retire and similar rankings are published for the benefit of their publishers, not their readers. They help build traffic to web sites and sales of magazines. They are either utterly subjective, the fanciful notions of whoever is putting together the list (in the most egregious cases, advertisers tend to wind up suspiciously near the tops of many rankings); or they are a pure popularity poll, a battle worthy of Jerry Springer ("How many of you think St. Pete is the father, how many of you think Naples is the father?"). Folks who have plunked down a solid six-figures for a home are not going to fess up to the fact that their choice was anything but the best. On the contrary, if you eventually buy a home in their towns, that will help stabilize their own home values.
And so we come to the annual "Most Popular Places to Retire List for 2015" at TopRetirements.com, a web site I visit a few times a week for insights into what many people are saying about their searches and their choices for homes in retiree-friendly areas. I like Top Retirements Publisher John Brady's forthrightness about his list -– it is purely a popularity contest, he says. Take it, I say, with a lump of salt.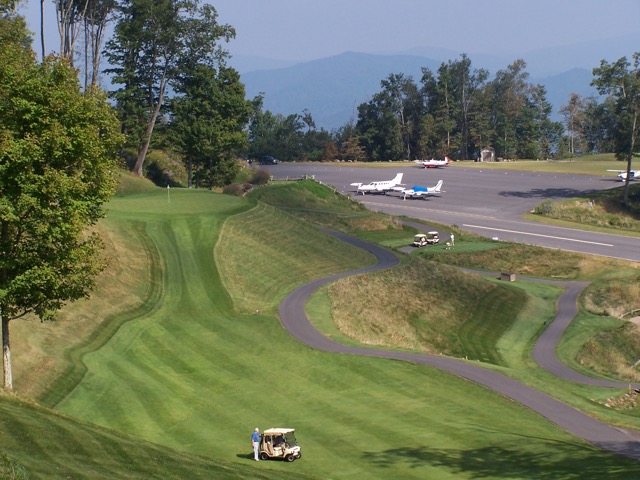 Asheville, NC is up there at the top of the list of most popular places to retire. Mountain Air, about 20 minutes north of the city, is up there in terms of elevation, more than 4,000 feet. An airstrip bisects the golf course at the top of the mountain.
Still, the list itself, and others like it, are fodder for those of us who care about choices for retirement locations, and a good jumping off point for discussions comparing one town to another. (The Top Retirement poll does not include specific communities, but many of the comments are from residents who tout the communities where they have chosen to live.)
A few things stick out for this correspondent in the latest popularity contest. First is the diversity of the Top 10 choices, with seven of them located on a coast and two of them in reclaimed desert. And, yet, the overall #1 choice of those who visit the Top Retirement site is Asheville, NC, a mountain-oriented town often described as a "Little San Francisco," for better or worse (better, in my opinion, because it is the only such town east of the Mississippi). Asheville, for all its popularity, is a bit sparse when it comes to diversity of well-regarded golf communities, at least in the immediate Asheville area, where you will find Biltmore Forest and The Cliffs at Walnut Cove on the high end, and Reems Creek and High Vista at a level just below (the latter two golf courses are open to the public, the first two strictly private). But if you are willing to venture farther afield from Asheville, say 30+ minutes, Mountain Air to the north, at an elevation nearing one mile, and Champion Hills and Kenmure in the Hendersonville area on the south, are outstanding choices for those looking for mild summers and tolerable winters. (This winter has been a bit of an anomaly.) Side note to pilots: Mountain Air maintains a mountaintop airstrip that bisects the Scott Pool golf course.

Four of the top 10 on the list are located on the Gulf Coast of Florida –- Sarasota (#2), Venice (#3), Ft. Myers (#9) and Naples (#10). I understand the popularity of Sarasota; it did not strike me as a typical Florida city, which is a compliment, given its active downtown night scene and its strong cultural tradition (e.g. the topnotch Ringling Museum of Art). When customers indicate to me they have a modest budget and a strong inclination to be within a few miles of the Gulf Coast, the real estate professional I work with in the Sarasota area suggests Venice, which is midway between Sarasota and Ft. Myers, and with plenty of golf communities and prices that begin in the high $100s. Ft. Myers is a well-established community with plenty of golf at price points only a bit higher than Venice's. Naples is a bit of a deception in that real estate in a number of excellent communities in the area is much more reasonably priced than many expect; for example, Lennar's Heritage Bay offers a full boat of housing styles at prices that begin in the low $200s for condos and the $400s for "executive" homes. And golf membership in Heritage Bay's fine 27-hole Gordon Lewis golf course is bundled with the price of the home.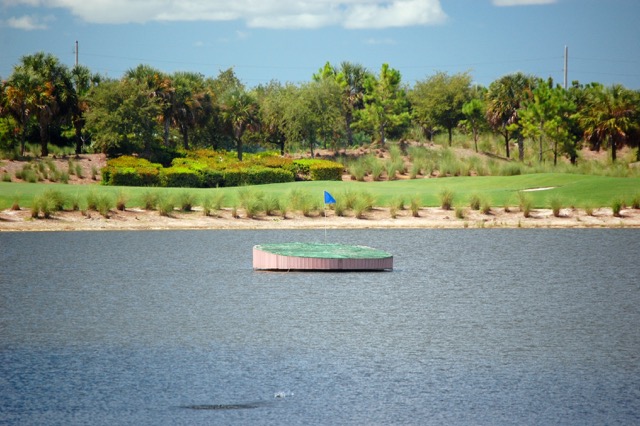 The practice range at Naples' Heritage Bay is water-filled, and the golf balls are limited in their distance, but not in their ability to float.
Beaufort, Charleston and Myrtle Beach hold down the #5 through #7 positions on the list at Top Retirements. I recently spent a day at Dataw Island, whose reasonably priced homes and two 18-hole golf courses (Arthur Hills and Tom Fazio) are surrounded by marshland only 20 minutes from Beaufort, a charming Low Country burg whose old town is laden with live oaks, Spanish moss and some excellent restaurants, small shops and art galleries. Just as close to Beaufort are the twin communities of Spring Island (on the high end, meaning $1 million+) and Callawassie Island (sweet spot of about $500,000 for a nice home). The two communities share a guarded gate and top-drawer golf, with Spring Island's Old Tabby Links (Palmer Design), which was recently renovated to great applause by raters, and Callawassie's 27 holes by Fazio.
In an odd way, Hurricane Hugo in 1989 seems to have roused the formerly provincial and sleepy Charleston to a peak energy level and has put it on the map as perhaps the most popular southern town for every visitor, and especially for foodies; the restaurants are varied and excellent. With Kiawah Island to the east, Wild Dunes on Isle of Palms to the northeast, and the strongly emerging suburb of Mt. Pleasant also north of the city, Charleston has a wide selection of golf communities to choose on the ocean, on the marsh, or within inland forests. And if you are simpatico with the "new urbanism," check out Daniel Island, within 20 minutes of the city, where some folks live and work, and play on the highly ranked Rees Jones and Tom Fazio layouts.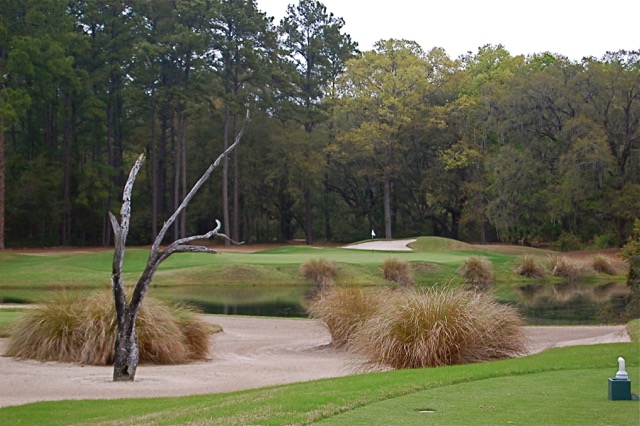 When your editor played Old Tabby Links not far from Beaufort, SC, and in the community of Spring Island, a few years ago, he thought it was special. A year ago, the course was upgraded.
Myrtle Beach needs no introduction to the golf addicted or beach goers; yet because the area has not rebounded fully from the recession, home prices are still a bargain, especially if you are looking for a cheap annual vacation option. For example, on a recent visit to Pawleys Plantation in the popular Pawleys Island, I noticed a two-bedroom, two-bath unit for sale at under $110,000. An enterprising couple could use it a few weeks a year -– the first tee of the Nicklaus course is a short walk and the beach a five-minute drive -- and rent it out the rest of the year, possibly generating enough net revenue to at least pay the mortgage or provide a tidy return if the purchase were all cash.
If any of these areas are near the top of your list, please contact me and I will be happy to get specific about local golf communities that may match your own interests. Better yet, fill out our online Golf Home Questionnaire, and I will respond with a few initial suggestions of which golf communities match up the best. Our services are without charge or obligation.
For the full list of the most popular retirement areas, please visit TopRetirements.com.