If you were to draw a picture in your mind's eye of the ideal location for a golf community, you would likely conjure one that felt totally isolated from the rest of the world and yet, in reality, was an easy drive –- say 20 minutes -- to a functional, charming town with chain stores and boutiques, medical services and a choice group of restaurants. Oh, yes, and if you could get to an ocean beach within, say, 15 minutes, better yet.
You get all that at the 28-year-old Dataw Island Club and golf community, located within 20 minutes of the quintessential Low Country town of Beaufort, SC, and less than 15 minutes to the sparkling sands of Hunting Island State Park. Not that you might consider leaving too often the 870-acre Dataw and its 36 holes of excellent golf, dozens of social and physical activities and a recently refurbished clubhouse that seems to have as many dining and meeting rooms as a major conference center.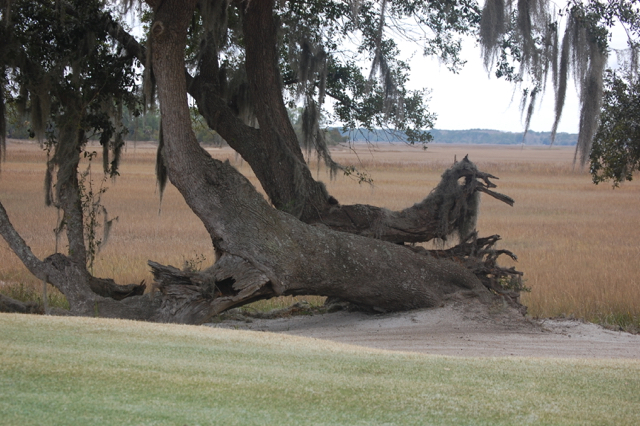 For those who love Low Country tidal marshland, they will never tire of the views from the golf courses and many of the homes at Dataw Island.
Alcoa Corporation developed Dataw Island in the mid 1980s; the aluminum manufacturer, like other large, land-owning corporations, believed a leisure residential development business could add to shareowner value. And, like International Paper, Weyerhauser and others, Alcoa eventually exited the business, although the company did not turn over Dataw to its residents until 2007, a handoff that community officials and residents agree went without a hitch. What the corporation left behind were two fine golf courses, one by Arthur Hills and the other by Tom Fazio, a beautifully and naturally landscaped community surrounded by wide expanses of marsh, and a master plan that put virtually every building lot within a good view of golf course, marsh, lagoon or, in many cases, a combination of all.
Alcoa did something else that is unprecedented in my visits to more than 100 golf communities over the last decade: The company insisted that every home built in Dataw be wired for an emergency connection to the community's security guard gate that is manned 24x7. Not that there is a crime problem or anything like that at Dataw; there decidedly is not, but Alcoa had the presence of mind to understand that the community would appeal to a somewhat older demographic with the potential for health emergencies, possible falls and other accidents, including fire. Having the equivalent of a panic button in each house means that Dataw's security personnel –- at least one car is typically patrolling -- can be on the scene within minutes.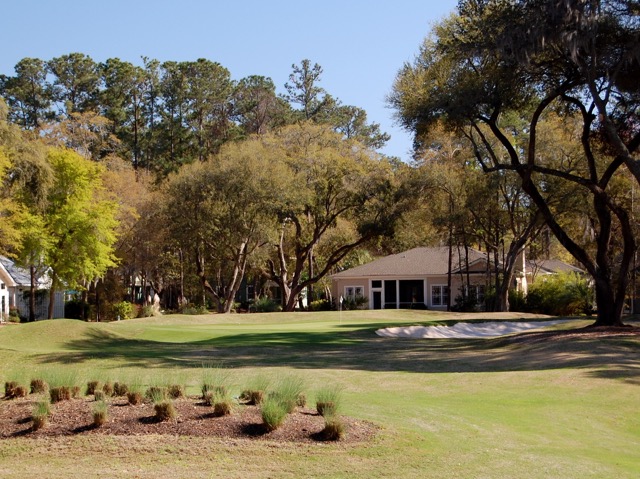 The vast majority of homes at Dataw Island look out to one of the two golf courses or the marsh and, in some cases, both.
No one searching for a home in Dataw will panic over its housing prices. They are among the most reasonable we have encountered in any multi-golf course community, especially when you consider the views involved. You will have to work hard at finding many million-dollar homes at Dataw, and those will be huge and have million-dollar views over a wide expanse of marshland. But at the other end of the spectrum, a two-bedroom, two-bath villa, of which there are just a relative few beside the 9th hole, are priced as low as $158,000; two units at even lower prices are currently under contract. (Couples visiting to inspect Dataw are housed in the villas, a smart move for the community's marketing efforts since views across the fairway also take in the wide marsh beyond.) Single-family homes start as low as $170,500 for a three-bedroom, two-bath residence of 1,865 square feet and a view of the golf course. The least expensive homes at Dataw tend to be those in need of some cosmetic updating; now that the community is nearing its third decade, there are a number of those available. But because of the way Dataw developed, with no deadline requirement to build a home on a purchased lot, owners of some resale lots purchased in the last few years have built new homes next door to others 20 years and older. The effect is not as discordant as it may seem, and it appears that the older homes have been updated to literally keep up with the Joneses next door.
Dataw has not done a lot of national marketing in recent years, but there are definitely some creative minds inside the community, and they worked their magic on the unusual club membership program. When General Manager Ted Bartlett arrived at Dataw in 2009, he noted a holdover equity membership of $43,000 was still offered along with the promise of a 70% refund. But as with most of these types of equity memberships, relics of the golf community boom era of the 1980s, an equity member's grandchildren were more likely to inherit the refund than was the original holder.
"That kind of membership didn't make sense," Bartlett told me recently. "They [the equity members] weren't going to get their refunds anytime soon, and prospective members were wise to that. No one wanted equity memberships any more."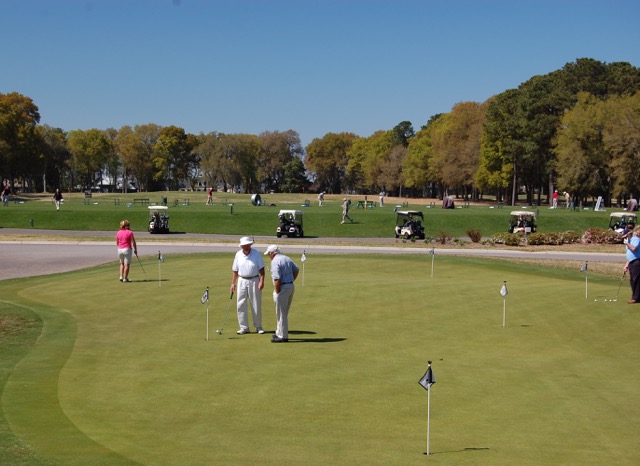 Dataw members are active golfers, and head pro Dave Britton and his staff can arrange a game whenever you don't have one.
Bartlett and Dataw eliminated the equity membership and developed what appears at first glance to be a complicated a la carte program of memberships that could very well strain the limits of a sophisticated spreadsheet program. But Bartlett easily maneuvers through an explanation of the options, which include a "croquet membership"; and my own local real estate contact at Dataw, Trudy Arthur, has compressed all the options into one easy to digest sheet. Everyone who buys at Dataw must become a member of the club at some level, and basic dues –- which includes the outdoor swimming pool, indoor pool, fitness center, full-service dining and access to practice greens and driving range -– are $3,781 annually. Initiation fee for all levels of membership is $15,000 (it is called a "capital contribution"). A resident who plays a lot of golf will opt for the full-golf membership at an extra $5,620 in annual dues, or $9,401 in total dues, about $780 per month, not unreasonable for a two-golf-course club. Tennis players are also well cared for on the eight Har-Tru courts, four of them lighted for night play.
I had played the Arthur Hills layout at Dataw, known as the Morgan River course, five years ago and wrote a positive review of it, which you can read here. My host at the time, one of the community's resident "ambassadors," Dick Nawalsky, took me over to the 16th on the Fazio Cotton Dike course after our round to play the finishing holes there. I had been looking forward to a full 18 on Cotton Dike ever since, and I got my wish on a beautiful day in early February. Along with the GM, Ted Bartlett, we played with the club's golf professional for the last 18 years, Dave Britton, and club member and resident John Schaffer who, with his wife, made dozens of visits to golf communities along the Carolinas, Virginia and Georgia coasts before deciding on Dataw in 2004.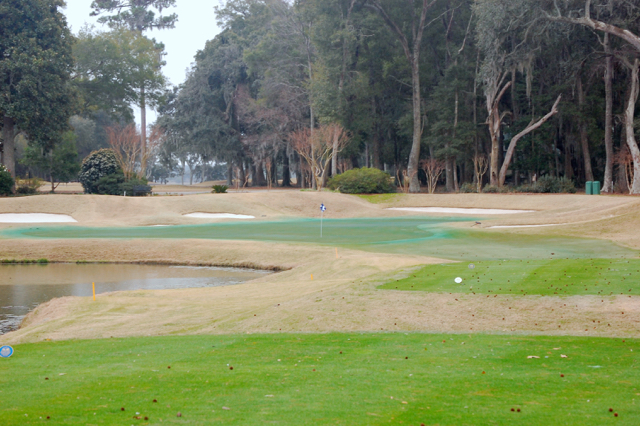 The 16th on Tom Fazio's Cotton Dike course at Dataw.
I found the Cotton Dike course to be rather generous of fairway from the Gold tees we played, which confronted us with a total distance of 6,219 yards (rating 70.3, slope 130) and fairway bunkers mostly either just beyond our reach or well inside it. The course sets up a lot tougher from the back tees (6,787 yards, rating 72.9, slope 136), but you still have to hit your ball straight from any of the tees lest you wind up with thorny lies in the rough or, worse, a play from the marsh.
The marsh is the most ever-present visual element of the Cotton Dike course, and at some points on the course I was wide-eyed at just how much of it there was. Virtually every hole features such views, and although the muddy-looking stuff at low tide -– Low Country natives know it as "pluff mud" -- is only occasionally in play, such unobstructed terrain permits ocean breezes from a few miles away to come barreling across fairways and greens. But those breezes, often working their diabolical magic quietly, are among the glories of playing golf in the Low Country, and many a seemingly routine layout changes dramatically with the prevailing winds. So it was on Cotton Dike, which takes its name from the major crop of the 18th Century plantation that preceded the golf community and was responsible for the famed and prized "Sea Island cotton."
The highlight of my day on the Fazio layout was the way the greens rolled, which is to say surprisingly pure for an early February time period. They didn't look perfect, mottled with the light green and heather color characteristic of this time of the year. But they putted as true as any I will play during much better weather later this season, and every time I hit a good putt, the ball wound up close or in. On the first nine, I dropped a 35-footer and a 20-footer, and on the back nine -– which is the tougher grouping of the two –- I chipped in from about 50 feet and sank another putt just inside 20 feet. That was a short game with which I am unfamiliar, and as I remarked to Dataw's golf professional Dave Britton, "I'd like to take these greens home with me."
Many other golf community managers would like to take the Dataw staff's attitudes home. For want of a better term, the place is buttoned up, from the guarded gate to the pro shop. Sure, he was prompted by GM Ted Bartlett that I was coming, but the guard welcomed me by name –- I was not wearing a name tag nor had I identified the make of my car in advance -- and everyone I met during the day treated me like a member. Okay, they knew I was there to review the community, but many other communities I have visited have shown no such organization or care. John Schafer, the member in our foursome, confirmed that he and other members feel well taken care of at Dataw Island.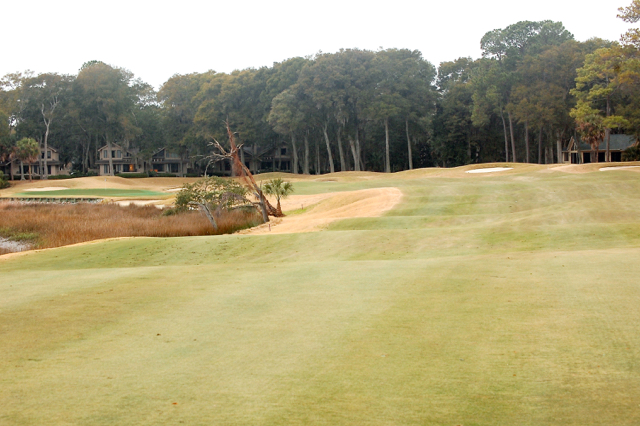 The finishing hole on Tom Fazio's Cotton Dike course is a par 5 that, fittingly, bends around the omnipresent marsh.
The night before my round at Dataw, my wife and I stayed in Beaufort, and she dropped me off at the Dataw clubhouse the next morning. As we passed through the gate and headed through the community, she made that "hmmm" sound that I have learned over the years to translate as "I'm impressed." Dataw Island is shaped like an elongated pan, with the handle extending about a mile into the community from the guard cage, with marshland on both sides, which is certainly an impressive introduction to the community. Dataw feels as if it is remotely located, and if 20 minutes from the nearest town fits your definition of "out there," then Dataw is indeed remote. But at eight minutes away, a Food Lion supermarket will be close enough for most, and the 20-minute drive to Beaufort is easy.
But as is the standard, real estate prices are a function of location, and those golf communities that appear to be remote often post properties for sale that are comparably lower in price than in communities maybe five or 10 minutes closer to a sizable town. The perception of Dataw as remote helps keep home prices lower than in comparably equipped other golf communities. That should be good news for those searching for a multi-golf-course community with plenty to do on site but not far from a clean expansive beach and a charming coastal town.
*
The sweet spot for home prices in Dataw is in the $300s, although properties are available anywhere from the $100s to just beyond $1 million. One current home for sale (see photos below) that is just eight years old is typically well priced at $375,000 and features 3 BRs, 2 ½ BAs, 2,400 square feet and views of the 17th fairway on the Arthur Hills Morgan River course. If you would like more information or examples of other homes for sale at Dataw, please contact me.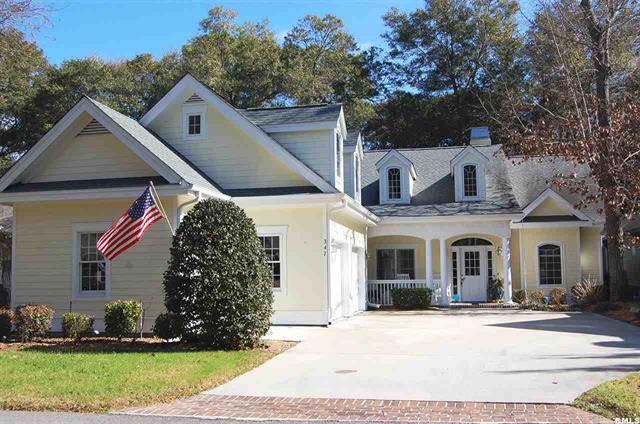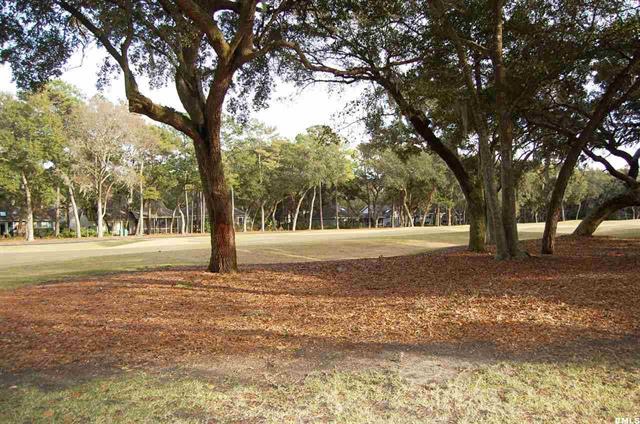 The home for sale at Dataw (top), listed at $375,000, includes a mid-fairway view of the 17th on Arthur Hills' Morgan River course. Photos courtesy of Lowcountry Real Estate.