An article in Monday's Wall Street Journal special section on "Wealth Management" provides a list of cost of living calculators that can help those searching for a home to figure out how much they will save by moving from one town to the next.
Well, sort of.
Some calculators include only the costs of living in a metro area compared with another metro area. Considering a move from suburban Livingston, NJ to, say, Pawleys Island, SC? The best Money/CNN's web site will give you is a comparison between the Newark, NJ, metro area and the Charleston metro area, 65 miles from Pawleys Island and, therefore, a totally irrelevant comparison.
The Bankrate.com site comes a little closer, showing a comparison of the Newark metro area and the Myrtle Beach area (Pawleys Island is 30 minutes from Myrtle Beach). The only town to town comparison we could find is at Sperling's BestPlaces.net, a site we find the most comprehensive and the one we use when helping clients understand just how much they will save when moving from a high-cost northern town to a lower cost southern one.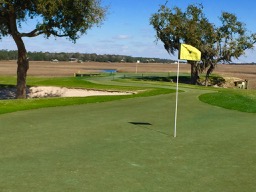 The 16th hole looking back at the 13th hole at Pawleys Plantation Golf Club in Pawleys Island, SC. Move there from virtually any town in the northeast, for example, and you will save on your annual cost of living expenses.
In the case of a move from Livingston, NJ, where my wife and I were raised, to Pawleys Island, where we have owned a vacation home for the last 18 years, the cost of living savings would be on the order of 33%; Bankrate's calculation for a move from the Newark metro area to Myrtle Beach would produce annual cost of living savings of 27%.
Another web site the Wall Street Journal article touts is that run by The Millken Institute, specifically its "Successful Aging" section where the site ranks the best towns in which to age (breaking it down for those 65 to 79 and those over 80). A quick scan of the list implies Millken does not factor warm weather into its rankings. Gainesville, FL, is the only town in the Southeast that makes the top 20 list, weighing in at number 16 for those aged 65 to 79, although holding down 7th place for those 80 and over. Iowa City, IA, is ranked #1 across both older age categories.
Kiplinger.com features lots of helpful articles in its retirement section, but its list of the "Cheapest Places Where You Will Want to Retire" is annoying. It forces you to scroll from page to page and past a dozen northern towns to find a relevant location in the Southeast. Myrtle Beach, for example, requires going through 17 other slides to find that its cost of living for retirees is 3.5% lower than the national average. (BestPlaces.net indicates Myrtle Beach is 8 percentage points lower than the national average.)
For demographic information about a place you might choose to live, American FactFinder is hard to beat because its data is straight from the U.S. Census. It is a good site to determine such items as population growth, general education levels in the area, and rate of poverty in the local town or county.
For those just beginning a search for a retirement location and having no preconceived ideas about where to live, RetirementLiving.com offers helpful information about specific towns state by state, covering virtually all lifestyle topics in a comprehensive way. The site doesn't offer a cost of living calculator, but after a read-through of its complete narratives on specific towns, hop over to BestPlaces.net to compare your current town to one of those you might choose in the South, and you will have a fuller picture of the cost differences.
Once you narrow your search down to a few target areas, contact me and I will be happy to recommend some local golf communities that will complete the entire picture.