I am not a big fan of "best of" rankings. They tend to be subjective and, in many cases there is a financial relationship (through marketing and advertising) between the reviewers and the reviewed. Sometimes, the reviewers don't even visit the property.
I have personally visited all the communities I have ranked below, although some visits were a few years ago and conditions may have improved or receded since then. There is no substitute for a visit to determine a golf community's relevance to your own taste and lifestyle. But as a guide to golf communities with multiple courses, I can heartily recommend a look at these. (Note: I have not visited enough golf communities in Florida to have a worthwhile opinion about those with multiple golf courses but, in general, the value proposition for membership is stronger in the Carolinas and Georgia.)
Our criteria for selection was simple: The community must have at least 36 holes of golf and be a place that I could see myself and my wife living. You can't get much more subjective than that.
Best Multi-Golf Course Community – Coastal
The Landings, Savannah, GA
Boasting six golf courses, with layouts to suit every golfing temperament and ability, and virtually every social club and activity a retiree could imagine, The Landings is ready to take on residents of all stripes and interests. Savannah has a well-earned reputation for culture, sometimes to excess (read the celebrated Midnight in the Garden of Good and Evil), and Savannah College of Art and Design has remade the downtown area into an architectural paradise. Not that the city needed it; its 22 residential "squares" laid out centuries ago are as interesting as they are beautiful. Best of all, The Landings is less than 20 minutes from downtown Savannah.
Single-family homes from $230,000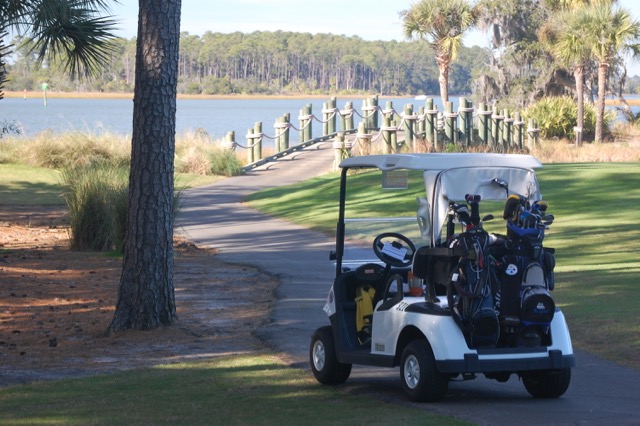 The Landings, Savannah, GA
Runners Up
Kiawah Island, SC –- The extremely high quality of golf, fastidious conditions, two private and five resort courses, including Pete Dye's vaunted Ocean Course, rated #1 every year by the South Carolina Golf Rating Panel, all make Kiawah a serious contender for best coastal golf community. The major elements in The Landings' favor are its proximity to a city -– Kiawah is 45 minutes from Charleston –- and the transient flavor on Kiawah most of the year. Its golf courses and beautiful beaches are a magnet for vacationers, meaning any year-rounders will share the golf courses and beaches with ever-rotating groups of revelers. If you like your privacy, understand that Kiawah is a resort.
Lots from $125,000
Townhome/villas from $207,500
Landfall, Wilmington, NC –- Like The Landings, an active downtown area is close by, just 10 minutes. Wrightsville Beach is just 10 minutes out the back gate, putting Landfall in the best position of any multi-golf course community on the east coast. The 45 holes of golf by Pete Dye and Jack Nicklaus (27) are a good reason not to wander off campus too often. The University of North Carolina operates a major branch in Wilmington that offers not only adult education opportunities but also big-time university athletics for those looking to "adopt" a team.
Condominiums from $360,000
Single-family homes from $475,000
Best Multi-Golf Course Community – Lake
Reynolds Lake Oconee, Greensboro, GA
Reynolds has so much going for it, including the stable ownership of Metropolitan Life Insurance Company, that retirees hell bent on living out their retirement near the ocean check out Reynolds anyway. And a fair number of them venture no farther. Whether it is the six impeccably maintained golf courses (with nameplates like Jones, Fazio, Nicklaus and the under-rated Jim Engh), one of the South's cleanest lakes, the multiplicity of intra-community activities or the growing number of services just outside the gates that include a major supermarket, multiplex cinema and brand new hospital, Reynolds is a magnet for retirees seeking an active lifestyle far from the pollution and traffic of a less rural area. Yet for those who miss the urban connection, Atlanta is a not-unreasonable 90 minutes away.
Lots from $10,000
Cottages/Condos from $163,000
Single-family homes from $450,000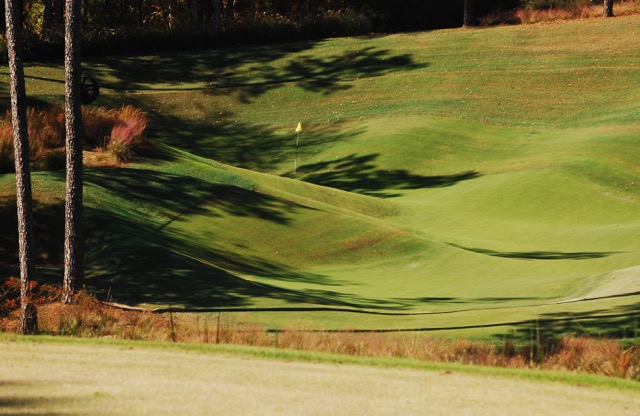 Creek Club par 3 at Reynolds Lake Oconee, Greensboro, GA
Runners Up
The Cliffs at Keowee Vineyard, SC –- The only reason The Cliffs does not finish in a flat-footed tie with Reynolds is that its seven terrific golf courses are spread throughout the upstate region of South Carolina and 10 miles south of Asheville in North Carolina. Their layouts are every bit as beautifully conditioned and fun to play as the Reynolds layouts, none more so than the Keowee Vineyard routing by Tom Fazio. (We are taking some liberty with our 36-hole rule because a second 18, under the Cliffs umbrella, is just a few miles away.) I annually rate the Vineyard course in the top 5 when my South Carolina Golf Panel ballot arrives because of its beautiful routing along the lake and the most eye-popping par 3 I have ever encountered (see photo below). But even though The Cliffs Keowee Falls layout is just minutes away, it is beyond the gates of a separate community, albeit under the Cliffs banner. One $50,000 membership provides full access to all Cliffs courses, a great deal if you have the available cash, but it is an hour drive from one end of the Cliffs chain to the other, making it a bit of a chore to take advantage of that relative bargain.
Keowee Vineyard lots from $7,900
Single-family homes from $529,000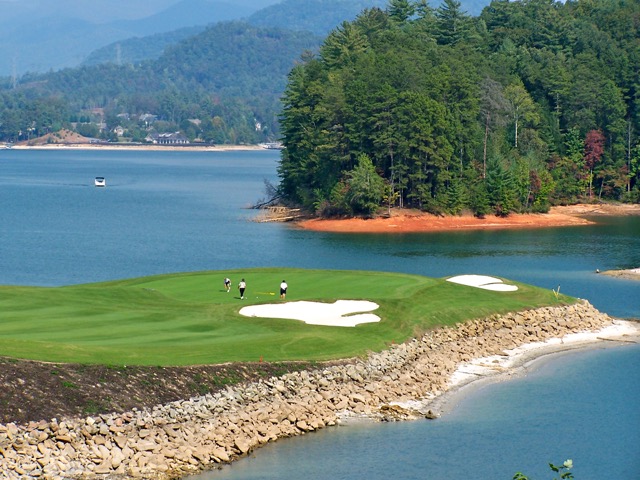 Cliffs at Keowee Vineyard par 3, Sunset, SC

Savannah Lakes Village, McCormick, SC -- Savannah Lakes makes our list for one major reason that should appeal to any couple looking for a golf home –- an extremely low cost of living (and high value for what you get). Make no mistake about it, Savannah Lakes is rural, 35 minutes from the modest sized city of Greenwood and more than an hour from Greenville. But its two golf courses are well-maintained and lots of fun to play; better yet, they are entirely different, the Monticello course a more classic routing that uses Lake Thurmond as a backdrop, and the Tara course an up and down affair, with lots of dramatic changes in elevation. The homeowner association fee is almost laughably low at $1,300 annually, and it pays for access to everything, with a few modest surcharges assessed (e.g. $25 green fees per play, although frequent golfers can play all the want for $3,300 per year).
Lots from $2,500
Single-family homes from $156,000
Best Multi-Golf Course Community – Inland (no lake)
Pinehurst, Southern Hills, NC
The owners of Pinehurst are opportunists; as soon as an area golf course appears to be in some financial trouble, they swoop in to add the course to their already unbeatable portfolio. They are at nine courses and counting, and word is out that the golf courses at the very private Forest Creek community are for sale. Who knows? Even if Pinehurst never adds another layout, its membership deal is among the best anywhere, with residents living beside the courses able to secure access to most of them for around a $35,000 initiation fee and less than $500 in monthly dues; with certain plans, the most premium courses, like the heralded Donald Ross designed #2, are available to members as well as all those traveling golfers looking to absorb a bit of history. Pinehurst is a good hour from Raleigh, and the surrounding landscape is rather meh, but if you love golf, the landscapes of the golf courses are mecca.
Single-family homes on Pinehurst #9 (formerly National Golf Club) from $269,000
Runner Up
River Landing, Wallace, NC –- River Landing is the epitome of a golf community that doesn't require highly experienced developers to produce a highly attractive environment. The product of a local family's vision, and the more practical need to attract executives to work in the family's huge livestock business, River Landing features two top-rated North Carolina layouts by Clyde Johnston. Conveniently sited less than one minute from Interstate 40 and a half hour from I-95, River Landing is about an afternoon's ride from Philadelphia and not much more from the population areas of the northeast. And via I-40, you can be in Raleigh in an hour and Wrightsville Beach in 45 minutes.
Single-family homes from $210,000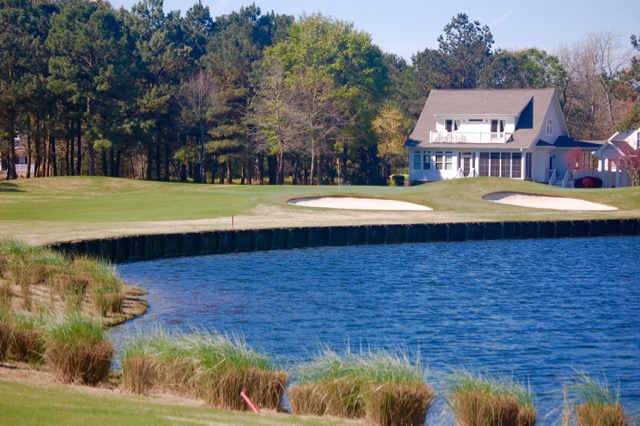 River Landing, Wallace, NC