The tax plan that Congress is set to approve today or tomorrow will accelerate the already robust migration from North to South. Whereas in the last century, people moved in the other direction for job opportunities and to escape institutionalized discrimination, this latest migration will be all about economic security. Whether you are for or against the plan, one thing that is undeniable is that many residents of the so-called Blue states like New York and New Jersey will lose a higher percentage of their income to property and state taxes than they are currently losing. The new law caps at $10,000 the deduction for property taxes and state income taxes combined. Once you hit, say, the $10,000 mark in property taxes, you will get no deduction on your state income taxes. Those living in the South, who are already paying much lower property taxes than their counterparts in the North, will not be affected because rarely are taxes on homes in the Carolinas and Georgia, for example, taxed in excess of the $10,000 threshold baked in the bill. And our friends in the South generally pay lower state income taxes, if any at all (none in Florida, Alabama and, in some circumstances, Tennessee).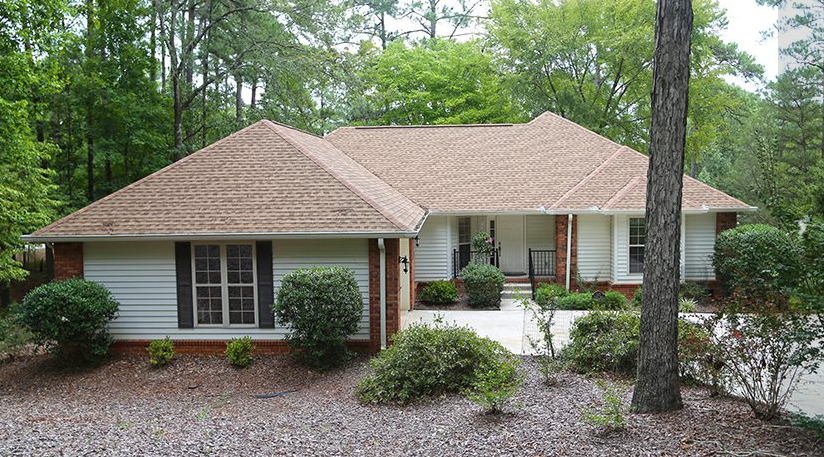 This home for sale in Savannah Lakes Village in McCormick, SC, overlooks the 4th tee box of one of the two excellent courses in the community. At 2,248 square feet and a price of just $209,000, cost of the 3 bedroom, 2 bath home is just $93 per square foot. Annual property taxes on the home are just $1,400, $1,100 if one of the owners is 65 or older as South Carolina offers a "homestead" exemption to seniors. Contact me if you would like more info on the home and on Savannah Lakes. (Although Michael Sherard, the agent with the listing, tells me he received an offer on the house as I was writing this article.)
Take comparable homes in, say, my hometown of Avon, CT, and Pawleys Island, SC, where I maintain a vacation condo. A $600,000 home currently listed for sale in Avon carries a property tax burden of $12,000. Owners of a home in Pawleys Plantation, just down the street from our condo and listed for sale at $599,900, paid just under $3,000 in property taxes last year. Now that may not appear overly consequential for the Avon homeowner, the difference between the $10,000 exclusion and the $12,000 in property tax. But what about the state income tax? The Connecticut homeowner will be on the hook for all of that because they will have used up the $10,000 exclusion on property taxes (or, if they used it up on the state income tax deduction, they will receive no deduction for their property taxes).
Much of the migration to date is courtesy of baby boomers retiring to the Sunbelt for lifestyle and climate reasons, as well as to reduce their cost of living. The coming wave will be more mixed, with working individuals seeking new job opportunities and a less tax-burdened lifestyle, and baby boomers, whose 401K and IRA plans have been over the moon in recent years. They will continue to seek an active and warmer lifestyle and to preserve financial resources in their post-working years.
Most readings of the tax bill show a huge advantage overall for the wealthiest individuals. But not so fast, especially for those persons with a high-balance mortgage on a $1 million or greater home. They no longer get to deduct interest on the mortgage amount over $750,000. But with a move to the South, they could surely find a $750,000 home every bit as deluxe as a $1.25 million home up North, keeping their mortgage, if they require one, within the boundaries of deductibility, according to the proposed law.
All this could conspire to drive up the prices of real estate in the South, especially if developers are not quick to build plenty of new homes. The compulsion to do so is obvious. In that example of the two homes above, the $600,000 Avon home has 4,380 square feet and 4 bedrooms, 3 baths and 2 half baths. The price comes out to about $137 per square foot. The Pawleys Island home, which spans 6,200 square feet, features 6 bedrooms, 6 baths and 2 half baths and costs out at just $97 per square foot. You may very well not need that much space in your retirement, but that kind of "bargain" is more the rule than exception in many areas of the Sunbelt. At least it is for now.