I take a measure of satisfaction and pride that this web site is focused on baby boomers who play golf, or just want to live in a community that is nicely landscaped, with plenty of green areas, and is likely to help appreciate the real estate it contains. (I take just as much pride when a 40-something contacts me for assistance in finding a vacation home in a golf community.) Most golf web sites appeal to golfers of all ages, and it is cause for celebration among us 60-somethings when one debuts that is singularly focused on us. Enter ShootingYourAge.com, the brainchild of Brad Chambers.
Brad and I will be meeting for a couple of rounds of golf in Pawleys Island, SC, the first week in December to share experiences and ideas, and most of all to discuss how we might work together to enhance the flow of information to baby boomers who love golf as much as we do. Brad's mission is to help us all "golf better" as we "grow older." His background is uniquely appropriate to his new enterprise, beyond just being a baby boomer who plays golf. For the better part of three decades, Brad has trained business and non-profit employees in the art of leadership. As a dedicated golfer, he began to see an interesting nexus between the game we all love and leadership principles. Here is how he puts it: "Golf, more than any other sport, exhibits, showcases, and sometimes rejects those displaying -- or not -- leadership principles. Your ball moved in the woods? Only you know. Integrity is on display at all times." Brad calls this flouting of the rules on the golf course an example of "Cowardly Leadership" which is also the name of a book he has published.
Having spoken about leadership with dozens of groups, Brad has a singular way of communicating often complex topics in clear terms. Although I have never heard him speak, I know his communication ability after I invited him to draft an article for Home On The Course, my free monthly newsletter. That article will appear in the next few weeks in our December edition. Brad's writing style is clear yet informal, direct yet helpful for any of us who play the game. He is also an avid tweeter who weighs in on most golf-related issues. You can sign up for his tweets at Twitter.com; just search for ShootingYourAge. And sign up now for our free monthly newsletter, Home On The Course, to read Brad's own thoughts on searching for a golf home. (He and his wife are a couple of years away but already going through the thought process.)
For those who have read this far, currently subscribe to Home On The Course (or subscribe in the next two days), and live in or will be visiting the Pawleys Island, SC, area on December 5, send me an email if you would like to join Brad and me for our round of golf at Pawleys Plantation, a fine Jack Nicklaus layout about a half hour south of Myrtle Beach. I will be pleased to host the first two who sign up. I can promise there will be a lot of talk about living in a golf community, reviews of golf courses around the world, and how to be a good leader on and off the course. You might even learn how to shoot your age.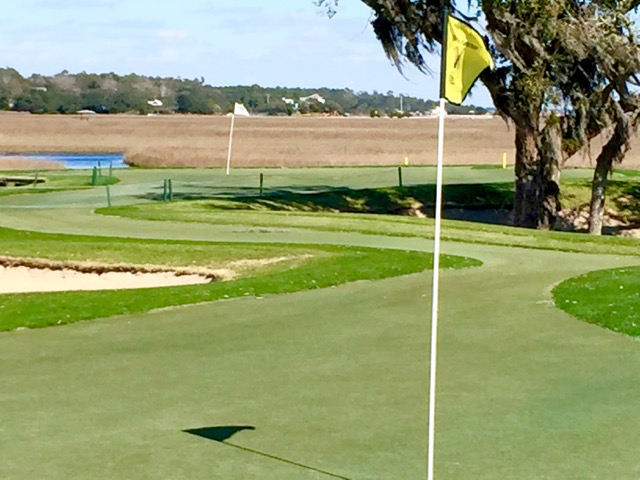 The greens at the par four 16th (foreground) and par 3 13th at Pawleys Plantation are backed by the marsh that separates the golf community from the Pawleys Island beach.