These reports from my golf vacation in Scotland may seem a bit self-indulgent, but my hope is that those who might be planning a trip here can glean a few helpful suggestions from my experience. I know I'm a bit off topic -- I haven't written yet about golf real estate in Scotland -- but I do plan to make a case for joining a Scottish golf club, even if you plan only a one- or two-week trip annually to play golf here. If you would like to share your own experiences playing golf in Scotland, please contact me and I will be happy to share your thoughts here.
If the British had won the Revolutionary War, I suppose we Americans might be driving on the left side of the road and playing golf in all sorts of nasty weather. This occurred to me today as I drove my rental car on the "wrong side of the road" the 45 minutes from Crail to Ladybank Golf Course in a steady rain. The width of the roads in Scotland change like the weather here, which is to say often and without warning, and my only challenge on the roadways has been to avoid the curbs on the far side of the car. I expect the rental company might charge me for a new pair of tires on the left side when I drop the car off Friday.
Despite that you can experience three seasons in one hour along the east coast of Scotland, where I am staying (it doesn't snow in August, although there are times it feels as if it could), the online weather reports saw today's steady rain coming five days off. Still, hoping against hope, and with a pre-paid reservation, I headed for Ladybank. My hopes were dashed when I arrived and scooted through the rain to the pro shop, hoping the golf professional might offer a brighter outlook for later in the morning. He didn't but kindly changed my reservation to Friday morning before I return to Edinburgh for the flight back to the States. In another corner of the pro shop, a foursome of Americans were not quite as decisive as I was and were in heated discussion about whether to give it a go or not.
As we five Americans moaned about our fate, an old bearded guy right out of central casting for Old Tom Morris, the famed 19th Century Scottish golfer, pushed past us all and headed for the first tee, head down and wearing enough rain gear for two players. He seemed happy to be ready to take on Ladybank's 6,300 yards, its distance from the forward men's tees, as well as the elements. As I walked to the parking lot to leave, the Americans continued their debate about what to do. It was even money whether they played or headed for a tour of one of the Scotch distilleries in the areas.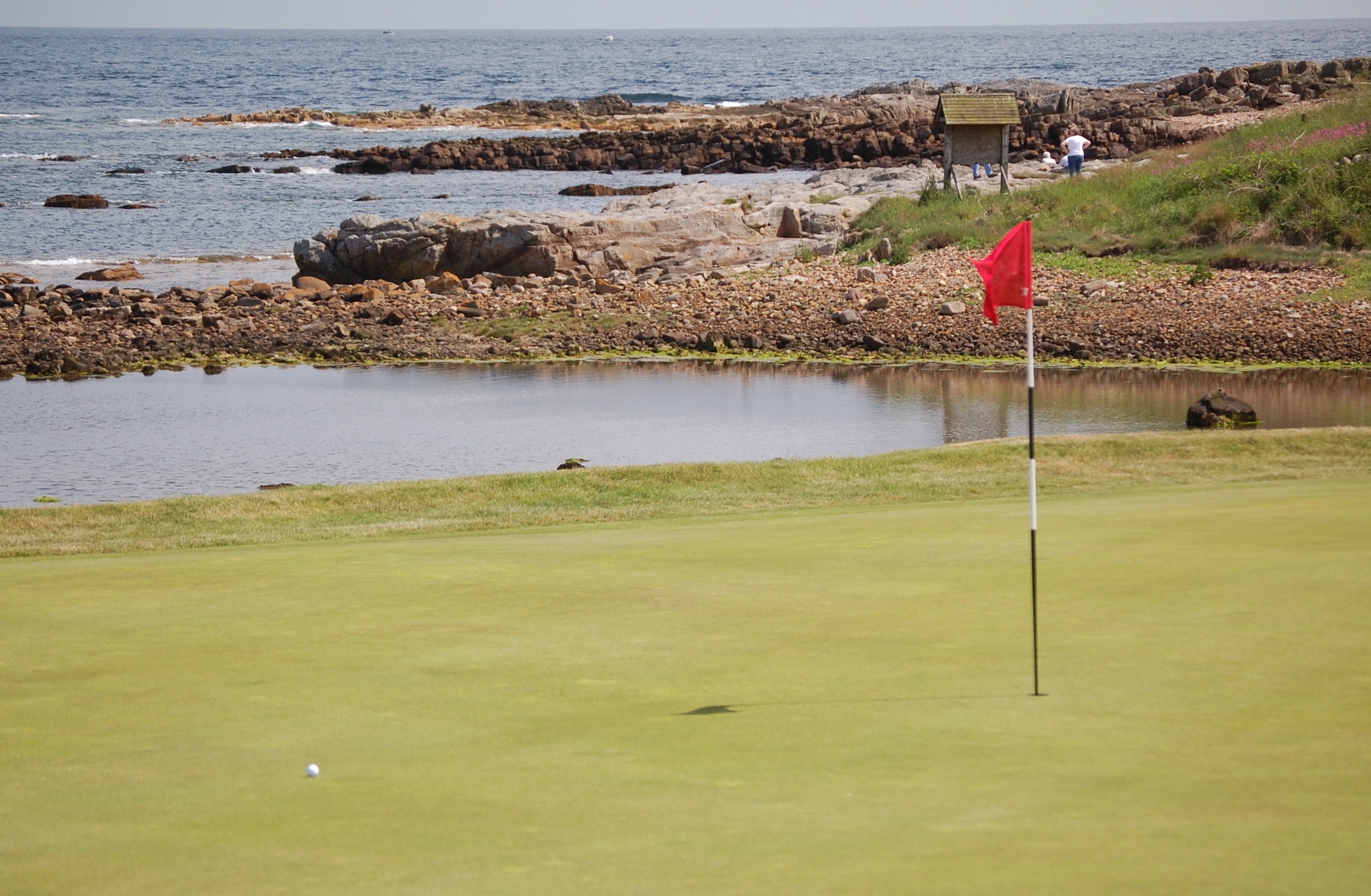 Although the sea doesn't come into play on many holes at Balcomie Links, it
is a constant presence and contributes shot-defying winds that make the shortish
course seem to play very long.

In uncharacteristically benign conditions on Sunday -- benign meaning it only rained during one hole and the wind blew at no more than 15 miles per hour -- I played my initial round at Crail Golfing Society's Balcomie Links with my good friends and hosts, George and Dorothy. It was an unusual day for Crail in that the Scottish Boys and Girls Amateur Championship is being played on the course and cars were parked beside the practice range. (I was pointed to the Members parking lot as I recently joined the club as an Overseas Member, but more about that in the coming days.) The clubhouse and practice areas were also filled with players under 14 years old and their families. The other Crail golf course, the modern Craighead, is the site for the event which begins today and ends tommorrow. I didn't count them all up, but the massive scoreboard in front of the clubhouse seemed to contain well over 100 names. And I heard as much Spanish, German and French as I did English spoken by the kids and their parents; this is an "open" championship and obviously an important pan-European event.
Although Crail Balcomie Links, opened on its current site in 1985, cannot lay claim to being one of the oldest courses in the world, the Crail Golfing Society can, formed as it was in 1786, number seven on the list of oldest clubs in the world. Old Tom Morris designed Balcomie and, 113 years later, Gil Hanse laid out Craighead on the south side of the clubhouse. Like Balcomie, it too sports stunner views of the North Sea and, on clear days, you can spot the land that spreads east along the Firth of Forth from Edinburgh and comprises the golf course at Musselburgh, the oldest layout in the world (and, sadly, overshadowed and over-invested in by the adjacent Musselburgh Race Course). The famed Muirfield and North Berwick layouts are over in that direction as well.
Tomorrow morning I return to Balcomie for another go. I am hoping for a return to dry conditions, and right now the online weather report calls for no rain at the start of my round and for about four hours. Since a typical round at Crail takes about 3 hours and 40 minutes without golf carts -- the hand carts, blessedly, are motorized -- I could get lucky. But to reverse paraphrase what Mark Twain wrote about Connecticut, "If you like the weather, wait a minute. It will change."