I don't sleep well on airplanes -- or at all. And when the plane is as crowded as Norwegian Flight 1609 from Hartford Bradley International to Edinburgh was yesterday, in both numbers of passengers and configuration of the seats, no sleep is guaranteed.
When the price is more than right for an international flight like the Bradley to Edinburgh non-stop flight, you know you are going to pay the piper in one way or another. I scooped up a fare of just $99 for the U.S. to Scotland leg and paid an extra $75 for one checked piece of luggage and a meal in flight. My bag arrived shortly after I did but the meal of undercooked green beans and overcooked chicken certainly was no bargain. Neither is the return flight from Edinburgh which, pre-paid at $300, includes the bag and meal. That's about half of what a roundtrip flight on one of the other trans-Atlantic carriers costs, but none of them fly non-stop from Bradley, just a half hour from my home in Connecticut, to Edinburgh. The cost and headache to get to Boston or New York convinced me to try Norwegian.
There is always a balance between price and service. The Boeing 737-800 aircraft with three seats across on both sides of the plane made it impossible to even attempt to sleep. The seats reclined about three inches, meaning the seatbacks at full recline were virtually upright. And the narrowness of the seats themselves meant the guy in the seat to my right and I were vying for elbow space on the handrest most of the trip. He was a bit more aggressive than I was. He also snored and could not make up his mind whether to lean his head on the drop down table in front of him or try to lean back on the barely reclined seat back. His efforts were distracting.
I have one other gripe with Norwegian. When I booked my flight, I thought I would bring my golf clubs with me. But 10 days before the flight, I decided to ship them straight to my golf club destination at the Crail Golfing Society, where I have become an overseas member. I called Norwegian a week before my flight and alerted them that my pre-paid clubs would not be flying over with me and asked for a refund or credit. Not permitted, they said. That $99 fare includes zero flexibility.
On the plus side, the plane arrived in Edinburgh 50 minutes early and customs was farily easy to get through, maybe a total of 30 minutes. I was surprised that after I collected my bags I did not see a single customs agent. Perhaps they trust the X-ray machines in the U.S. to do the job of spotting bad stuff in luggage, but this was a first time for me that there was no cutoms presence.
There is a convenient shuttle at the airport into the center of Edinburgh and stops along the way. I was going to take a train to London to see my sister and her family there for a few days before proceeding to Crail for a week of golf. The shuttle service is called Airlink and it is just about $6.00 for the one-way trip, and comparatively cheaper for a round trip. Again, cheap is relative; on the way into the city, a female pedestrian tried to beat the bus at a traffic signal. She didn't quite make it. The driver slammed on the brakes in time but the woman went arse over tea kettle in the road. She picked herself up, grabbed both sides of her head more in frustration, it seemed, than in injury, and ambled off. The young bus driver was shaken. He called his supervisor who advised him to move the bus to a side road, park it there and dismiss his passengers from the bus. The driver advised that I was only "two stops" from Waverley Train station and that I could walk it in 10 to 15 minutes. It might have been a pleasant walk without the three pieces of luggage, but the big one has four wheels which at least made it doable. But by the time I made it to Waverley Station, I almost felt as if I had been hit by a bus.
Once at the train station, the odyssey continued. I tried to secure an earlier train but it turned out that the firm I pre-bought the ticket from, Rail Europe, a North American based company, does not have agents in Edinburgh station. I decided to wait for my original train, scheduled at 1:30 which, around 1:00, was cancelled. I was able to snag a reservation for the 2:00 train. When two British citizens, one from Scotland and one from England, sat down with me at my table, we started talking as the train left the station. When I realized they could take a joke, I warned them that they might want to change their seats because my luck was running ice cold over recent hours. Not one minute after I warned them, the train came to a halt and the conductor came on the PA system to say there was an obstruction on the rail line ahead -- "probably a cow," my new Scots friend said. I wound up arriving 35 minutes late in London, where it was pouring rain.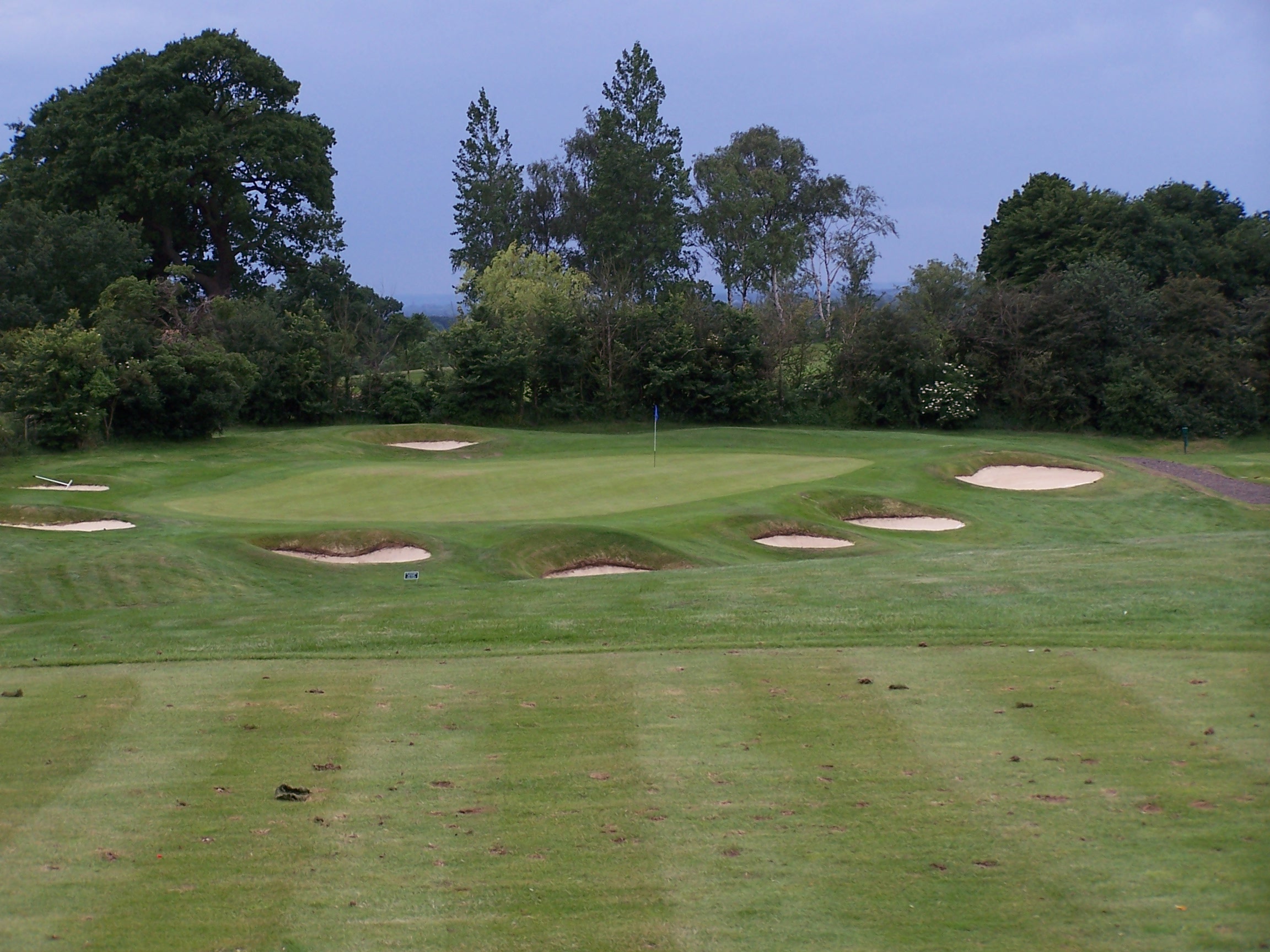 Hartsbourne Country Club is home to a classic golf course with some modern flourishes.
On a more positive note, I was invited to play at Hartsbourne Country Club just outside London today, and it was an uncharacteristally glorious sunny and cool day in the often wet London summer. The course was in excellent condition, it was a convivial round with two friends and my brother in law (he's my friend too), we stopped for a genteel lunch in the centuries old clubhouse (hideaway place, I am told, for one of the former Edwardian kings and his mistresses), and had a relaxing post-game beer in the same dining room. It made me almost forget the disaster of the previous day's travels and caused me to look forward even more to my week in Crail, which begins on Saturday. I can only hope that the weather forecast in Scotland, which calls for rain half the time I will be there, is wrong. More to come.