Cleanup from the destruction wrought by Hurricane Matthew last week is well under way. Water and tree damage to golf communities from Miami, FL, to New Bern, NC remain, but golf courses are beginning to reopen up and down the coast. In Myrtle Beach, most of the area's 100 golf courses reopened on Wednesday, although a few big names, like the venerable Dunes Club and Surf Club, were not ready for play. My own Pawleys Plantation in Pawleys Island, SC, plans to open on Friday.
Matthew was a unique storm event in terms of the coastal cities where it landed. Chief among them was Savannah, which frequent readers of this site and my free monthly newsletter will know is almost hurricane proof because of its location well to the west of the Gulfstream; for the last 100 years, any serious Atlantic storms were whisked northward, about 75 miles east of the city. Not this time around, however, as the stubborn Matthew hugged the coastline along the full lengths of Florida and Georgia. Hilton Head Island, which is just to the northeast of Savannah, was directly in the storm's path. But aside from broken docks, plenty of downed trees and concrete chunks from the dock at the marina that were tossed up and around the 18th green at the famed Harbourtown Links course, the surrounding Sea Pines Plantation fared pretty well. (And for those worried about the famous Lighthouse behind the green, it did not suffer a scratch, according to a video I watched.)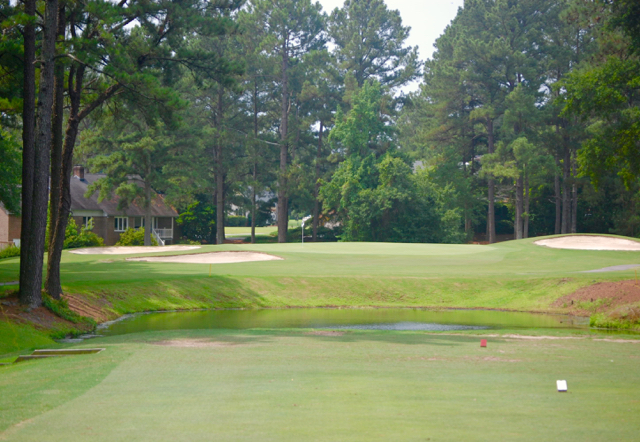 Greenville, NC's Brook Valley will escape much of the local flooding from Hurricane Matthew. Although some branches of the Tar River run through it, Brook Valley remains relatively dry. A local college golf event has been moved to Brook Valley from nearby Ironwood Country Club, which is beside the Tar River.
Savannah, according to the well-regarded book "Hurricane Watch," should suffer a major hurricane no more often than 1.3 times per 100 years. For those looking for a golf community along the southeast coast and especially worried about major storms like Matthew, the odds are with you at a place like The Landings on Skidaway Island, just 20 minutes from downtown Savannah. They have just endured their 100-year storm, and probability indicates it should be another 75 years or so before the next one (although please don't blame me if the next storm beats the odds). Other coastal cities with lots of golf communities and good odds when it comes to major hurricanes (according to "Hurricane Watch") -– those packing winds of more than 111 mph –- include St. Marks, FL (due south of Tallahassee and on the Gulf of Mexico; 1.4 major hurricanes per 100 years), Daytona Beach (2.6), Jacksonville (1.9), Charleston (2.2), Myrtle Beach (2.6), Wilmington (2.1) and Virginia Beach (1.3).
Although the popular image of major hurricanes is of broken piers and sand covered roadways, a storm like Matthew can cause serious damage to inland locations. Greenville, NC, has been in the news the last few days for the threat of severe flooding from the Tar River. As I write this (noon Wednesday), military trucks are rumbling through some neighborhoods in Greenville, their loudspeakers warning residents in high risk neighborhoods to evacuate immediately. Branches of the Tar run through Brook Valley Country Club, one of the dozen McConnell Group golf courses in the Carolinas; and a few holes at Greenville's Ironwood Country Club are a hundred yards or so from the river itself.
"Ironwood was scheduled to host a home tournament for ECU (East Carolina University) this Sunday through Tuesday," says Brook Valley Head Golf Professional Riley Kinlaw. "However, they are going have some flooding on their course. Brook Valley is stepping in to help out the University and providing those teams a place to play their event."
If you would like more information about hurricane probabilities along the Southeast coast or about any of the golf communities in the region, please contact me.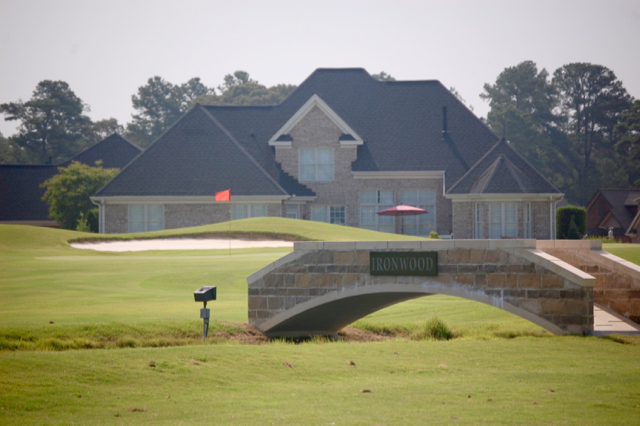 There will be water: Ironwood Country Club is located near the Tar River, whose swollen waters have caused the evacuation of residents of some neighborhoods in Greenville, NC.