Tonight I start working on my wife Connie about my purchasing a "Non-Resident National Membership" for the McConnell Group of golf courses in the Carolinas and Tennessee. (McConnell added its first club outside the Carolinas with the recent purchase of Holston Hills in the Knoxville area.) The National Membership, which is available to anyone who lives at least 50 miles from a McConnell-owned club, provides access to the group's dozen outstanding private courses.
There are two levels of National membership. If, for example, your primary residence is in one of the three states in which McConnell operates clubs but outside the 50-mile zone, then your initiation fee would be $10,000 to join and your annual dues would be $3,875, or $323 per month. But if you live most of the year in a state other than North and South Carolina and Tennessee, and can prove it with a driver's license and state tax return, your initiation fee is just $2,500 and dues $2,500 annually.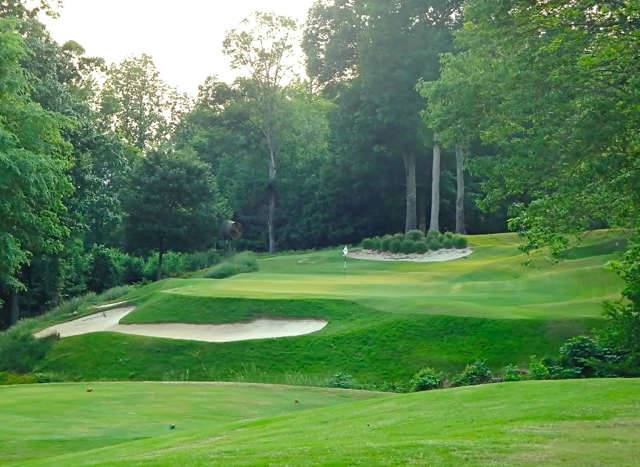 McConnell's dozen golf courses are all well-maintained and carefully chosen for their reputation and layouts. Shown is a par 3 at Treyburn Country Club in Durham, NC
We say "just" $2,500 because the McConnell courses are all private, they are exquisitely tended, and the layouts are among the best in the South; they include designs by the likes of Donald Ross, Tom Fazio, Pete Dye and other titans of golf architecture. They are good enough to host PGA and LPGA tour events; the Ross gem at Sedgefield Country Club in Greensboro, NC, for example, is the site of the annual Wyndham Championship.
Most of the McConnell courses are located in golf communities, including at Treyburn in Durham, NC, TPC Wakefield Plantation in Raleigh, and The Reserve at Litchfield just south of Myrtle Beach, SC. My wife and I own a vacation condo about 10 minutes from The Reserve, where McConnell dramatically improved the Greg Norman layout a few years ago, and I can envision playing the golf course a couple of times a week during our visits to the area.
If you would like information on these and other communities adjacent to McConnell courses, or if you would like an introduction to Lauri Stephens, the McConnell vice president of membership, please contact me.