Richy Werenski won the BMW Charity Pro-Am yesterday on the Thornblade Country Club course in Greer, SC, located between Greenville and Spartanburg. The BMW is unique in that it is played over four days on three area golf courses. Each competitor plays a round at Thornblade, The Reserve at Lake Keowee and The Preserve at Verdae Greens, before those who qualify play the final 18 at Thornblade. Watching on television Werenski and his fellow competitors play the last few holes at Thornblade reminded me how much I enjoyed the Tom Fazio golf course and what a well organized and run club Thornblade is (the food in the dining room was excellent as well). Thornblade is a family-oriented club, but for those looking for a vibrant atmosphere in a well-established community -– large homes begin around $489,000 -- and economically sound area – BMW of North America headquarters is nearby in Spartanburg –- Thornblade is a great choice.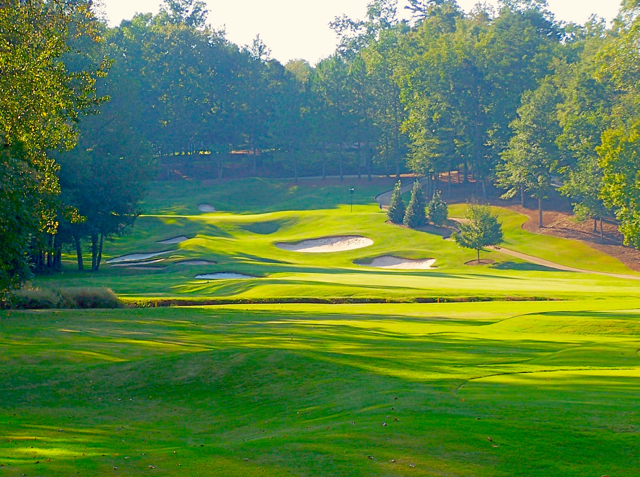 The layout at Greer, SC's Thornblade Country Club has the hallmarks of Tom Fazio's best designs. It is the site of a preliminary and the final round of the annual BMW Charity Pro-Am golf event.
Life can be good, even in a non-golf community
A golf community isn't always the best choice for golfers, including those whose major activity is golf. On a visit to Beaufort, SC, last week, and at the invitation of developer J. C. Taylor, I stopped by for a tour of Celadon, a small but charming community characterized by live oaks arching over the roads, front porches on every home (it's mandatory) and intermittent pocket parks on most streets. If a community can have neighborliness built in, Celadon is it. Plus the community center, featuring a fitness center, pool and activities rooms provides just about everything a golf community can, at a much lower cost. Golf memberships are available nearby at such established clubs as Dataw Island (10 minutes) and Callawassie Island (20 minutes). In short, for those looking to save some money on homeowner association dues but to live the same kind of lifestyle you would in a typical golf community, Celadon and the growing number of these "new urbanism" communities are worth a serious look. Contact me if you would like an introduction to J.C. Taylor and Celadon.

Sometimes a golf community may not be the answer, even for dedicated golfers. In that case, they might choose to live in a small, but full-service development like Celadon in charming Beaufort, SC, and buy their golf membership at a club like Dataw Island, with 36 holes of Arthur Hills and Tom Fazio golf, just 10 minutes away (shown above).
Duh: Florida top state for retirees, but where are SC cities?
I stumbled across a website run by Smart Asset, an online information service aimed at retirees. The operators of Smart Asset looked at 2014 census data and came up with a list of those states and cities to which most people over the age of 60 are moving. By a wide margin, Florida topped the state list, followed by Arizona, South Carolina, Georgia and North Carolina. Three cities in Florida –- Cape Coral, Jacksonville and Port St. Lucie -– ranked #2, 5 and 7 on the top 10 list -– and Charlotte, NC, placed 8th. Two of our favorite areas for golf communities made the top 15 list, including St. Petersburg, FL (12), and Savannah, GA (14). Curiously, the third most popular state for retirees, South Carolina, placed no cities in the top 25; not Charleston, Myrtle Beach or Greenville, which would all be on our list. You will find the Smart Asset article here.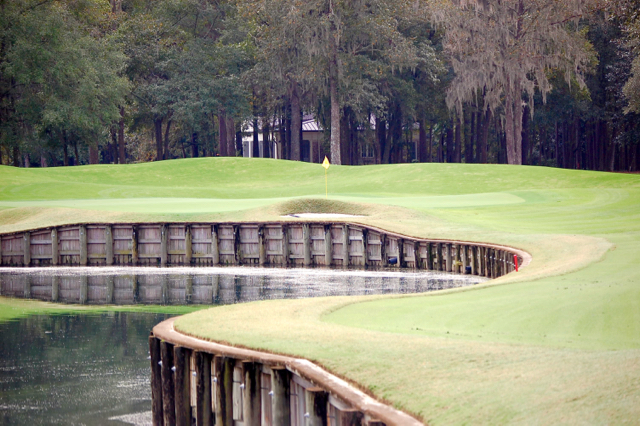 Savannah, GA, is one of the top 15 most popular cities with people over the age of 60. Ford Plantation members spent more than $7 million on course and clubhouse improvements a few years ago. Pete Dye did the work on the course he originally designed but, except for railroad ties on one par 3, you might not recognize it as quintessentially Dye.
Chinese food for thought in Myrtle Beach
Myrtle Beach's golfers and local club members are nervous these days, yours truly included, because of a video out of China that recently surfaced. If you have read these pages over the last year, you know that Chinese business interests have purchased nearly one-third of all the 100-plus golf courses along the Grand Strand. My own Pawleys Plantation is part of a group of 22 clubs owned by Founders International. Its leader, Dan Liu, indicated in the video aimed at Chinese investors in Asia that recent non-golf related financial issues in China could be covered by the "sale of properties" in the U.S. Many of those properties include the Myrtle Beach area golf courses which the financial group behind Founders has owned for less than two years. Reports are that conditions at Pawleys Plantation have deteriorated since the soaking rains of last October, including the collapse of a small portion of the dike that holds the tee boxes for the par 3 13th and 17th holes; as of last week, not much repair work had been done. Anyone interested in Myrtle Beach as a destination for a primary or second home –- some excellent buys still available -– or for a golf vacation, please contact me for the latest on the China issue.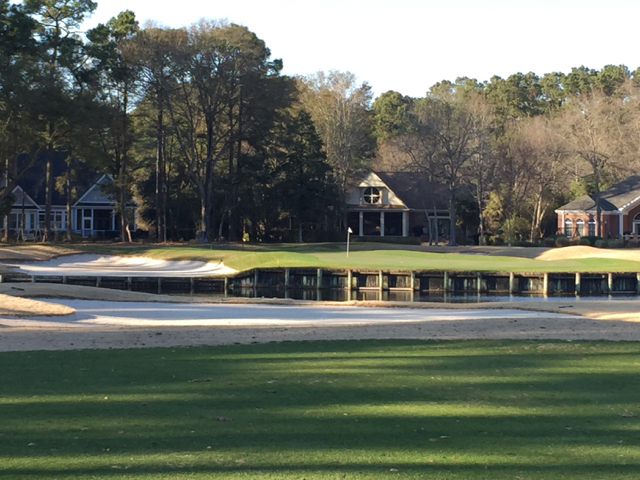 China-based owners of golf courses in the Myrtle Beach area are facing financial difficulties and have hinted that their golf courses might be for sale. Shown is the approach to the 10th hole at Jack Nicklaus' Pawleys Plantation in Pawleys Island.