The Ten Commandments of Real Estate could very well have the same word written from top to bottom –- Location. The closer a home is located to a popular urban area with plenty of services, the higher the price on a comparative basis. The proposition reaches its most absurd levels in cities like San Francisco and New York, where both sales and rentals routinely command more than $1,000 per square foot for even the most modest spaces.
The formula is generally true of golf communities as well. The closer a high-quality golf community is located within an easy drive of a popular major urban area, the higher the prices that golf community will command. Thus you will be hard pressed in many communities near Charleston, SC, or the Triad of Raleigh, Durham and Chapel Hill to find homes priced at much under $200 per square foot. One unsurprising reason for this is that urban areas tend to feature high-paying jobs; therefore, well-paid working people are vying for the same golf real estate that retirees are looking for, and if supply is steady –- which it is in most golf communities today –- then demand pushes prices up. Proximity to services appeals across all demographics.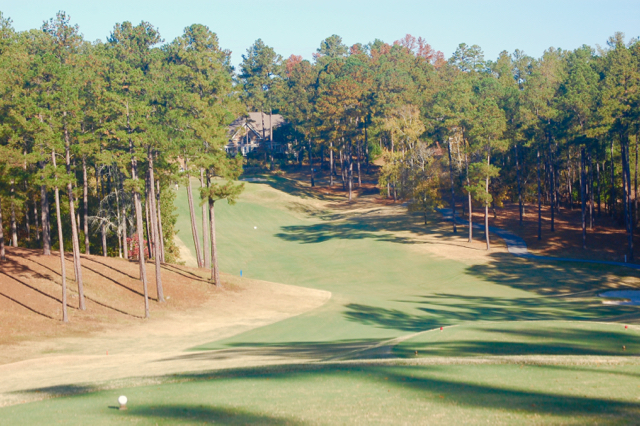 The Tara Course at Savannah Lakes Village, one of two 18-hole layouts there, features significant elevation changes. A full-golf membership in both clubs is just $3,000 per year.
That isn't to say some high-end, high-price golf communities can't flourish in out-of-the-way locations, far from urban sprawl. No one will ever accuse The Reserve at Lake Keowee or the nearby Cliffs group of communities of appealing to the bargain-oriented crowd; home prices in those communities start around $500,000 and a full-golf membership commands $50,000 and more. But, in general, the more rural a golf community, the lower the prices. (We know of a few communities where homes facing a lake are priced at $100 per square foot and less; but more about that later.)
Of course, a couple who has spent their married lives living just outside New York or Chicago or inside the city itself are going to have a period of adjustment living out in the country, if indeed they ever adjust. It took me three or four years to "learn" how to sleep in suburban Connecticut in the 1980s after living in New York City for five. In New York, I had gotten used to ambulance sirens and truck exhaust backfires in the middle of the night, but in Connecticut, at first, every cricket chirp sounded like a shotgun blast to me. But I eventually adjusted because, well, I had to.
In this month's Home On The Course newsletter, we interview a couple who have lived for the last decade at Savannah Lakes Village in McCormick, SC. You don't find many golf communities in a more rural location than Savannah Lakes; but those who do their golf community shopping via a Google map may be missing out on the real estate bargain of their lives, whether at Savannah Lakes or another of the many remotely located golf communities in the Southeast. With some homes priced at less than $100 per square foot, a few of them with views of beautiful Lake Thurmond, and a cost of living as much as 50% less than what many of us are used to, it is a good idea to listen to how one couple has both managed and thrived in a rural setting.
If you are not a subscriber to our free newsletter, sign-up is easy. Just click here, provide your email address, and we will send you the May edition of Home On The Course. Click the archives button at the top of this page if you would like to survey the dozens of newsletters we have published to date.