I had a good conversation today with a lot owner and member of the golf club at Bright's Creek, the financially jinxed Mill Spring, NC, golf community a little less than an hour from both Greenville and Asheville. I was concerned after visiting the community's web site and finding that interim owners who had defaulted a year ago were still listed as the "development team" at the site. I made some inquiries and left a message for the lot owner, who also had a management role at Bright's Creek up until a few years ago.
        Bright's Creek has been victimized by bad luck and some organizational overreaching since its 2006 debut in a rather remote section of southwest North Carolina. The community was organized by the same team that put together Forest Creek, the heralded golf development in the Pinehurst area that has been the playground of such luminaries as Michael Jordan.   Off that auspicious debut, the owners most have thought Bright's would be another piece of cake after the acquisition of a sharply priced 5,000 acres with an array of creeks running through it and a semi-circle of ridges ringing the valley. But Forest Creek was built at a different time, and when the market began to collapse in 2007, the owners could not have imagined that this recession would take no prisoners among newly started golf communities like Bright's Creek.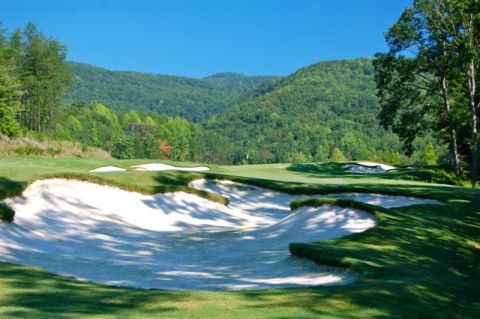 The Fazio layout at Bright's Creek uses all the elements valley and mountain terrain can offer, plus the creek itself.
        After an initial spurt of 330 lots, sales turnover at Brights stopped dead in 2008. The 5,000 acres, which spans a valley that straddles the eponymous creek and slopes up to a 2,000-foot-high ridgeline, were carved into 1,300 lots that probably seemed only a slightly ambitious number in 2004; in light of the events of 2008 and since, it might be decades before those additional 1,000 lots are sold. (My contact believes that the next owners will almost surely reduce the overall inventory of lots for development.)
        Ownership issues and a lack of resources have made it impossible for Bright's Creek to do the kind of marketing it needs to be competitive. The original owners sold the community to a group from Miami in late 2011, but by the end of 2012, they were gone, unable to provide the financial resources necessary to pump new life into the development. Now, with the original owners trying to find yet another buyer, marketing and sales have both stopped dead at Bright's Creek; what buyer, after all, is going to plunk down a couple of hundred thou for a lot in a golf community without a developer?
Down but not out
        That kind of history should be enough to lay low even the best-organized golf community. But Bright's Creek has some undeniable assets going for it that could make it an investment somewhat less risky than, say, penny stocks. Although it is totally rural in nature, and it will be years before the area around it grows in any significant way, Bright's Creek has the aforementioned impressive bit of topography that some communities would lust after. The sleek Tom Fazio golf course plays mostly across a valley wedged between those surrounding hills, making it only mild exercise for those who prefer to walk their 18 holes. The surrounding ridgelines are perfect spots for the finest future homes in the community, with views across the valley and golf course to the other surrounding mountains. At 50 miles from Asheville and 60 from Greenville, Bright's is remote, to be sure, but any emergency supplies -– or just routine groceries -– are much more accessible at nearby Tryon and Rutherfordton.
        The golf course is a typical Tom Fazio modern design, which is to say both challenging and fun, the hazards mostly of the sandy variety, except for the stream of water that gives the course and community its name, and sporting the customary Fazio clovers and peninsulas.
Expect prices to drop with a new owner
        I wish I could share some prices for real estate but because the temporary owners have stopped actively selling as they prepare to turn everything over to new proprietors, there is no marketing going on (including a web site that is at least a year out of date).  But when Bright's is sold, which my contact says could be a matter of days, weeks or, less likely, months, the new owners may have no choice but to offer lower priced lots. They will almost surely label them, accurately, "The Lowest Prices We've Ever Offered," a signal for those with a little capital to risk that Bright's time may have come.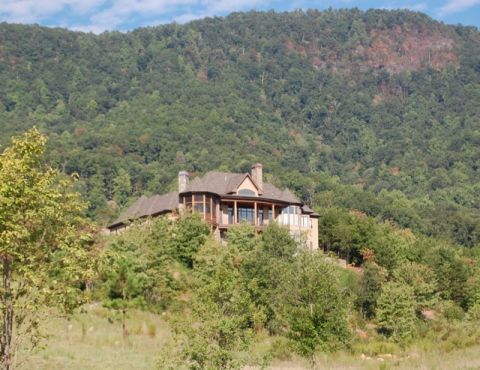 Some of the most dramatic homes at Bright's Creek occupy the most dramatic lots, along the community's many ridgelines.