The choice between joining a private or semi-private golf club boils down to how much "privacy" you are willing to pay for. Private clubs almost always cost more to join, and the monthly dues are generally higher. You pay extra for the better-conditioned course, a few additional employees to
Many of the best views at Rivers Edge are from the balconies on the many townhomes.
provide a higher level of service, and the privilege of never having to share your golf course -– or your own round -- with riffraff from outside the gates (other than any intemperate guests you and your fellow members might invite). Semi-private golf clubs charge lower initiation fees and dues, staff members there typically do an okay job of remembering your name, but even if you never actually play with any of the "riffraff," you feel their effects in unfixed ball marks on greens and 4 ½ to 5 hour rounds. Of course, as the club owners remind you, the riffraff's green fees help maintain the golf course.
        There are exceptions to all stereotypes, which brings me to Rivers Edge, a 500-acre golf community in Shallotte, NC, at the very northern edge of what is referred to as the Grand Strand, which runs 90 miles from Georgetown, SC to about a half hour south of Wilmington, NC. The community's namesake river is the Shallotte, and its small tributaries and surrounding tidal marshes dominate Rivers Edge's sprawling Arnold Palmer golf course. (The late Ed Seay actually did most of the architectural work.) The developers of Rivers Edge were certainly generous in dedicating many of the best sightlines to the golf course, even if on a few holes, those sights can cause sore eyes as you line up your shots. (More on that in the second part of our review in the next few days.)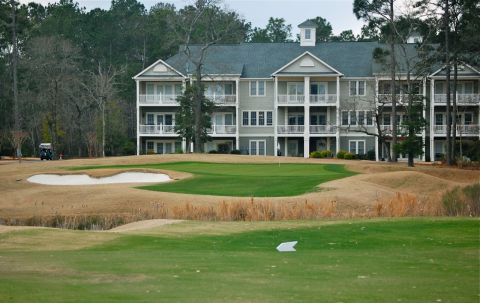 Townhomes at Rivers Edge command some of the best views in the golf community, including from behind the 10th green.
        The birth of Rivers Edge in 1999 might have been a religious experience for residents, literally. The family that owned the hundreds of beautiful acres that abut the river planned to build America's first Christian golf community; they were going to name it The Rock. Sources of potential funding, however, did not see the future in quite the  same way. In stepped Mark Saunders, a local builder and developer, who put together a more
Unusually, a group other than the developer has owned the Rivers Edge Golf Club since day one.
traditional plan and invited Blythe and Associates, golf club operators based in Charlotte, to purchase and manage the golf course. This is unusual in the realm of planned developments; most often, the developers own and retain control of the on-site golf clubs until they turn them over to members or, if the members don't want the clubs, to an outside operator. Outside golf club owners like those at Rivers Edge walk a fine line in balancing the interests of members with the need to generate additional income from outside play. By all indications, and the opinions of the members I met, Blythe has done a good job to date. As an accommodation to members and to the faint aura of a private club, membership is restricted to property owners.
        As with most semi-private golf clubs, costs are considerably lower than at private clubs, although truly private clubs are few and far between along the Grand Strand of Myrtle Beach (the only three are located on the far south end -- DeBordieu, The Reserve at Pawleys, and Wachesaw Plantation). From the club's opening in 1999, the modest initiation fees were set in stone for the future. The first 200 memberships were pegged at $2,000 each; the club is now working on the next 200, at an initiation fee of $3,000. After those memberships are secured, the initiation will top out at $4,000 for all future members. Compare that to Rivers Edge's sister community down Highway 17, Ocean Ridge Plantation, whose initiation fee is $15,000, although it includes four courses, also open to the public. Membership at Rivers Edge, which is not mandatory for property owners, is pegged to the member's property, not to the individual, which means it is transferred to new owners with the sale of the home.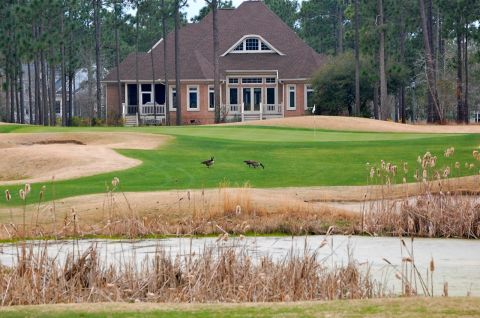 Single-family homes at Rivers Edge, which run from the $300s up, tend to be either brick or Hardi-plank.  An architectural review board ensures that no vinyl or neon colors intrude on the overall refined look of the community.
        Dues for an individual member are just $328 per month, but on the day I played, there were enough men's and women's groups out on the course to imply that a preponderance of memberships are of the family variety, which works out to $437 monthly. What makes the Rivers Edge membership even more attractive, especially for the golfer who plays often, is that cart fees are included. I don't run into that very often. My playing partner last Friday, Jeff, told me he plays "every day." Even if he exaggerated by a few days a year -– and I understand from his friends that he probably didn't exaggerate by much –- Jeff saves more than $6,000 annually, based on cart fees elsewhere of about $20 per round.
        River's Edge provides another playing option that will appeal to those who purchase a vacation home in the community. For $1,280, residents can purchase a "punch card" good for 32 rounds of golf annually, cart included, or $40 per round. Owners of the punch card can use it as well to pay for guests' rounds. With peak season green fees at Rivers Edge pegged at more than $100, the punch card is a good deal for seasonal homeowners.
        Though it is clearly a semi-private golf club, Rivers Edge exhibits a convivial, private club vibe in a Cheers Bar kind of way. Everyone I met on the course and in the clubhouse seemed to know everyone else. As I sat in the sprawling clubhouse that overlooks the river with my playing partners Jeff and Dennis, Jeff introduced me to every member who strolled by –- and there were a couple dozen of them since Friday is one of the three days each week that the River's Edge men's and women's golf groups populate the course. When the package players arrive to fill out the tee sheets in March and April, things can get a little crowded, but with a little planning, members say their playing preferences are well served even at those busiest times.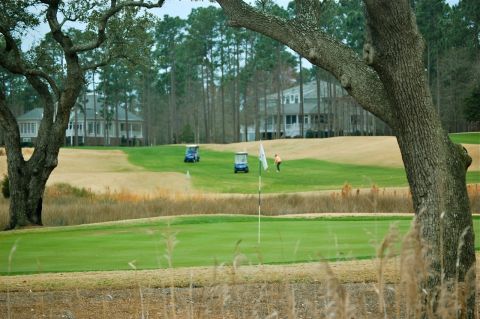 The view from behind the 17th at Rivers Edge does not do justice to the intimidating shot faced by golfers who choose the lower of two fairways for their approach on the par 5.
        The relatively low total cost to live at Rivers Edge -– property owner association dues are just $1,100 annually, and that helps pay for a gate that is manned during daylight hours -– is impressive given that just 100 homes of a planned 500 are built. Club membership provides access to a two-story Private Residence Club, which comprises an indoor and outdoor pool, a fitness center, library with wireless Internet connection, meeting spaces
Rivers Edge residents' private beach club is just 20 minutes away.
and cooking facilities; just outside are three composition tennis courts. Access to a club 20 minutes away on Holden Beach is part of the Rivers Edge amenities package, but for those in a rush to get the sand between their toes, Ocean Isle Beach is just 10 minutes away. Although dinner is served only on Wednesdays in the main clubhouse, that schedule might pick up when the community's roster of residents grows. (Note: Shallotte is not exactly known for its array of restaurants, but serious diners will find the more urbane Wilmington and North Myrtle Beach within about 30 minutes.) The dining room in the Rivers Edge clubhouse does a lively lunch business, though, bringing a number of outsiders in through the gates to partake of the stunning views of the river and marsh. As for the food, I can only vouch at this point for the excellent hot dog I ordered at the turn.
        The residents of Rivers Edge hail mostly from the northeast. Of my playing partners for the day, Jeff is the former swimming and diving coach at Syracuse University, and Dennis worked in the oil industry (he lived in 16 different towns during his career); Dennis still provides some consulting services to the industry, and occasionally he will make the trip to either the Wilmington or Myrtle Beach airport for a flight to Tulsa, Houston and other hotbeds. He told me connections from both airports were good.
        The real estate options at Rivers Edge are diverse and run the gamut from multi-level buildings with townhomes, some lining the left side of the finishing hole and with direct views of the river and marsh, to million dollar homes with similar views (but well out of range of the taller buildings). Prices start in the $300s for town and patio homes, and just $50,000 for home sites; count on the customary $150 per square foot for construction costs, unless you want higher-end finishes, appliances and cabinetry. One representative townhome with 3 bedrooms, 3 ½ baths and views of the golf course is currently listed at $339,900. As with most real estate on the Carolinas coast, prices are off about 30% from their peak before the housing crisis.
        I took a spin through the community with Real Estate Consultant Patrick Wright. If Patrick had not told me that only 20% of the 500 lots had been "improved" with homes, I would have guessed more than 50% of the community was built out. Landscaping is such that the open lots, though obviously awaiting homes, appeared to be purposefully landscaped open spaces. Homes that have been built are harmonious architecturally with one another, a mix of brick and Hardi-plank designs and giving a strong Low Country feel to the community's enclaves.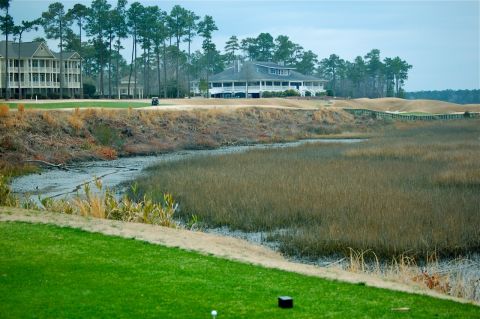 The townhomes and clubhouse (center, rear) help triangulate a difficult tee shot on the finishing hole at Rivers Edge.  Both the condos and clubhouse command a beautiful view of the Shallotte River, to the right of the fairway.
        By original agreement between the developer and owners, residents will inherit ownership of the community once 80% of all properties have been sold. That level has almost been reached, and the community will revert to the residents by 2015. [Editor's Note: Between our visit 10 days ago and the drafting of this article, we learned that Bank of America had initiated action against Rivers Edge developer Mark Saunders and his organization for default on a $68 million loan related to a handful of his communities, including Rivers Edge. News coverage indicates Saunders is also $3 million in arrears for multi-year tax payments to Brunswick. Because the golf club at Rivers Edge is owned and run by an organization other than Saunders', all amenities are in and paid for, and 80% of all available lots have been sold, we don't believe this latest news has a material effect on the community's inherent attractiveness, but it might tend to make pricing even more attractive. We urge all buyers to do their homework thoroughly before committing to a purchase in Rivers Edge or any other golf community. We are happy to help.]
        Despite Rivers Edge's fairly rural setting, all basic necessities of retirement life are within just 10 minutes, including supermarkets and other shopping needs, as well as a new hospital. Rivers Edge's larger competitors, including St. James Plantation in Southport and Ocean Ridge Plantation in Sunset Beach, offer more options inside and outside their gates, but they are much larger in scope. You have a much greater chance of knowing everyone else's name at the more intimate Rivers Edge, today and even when the golf community is fully built out.
        If you are interested in more information about Rivers Edge, please contact me.
Coming Soon -- Fear and Loathing at Rivers Edge: The toughest par 5 on the Grand Strand.