Economists and other housing industry watchers tend to look at inventory levels for a signal of where the real estate market is going. Typically, the boundary between a buyer's and seller's market is around a six-month supply of homes for sale. Now, according to latest sales figures, three Florida Gulf Coast counties have reached "seller's" market status, a reliable sign that the Sunshine State housing rebound is in full throttle.  How often have we read words like these from Sarasota's Herald Tribune just a few days ago:  "...a lack of available inventory remains the most pressing problem that real estate agents face for the balance of 2012..."
        According to an article published in yesterday's Herald Tribune, the supply of homes for sale in the Gulf Coast counties of Sarasota, Manatee and Charlotte was just 5.1 months in July, a figure, the newspaper
Including pending home sales, inventories between Sarasota and Ft. Myers have dropped to just a 4.2 months supply.
indicated, mimicked the "real estate boom" year of 2005. The three contiguous counties extend from Bradenton on the north end to just north of Ft. Myers and comprise such golf rich towns as Sarasota, Lakewood Ranch, Venice and Port. Charlotte. The dozens of golf communities along the Gulf Coast have long provided a cost-effective alternative to Florida's Gold Coast and Palm Beaches on the Atlantic side of the state.
        Although the supply of homes for sale in the three Gulf counties rose to 5.1 months from 4.6 in June, the latest figure represents a dramatic change from a year ago, when the supply was at 7.6 months. And when you subtract from the inventory totals the number of homes with sales pending, July's supply is just 4.2 months. Such a relatively slim inventory of homes for sale should exert upward pressure on prices, as well as encourage builders to open new developments across all price ranges.
Buyers searching for luxury properties –- typically defined as $1 million and above –- might take some comfort in the slowdown in homes sold in that category during July. Such sales were down 39% from June and down 34% from a year ago. But, according to the Herald Tribune, pending sales in the luxury category were strong, an indication that the supply of upscale properties may be shorter than apparent.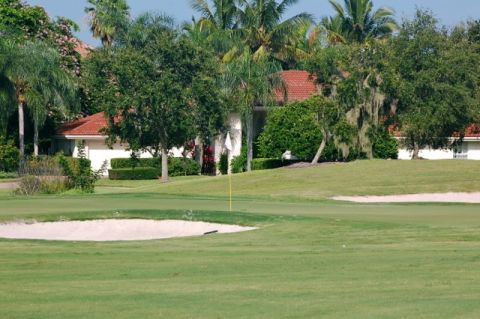 Many of the homes in the Sarasota/Bradenton area effect a Tuscan style, as they do behind the 2nd green at the TPC of Prestancia.
        I recently completed a one-week visit to the Sarasota and Bradenton areas and toured the best golf communities with local Realtor Dennis Boyle, who specializes in the area's golf developments. You can read my overviews of Sarasota golf communities by clicking here. You can also check out current golf homes for sale in Sarasota and Bradenton at GolfHomesListed.com, our companion web site. While you are there, sign up for our free Golf Home Finder KitTM, which provides you with information to help you make the smartest possible buying decision.
        If you have any questions about Sarasota golf homes for sale or would like a free personal consultation about your search for a golf home anywhere, please contact me.
-- Larry Gavrich, Founder & Editor, Home On The Course, LLC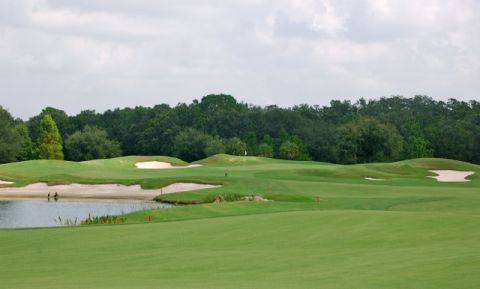 If this is Florida, there must be sand...and water.  The approach to the par 5 5th hole at one of Lakewood Ranch's three golf courses.