We happened upon a couple of lists recently that were both titled, more or less, "Worst states for retirees." The two lists –- from MoneyRates.com and TopRetirements.com -– used entirely different methodologies but were awfully consistent in their results. Half of the states in each top 10 list were the same –- Illinois, New York, Massachusetts, Ohio and Rhode Island. But more to the point, virtually all the states that made the list were northern states; just California and Nevada, which appear only on the Top Retirements list, are not classic cold winter weather northern states.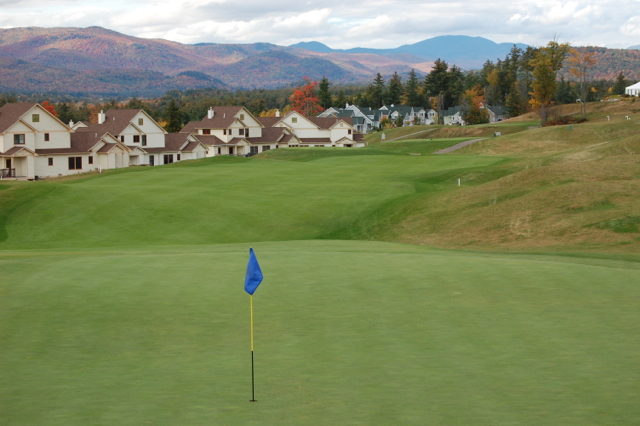 Owls Nest, a fine golf and ski resort in New Hampshire, could be one of many reasons state residents say they would never move to another state.
It is getting more and more popular for people to bash states north of the Mason-Dixon line as expensive, crowded and increasingly inhospitable in a number of ways. Indeed, my hometown newspaper, the Hartford Courant, has been fielding animated letters to the editor ever since they posted the results of a Gallup survey indicating almost half (49%) of Connecticut residents would rather live elsewhere, topped only by Illinois residents, exactly half of whom would cut and run from their state if given the chance. (Illinois is in the 4th position on the Money Rates list and the top dog -– i.e. "the worst" –- on the Top Retirements list; Connecticut ranks 9th on the Top Retirements list.)
But lest we consider that the migration from north to south by baby boomers is either a reflection of antipathy toward the north and/or a strong preference for southern living, the Gallup poll found that the states with the highest percentage of residents who would not leave for another state were virtually all in....WAIT FOR IT... the North (except for Hawaii). Fewer than a quarter of those who live in Montana, Maine, Oregon and New Hampshire said they would leave their states if they had the chance.
What does this all mean? For one thing, it seems to indicate that cost of living is not an indicator of happiness with a state. After all, Hawaii is about the most expensive state to live in the nation. And as Hartford Courant columnist Dan Haar wrote recently, "when we look at the actual numbers of people uprooting from Connecticut to other states, New York [on both worst-state lists] is by far the biggest destination. And get this news bulletin: They're not moving to low-cost Utica or Syracuse." New York City, certainly among the most expensive places to buy or rent a home, is the magnet.
The lack of any southern state on either worst state list could reflect the fact that the southern states have so many recent transplants living there that people are straddling the fence until they have a few years of residence behind them before having an opinion. Or it could indicate native southerners don't have strong opinions about their states, one way or the other, or have no perception that other states are any better...or worse.
Here at GolfCommunityReviews, we focus most of our attention on golf communities in the south. But if, for family reasons or regional loyalty or because you like playing golf wearing two gloves and a ski jacket, you prefer a golf community in, say New Hampshire, we have an app for that. Contact us and we can provide you with a few examples of fine golf communities north of the Mason-Dixon Line. But if you prefer to spend next winter wearing a golf shirt and, at worst, a light sweater on the golf course, we have dozens of suggestions for you. Contact us.