I turned inland for relief, but that was something of a fool's errand. Aiken, SC, to which 19th Century Charlestonians fled the city's summer heat and malaria outbreaks, is even hotter in July than are many Florida towns, with an average high of 92 degrees. Greenville's average high is 90, but the 70-degree average low is one of the more temperate standards I found below the highest elevations.
As expected, you really need to get up there in terms of altitude to get down there in terms of temperature. Asheville, NC, for example, at around 2,000 feet, posts an 85-degree high in July and a 65-degree low, almost sweater weather at night but no great break during the day. Burnsville, which is about a half hour from Asheville and a few hundred feet higher in elevation, has one of the nicest July climates anywhere, at 79 degrees and 61 degrees respectively. (Count on a few degrees lower at the highest levels of Mountain Air, a Burnsville golf community whose mountaintop features an airplane runway.) I didn't check, but we can expect that many of the other areas of western North Carolina –- Brevard, Flat Rock, Cashiers, Maggie Valley –- all have high temperatures in the low-to-mid 80s in July.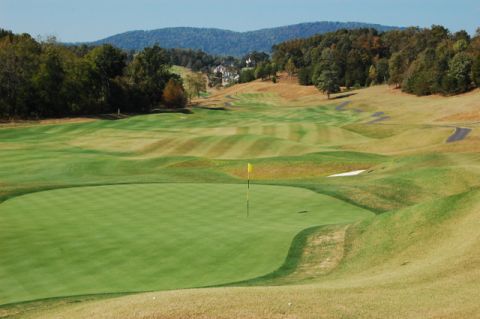 The community known as Glenmore, in Keswick, VA, is surprisingly temperate in summer, given that it is more in the foothills than the mountains.
I investigated a few other golf-oriented areas whose historical July temperatures surprised me somewhat. Fairfield Glade, a couple of hours west of Knoxville, TN, and known as "Tennessee's Golfing Capital," showed average July highs and lows of 84 and 65. There's a good reason for its relatively low temperatures; the Cumberland Plateau, on which the town and sprawling community sits, rises to 2,000 feet. Keswick, VA, is home to Glenmore, a golf community of mostly brick homes, not surprising for a development just a few miles from Thomas Jefferson's Monticello and the University of Virginia in nearby Charlottesville. At an elevation of only 450 feet, Keswick's July readings are surprisingly moderate at 84 and 67, respectively. On the other side of Charlottesville, about 45 minutes west, the Wintergreen Resort rises to more than 4,000 feet in the Blue Ridge Mountains; its Devils Knob golf course at the top of the mountain is an ego booster in terms of driving distance, since the air at almost ¾ of a mile up is thinner. Although the nearby valley town of Nellysford has historical July average highs and lows of 88 and 67, respectively, temperatures up the mountain are considerably cooler, almost 10 to 15 degrees lower at the summit. That is the place to be during the dog days of summer…
…and, if you are a skier, during the coldest days in winter. Not surprisingly, Wintergreen becomes a ski resort in winter, although during a few days in January, you can ski in the morning and play golf in the afternoon at the resort's Rees Jones course at the base of the mountain. It is a good place for those who both ski and play golf to get high on life.
Your editor and his family rented a cabin at the ski and golf resort community Wintergreen a few years ago; this was the view from the deck.