Data tells us that golf had a good year in 2012. My eyes tell me it is off to a good start in 2013.
        According to the National Golf Foundation, half of the rounds lost during the first 11 years since the Millennium began were recouped last year with the increase of 26 million rounds over 2012. Rounds played in 2012 were up 5.7 percent over 2011 alone. And after falling for an entire decade, the number of golf outings in 2012 increased over the prior year.
        Except for Florida, rounds played in January 2013 were down a bit but the weather across much of the nation was worse this year than last. I recall in golf's heyday, in the 1990s, talk about the upcoming golf season in New England, where I live most of the year, ratcheted up just about the time of Super Bowl, the first weekend in February. During the last five years, I haven't heard much chatter about the upcoming golf season, so a couple of weeks ago, I decided to visit this year's Connecticut Golf Show at the Hartford Convention Center to check out the early season vibe. A couple of years ago, this show was a depressing affair, with a few lonely exhibitors and a slow trickle of show visitors.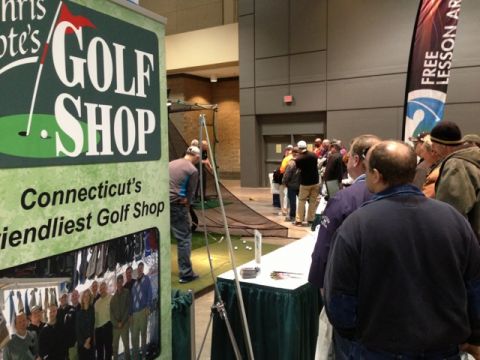 Avid golfers lined up at the opening of the Connecticut Golf Show on a Friday at 11 a.m.  Once inside, they were eager to try out the latest equipment.
        I attended the opening of the show at 11 a.m. on a Friday. To my surprise, I lined up with other cars to get into the parking lot, rode a jammed elevator from the rooftop parking lot, and then waited for 15 minutes to buy a ticket. There must have been 200 folks in the two lines to the ticket office. Could they all be there for the promise of a couple of golf balls to the first 250 attendees?
        Inside, folks seemed interested in all aspects of the game, trying out new golf equipment, pulling at racks of discount name-brand golf attire, and lining up to talk to representatives of golf resorts from Maine to Florida. A few of the resorts were offering discount golf packages but some were not, a sign of confidence by those packagers that this could be a good year for travel and discretionary spending.
        One good deal I could not pass up was a "preview" round for a foursome at the Orchards Golf Club in South Hadley, MA, site of the 2004 U.S. Open and a Donald Ross layout circa 1922. I paid $200 for the round for four. (National memberships at Orchards are $2,000 for initiation and application fee, and $150 per month for dues. Since you must live 40 or more miles from the course to qualify as a "national" member, the club has picked up a number of new members from Worcester, 50 miles away, and the Boston area, about 80 miles.
        Golf can only benefit from the early 2013 good showing of Tiger Woods who won two weeks ago at Doral and is playing well as I write this at Arnold Palmer's Bay Hill event, which Tiger owns. His beloved Masters golf tournament looms in a few weeks, and if he wins that one, this could be a very good year of golf indeed –- for Tiger and the industry.