Geoffrey Cornish literally wrote the book on golf course architecture for us regular golfers. "The Architects of Golf," written with Golf Digest's Ron Whitten, details the histories of design of some of the world's most notable golf courses, the ones we know courtesy of TV broadcasts, if not personally.
Mr. Cornish passed away recently at home in Amherst, MA, at the ripe old age of 97, pretty much at the geographical midpoint of the most prolific collection of his work. The vast majority of his more than 200 designs dot the mountains and seashores of New England; no golf designer has put a greater stamp on the golf architecture in New England than Cornish. He may not be well known outside the northeast, but his steady handiwork is unavoidable for golfers in the Land of Steady Habits; and any golf architect practicing today will have picked up at least one or two influential bits from the respected Mr. Cornish, who was a past president of the American Society of Golf Course Architects and earned many other golf design distinctions in his long career.
I was lucky to belong for 25 years to a club that featured one of the architect's most interesting designs, Hop Meadow Country Club in Simsbury, CT, where Cornish worked with –- and around -– sharply severe elevation changes, a few indigenous ponds, tall native grasses, and lots of wooded areas. Hop Meadow is a long slog from the back tees (7,000 yards), but its fairways are generous and greens generally enormous and undulating, easy to find in regulation but a chore to two-putt. Hop Meadow plays to the strength of long hitters but insists they position their ball properly below the pins on the swirling greens to avoid the frustration of three putts.
Below are a few photos representing some of the Geoffrey Cornish golf courses I had the pleasure of playing.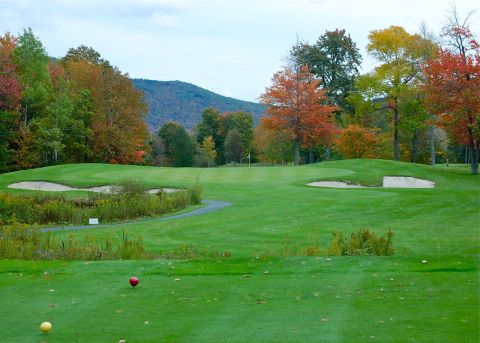 Par 3 3rd hole at Stratton Mountain's Mountain course in Vermont.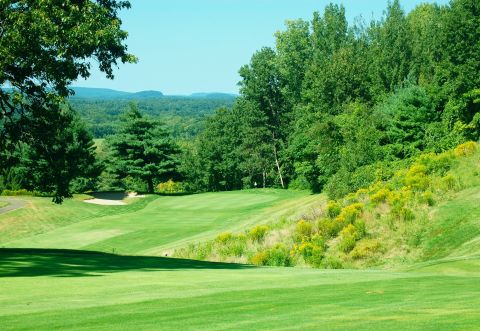 The approach to the par 4 5th hole at Tower Ridge in Simsbury, CT.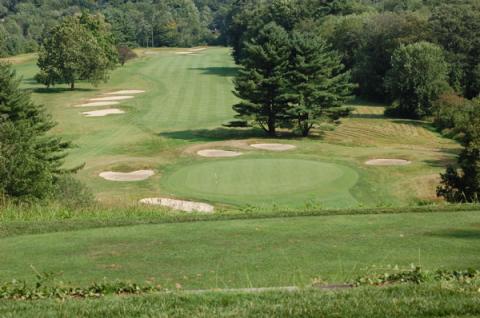 The par 3 downhill 16th and par 5 17th at Hop Meadow in Simsbury, CT.