T
he Cliffs Communities is nothing if not consistent –- in its ads, at least.  Its latest bit of mass marketing, a two-page spread in the fall print edition of
LINKS
magazine, reads in part, "With courses designed by the greats, including Fazio, Nicklaus, Player and Woods, The Cliffs offers the world's most complete golf experience…"  Strictly speaking, Tiger Woods
has
designed a golf course for The Cliffs, but it is on paper only; it hasn't been built and may never be built,
The world is a big place, and The Cliffs claim of "The World's Most Complete Golf Experience" begs for some scrutiny.
given The Cliffs' somewhat ambiguous financial condition.  A group of Cliffs residents and club members, the holders of the note on a $64 million loan to troubled developer Jim Anthony, previously put a strong hold on finishing the nascent Woods layout.  (The lenders have a lien against The Cliffs amenities should the developer default on the loan.)  It is hard to conceive that the resident "bankers," who were smart enough to negotiate tough provisions for the loan, will be inclined to throw good money after bad by authorizing the completion of the Tiger Woods course at High Carolina anytime soon.  Only recently was the Gary Player designed golf course at Mountain Park finished, and club members we have talked with say seven golf courses are plenty enough.
        In its high-flying days, The Cliffs played a bit fast and loose in its advertising copy.  Ads for the communities used a line from Resort Living magazine that contended The Cliffs featured "the world's most comprehensive golf membership"; trouble was that the magazine was published by The Cliffs' own marketing agency (at the time), hardly an unimpeachable source.  In the latest ad in LINKS, The Cliffs repeats three times -– in headline, ad copy and on a postage-paid reply card -- that it offers "The World's Most Complete Golf Experience."  Despite the rewrite, we think Pinehurst, for example, with eight golf courses actually open for play, could lay claim to having a more complete golf experience.  Or the McConnell Group, whose eight courses in the Carolinas -– including a couple by Donald Ross -- may surpass The Cliffs' in terms of layouts and condition.  We recall the golf experience in Scotland's Kingdom of Fife, an area not much bigger than the area traversed by The Cliffs' communities, was pretty complete too (St. Andrews, Crail, Kingsbarns, Elie, et al within a 20-mile stretch).  The world is a big place, and claiming to be the "most" of anything in the world begs for scrutiny.
        So too does using Tiger Woods in a U.S. ad.  According to the Wall Street Journal, quoting a study by the Reputation Institute, Woods ranks 47th of 54 public figures worldwide, behind Wikileaks founder Julian Assange and Lady Gaga but ahead of Hugo Chavez, Fidel Castro and Kim Jong-Il, who finished last (click here for full list).  Jim Anthony's continuing wish upon a fallen star is hard to understand.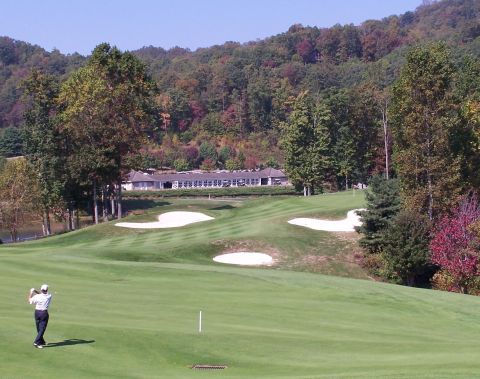 Not too shabby:  The Cliffs golf courses are interesting and typically in excellent condition, but some members think seven choices are more than enough.