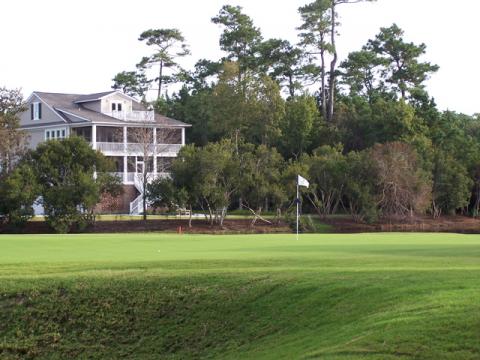 DeBordieu is the premier community at the south end of Myrtle Beach's Grand Strand, featuring a Pete Dye golf course and private oceanfront beach that is losing sand.
Residents of DeBordieu Colony, the upscale community south of Myrtle Beach, are facing a classic battle that is pitting private interests against ecological interests, according to reports in the Myrtle Beach Sun News. DeBordieu may win the battle, but an ensuing internal war could pit neighbor against neighbor. As it always seems to be, money will be the issue.
DeBordieu, which loosely translated means "close to God," has appealed to the South Carolina Department of Health and Environmental Control for
How do you split the costs of beach repairs among owners of $700,000 homes 10 minutes away and the $5 million homes right on the beach?
permission to build groins along its beautiful but private beach. Groins are wooden or stone obstructions meant to catch the sand as tides wash along the coast. The groins are effective at stopping beach erosion and, indeed, building beaches to the immediate north of the groin, but they thwart movement of sand to the south. Not surprisingly, a conservation group called the Coastal Conservation League is lined up against the groin idea, arguing such a program will affect negatively an estuary immediately to the south of DeBordieu.
A public hearing is slated for July 23 at which time DeBordieu owners and their representatives will present their own environmental impact reports and will stress that they intend to pay for the groins themselves (by law, private beaches must do so). Should the residents prevail, the next battle could be internal, among the winners themselves. What, one could ask, is the rightful share of costs between the owner of a home a 7-minute bicycle ride from the community's beautiful beach and the owner of one of DeBordieu's oceanfront homes, valued at up to $5 million?
Beach erosion up and down the east coast is robbing local residents of access to the main attraction for living there in the first place. The people of North Topsail Beach, NC, for example, have been arguing for years over who should pay to stop beach erosion and an encroaching ocean that has already claimed a number of homes. Last year at this time I putted on the 18th green of the Ocean Course at Wild Dunes and noted the ocean water not only lapping at greenside but also encroaching on the adjacent condos. A month later, the green was gone, fallen into the sea. I would not want to be the owner of one of those seven-story condos.
The lesson here for any of us shopping for a home in a beach community is to look well beyond view and price. Being close to the water is one thing; being in it is quite another.