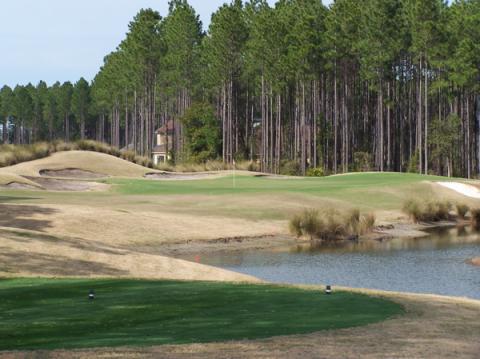 Arnold Palmer's design at North Hampton, near Jacksonville, is among his best.  North Hampton's developer, Landmar, has just emerged from bankruptcy with its parent company, Crescent Resources.
        Golf communities owned by Crescent Resources and its subsidiary, Landmar, have been among the nicest I have visited over the last five years.  But the recent history of Crescent is a reminder to us all that looks aren't everything and good looks may be inversely proportional to good management.
        Crescent was a joint venture of two stellar names in American business, Duke Energy and Morgan Stanley
Crescent focused on the hottest states, but when they could not stand the heat, temporarily, they got out of the kitchen and filed for bankruptcy.
(its Real Estate Funds arm).  The organization developed and managed communities across the southern U.S., from North Carolina to Arizona.  They also maintained a large portfolio of commercial buildings.  Crescent pinpointed the hottest areas of the nation in which to develop their communities –- substantial holdings in Florida and Arizona, for example -- but you could say they could not stand the heat and a bankruptcy filing in mid 2009 got them out of the kitchen and added to woes at their prime lender, Bank of America, as well as Duke and Morgan Stanley's investors whose investments are essentially gone.
        What's left, though, are some impressive golf communities, 16 in all, a few of which we have visited.  Osprey Cove in the charming St. Mary's, GA, for example, features a neat Mark McCumber layout that traverses a handsome stretch of marshland within reasonable driving distance of Jacksonville, FL.  Closer to Jacksonville, the Landmar North Hampton community's Arnold Palmer designed North Hampton Golf Club was a bit of a revelation, the first course we had played with The King's name on it that did not overplay its hand (no huge and ill-placed bunkers, for example).  Instead, the course's natural grasses and clever routing hid well the inherent challenges of the layout.
        Oldfield, in Okatie, SC, whose residents can choose between the twin pursuits of horse riding and golf on
One special trait of Oldfield is the number of detached garages that include guest rooms or offices at top.
the windswept Greg Norman layout, is a half hour south of everyone's favorite small southern town, Beaufort, and a half hour north of the golfing mecca of Hilton Head.  We were especially struck by how many homes at Oldfield included separate garages with guest quarters or offices above them.  We also noted that the community was not half built out.
        We haven't made it to Bluffton, SC's Palmetto Bluff, but its Jack Nicklaus designed May River Golf Club shows up on most top 5 lists of South Carolina's courses, which is saying something in that golf-rich state.  Crescent purchased the development in 2000, during the halcyon days of irrational exuberance about the housing market.  Home prices in Palmetto Bluff begin above $1 million.
        The word "bankruptcy" has scary connotations for those looking for a golf community home, but a developer who has emerged from bankruptcy with new management and financing in place can offer some extreme bargains.  We will keep an eye on Crescent as it manages its rehabbed organization with half its former employees and a stripped down budget.  If you have questions or an interest in any particular Crescent or Landmar community, contact us and we will ask the tough questions for you.
The majority of homes at Cresecent Resources' Oldfield community include separate garages with rooms above.