Up until two years ago, the term "short sale" probably meant to most people that J.C. Penney or Sears was selling items at deep discounts for a couple of hours only. Today, though, the term is familiar to most people looking to score a home at the lowest possible price; it means someone else's pain could be your gain.
A "short sale" is one in which an owner of a home lists it, with his lender's permission, at a sales price less than what the owner owes on it. The strapped owner makes it clear he will not be able to make his monthly payments; the bank figures out the costs of foreclosing on the home and develops a selling price for the owner that is less than what they owe but enough to avoid foreclosure. The bank and the owner both lose, but a short sale is less expensive for the bank than foreclosure.
Look through any Sunday real estate section and you will see a growing number of "short sales" advertised. The term, real estate
Some of the price reductions on multi-million dollar homes can make you mutter "Wow!"
brokerages have determined, apparently shouts, "BARGAIN." It is tough to leaf through today's Real Estate section in the Myrtle Beach
Sun News
without being tempted to mutter "Wow!" at some of the stated price reductions on short sales, especially those at the highest end of the market. One street alone, in one of Myrtle Beach's most expensive golf communities, demonstrates all we are reading about the intense pain being felt at the high end of the market.
The community is Grande Dunes, which features both a private and resort golf course, and the street is Bellasera Circle. Of the five homes listed on Bellasera today, two are short sales. The lowest priced home is one of the short sales; its listed price of $899,000 is $650,000 below its original cost, or a 42% reduction on the three-year old home. It features 3 BRs and 3 ½ BAs with a lanai, pool, fountain and cabana. Just up the street, a $1.399 million short-sale house, which features 5 BRs and 5 ½ BAs, a pool and a view of the Intra-Coastal Waterway, has been knocked down by 35%, or $700,000. One other owner on the same street, whose home is no bigger than the rest, is clearly trying to keep up with the ad blitz on short sales. He listed his "new, never occupied" home as "reduced $200K," to $1.75 million. Good luck at that price on that street in this market.
The ad that really caught my attention, though, is for a Bellasera Circle home that was "never occupied" and has been reduced from $2.59 million to $1.395 million. It features 3 BRs and 4 ½ BAs and "upgrades." For some bizarre reason, the realtors saw fit to add that it is a "Potential Short Sale." They might just as well have written, "Just wait until the owners really start hurting and the bank can't stand it anymore."
That's not the way I would sell a house -- or buy one. That said, the high end of the market bears watching for those who have been waiting to be able to afford their $2 million dream home. Pretty soon, it could very well cost less than $1 million.
If you want more information on Grande Dunes or any other fine golf communities, please
contact me
and I will respond quickly.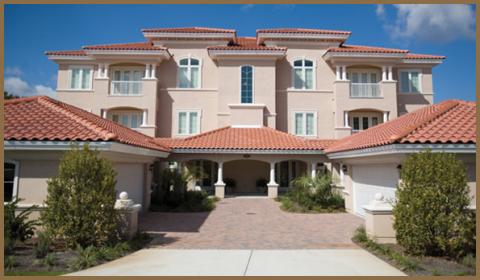 Grande Dunes homes are large and lush and selling at deep discounts to their original prices, many at "short sales." Photo courtesy of Grande Dunes Real Estate.