Just in time for winter, a friend has placed his mother's home for sale in the comfortable community of Waterford in Venice, FL. Venice, which is a magnet for snowbirds from the North, is located between Sarasota and Ft. Myers, and just off Interstate 75. Needless to say, the climate from November through March is balmy, with excellent golf weather virtually every day of the week on the three golf courses available to residents of Waterford and surrounding communities for one annual membership fee.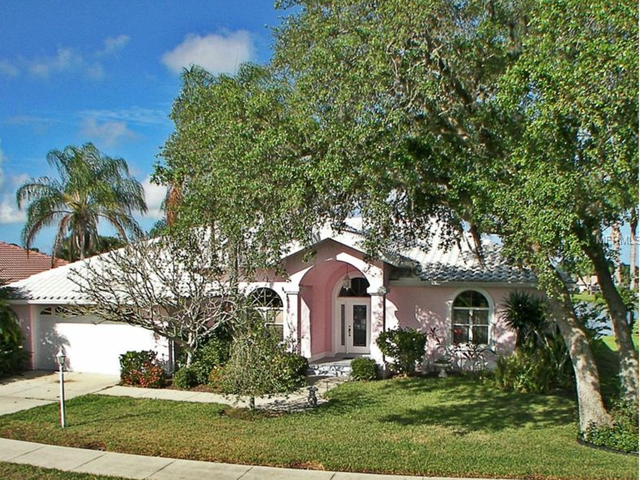 Our golf real estate expert in Sarasota, Dennis Boyle of Suncoast Golf Homes, is handling the sale. The home is located on a quarter acre lot with views of an adjacent lake from virtually every room. It is less than 40 minutes from the Sarasota/Bradenton International Airport. The 3-bedroom, 2 ½-bath house features almost 3,700 square feet, more than 2,600 heated and air-conditioned. The large lanai at the back of the home is the perfect place to enjoy drinks while watching the sunsets out over the Gulf of Mexico. The kitchen is especially large, with Euro-style cabinets, a Jenn-Aire range and an open entrance into the expansive Florida room, the perfect place for entertaining or just plain relaxing. The home, which has been listed for only a week, is priced at $395,000; property taxes are a modest $3,155, and HOA fees cover use of the community pool, tennis, fitness center and clubhouse. The widely praised Venice beaches are just 15 minutes away.
Given the approaching winter and the uptick in Florida real estate, it should not take too long to sell this well designed home in a community designed for active retirees.
For just $3,500 in annual dues, for example, with no initiation fees, Waterford residents can become members of the semi-private Waterford Golf Club and have access to two other local clubs as well. The annual payment works out to the equivalent of about $11 per round in green fees per person if a couple plays an average three times per week. If you are an occasional player and don't want to pay the annual fee, Waterford and its companion courses, Calusa Lakes and Capri Isles, offer pay as you go rates. Waterford features 27 holes designed by Ted McAnlis; its toughest combination of 18 holes plays to a rating of 72.3 and slope of 136 at 6,670 yards. The yardages and course rating at Calusa Lakes, also designed by McAnlis, appear to be similar to Waterford's, although the slope ratings are a bit lower. The ratings at Capri Isles, designed by Andy Anderson, are slightly lower than at the other clubs.
You can access the full listing details for this home by clicking here. If you would like more information about Venice, Waterford Golf Club and this reasonably priced home for sale, contact Dennis_Boyle@Topproducer.com. Please tell him you read about the home at Golf Community Reviews.