You will stay dry on the practice range at Mediterra, one of the most upscale golf communities in an area known for expensive real estate (erroneously so, especially in the wake of the recession, when Naples real estate lost 50 percent of its value). With two Tom Fazio layouts, eight miles of walking trails, a beach club, tennis, fancy fitness center, and a beautifully groomed bocce court (and Bocce Bar!), there is no excuse to avoid a little exercise and conviviality with fellow residents. We notice current offerings that start at $454,000 for a three-bedroom, three-bath coach home and others that reach to the $5 million mark. The sweet spot appears to be in the $600s.
More established Naples communities include Audubon, Imperial Golf Estates, Olde Cypress and Vineyards. Audubon, the closest of all communities to the beach at less than a mile, features single-family homes from the $500s. Imperial is a 40-year old community with impeccable landscaping, 36 holes of terrific golf (we played 18 of them) and sharply priced homes that start in the mid $100s for condos and the $300s for single-family homes. The 18-hole course by P.B. Dye at Olde Cypress was totally renovated in the last two years and only makes a well-regarded community even better. At 650 acres, Olde Cypress is intimate, but its 10 neighborhoods and no-condos layout provide plenty of room. Prices start in the $400s.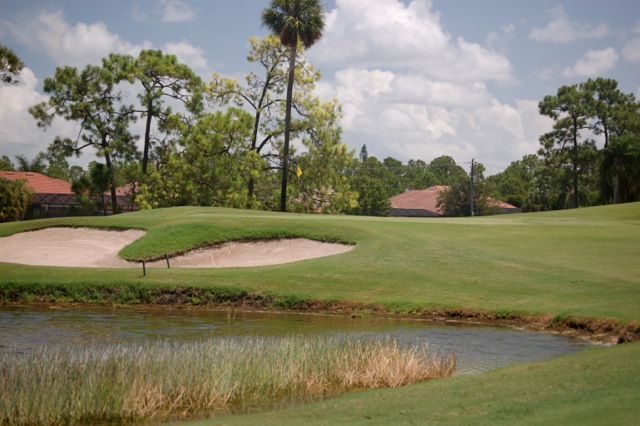 Imperial Golf Estates features 36 excellent holes of golf and some of lowest priced golf homes in the area.
The heart of the large Vineyards golf community is its 70,000 square foot clubhouse where an eclectic mix of retirees and young families meet for excellent food and other activities. The 36 holes of golf by former touring pro Mark McCumber and noted golf architect Bill Amick are only part of the roster of activities that include a large tennis center, Olympic style pool, and health and fitness center well-outfitted and large enough to accommodate all those who want to exercise their options to exercise. Condos start around $200,000 and single-family homes at $400,000.
You can review dozens of listings for Naples at our GolfHomesListed.com web site (click here) or contact us for more information.